By Rachel Diebel
From its street food to its fabulous noodle dishes, food in Thailand is a highlight of any visit. It's that delicious, and the deliciousness goes beyond prepared and cook foods. When fruit is in season, it's difficult to walk past a single street vendor in Thailand who doesn't have some scrumptious melons or berries displayed. Although the supermarkets have a wider selection of fruit than visitors might be used to, the daily markets typically have the freshest options. Thailand has a whole new world of unusual fruits to try during your visit!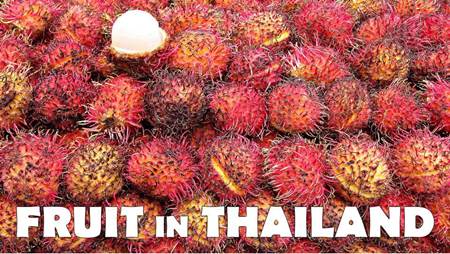 Rambutan
The word "rambut" means "hair" in the IndoMalay language, and it is easy to recognize this golf-ball-sized red fruit covered in dozens of green hairs. Available in syrup form throughout most of the world, the best rambutan fruits are said to come from the Surat Thani province. Under the hairy skin is a white fruit with a large seed that tastes sweet and mildly acidic.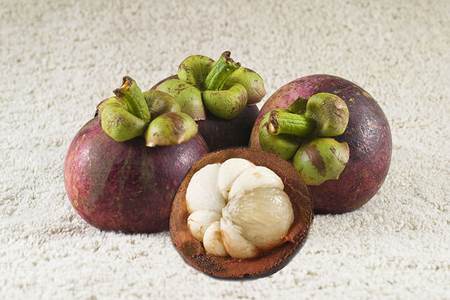 Mangosteen
This leathery purple fruit contains a soft white fruit in segments, which tastes sweet and tangy. Often called "The Queen of Fruits" for its capacity to cool down the consumer, mangosteen is readily available and in season at the same time as durian fruit. It has also been used for centuries as an ingredient in traditional healing, said to help with skin infections and used to treat wounds.
Star Fruit
Star fruit, also known as carambola, is a bright green-yellow fruit with distinctive ridges running down the side. Cut the fruit into slices and each slice is shaped like a star. The fruit is typically eaten fresh off the tree, but it can be made into relishes, juices and fruit drinks. The sour juice from star fruit can also be used to clean rusty metal, and they are wonderful bee fodder for farmers or beekeepers throughout the country.
Durian
Durian fruit is perhaps the most famous of the many unique Southeast Asian fruits. About a foot long and weighing four pounds, Durian fruit is a study in contrasts: it tastes delicious, like custard and almonds, but smells terrible. So terrible, in fact, that the fruit is banned from some hotels and public transportation in Thailand. While many Westerners can't get past the horrific smell, it is one of the most popular fruits in Thailand.
Lychee
Similar in size and shape to a golf ball, lychee are bright red fruits only available for a short time every year. You break open the red outside with firm pressure from your thumbs and eat the fleshy white interior. Lychee is sweet tasting, rich in vitamin C, and often served as a dessert in Chinese or Thai restaurants throughout the world.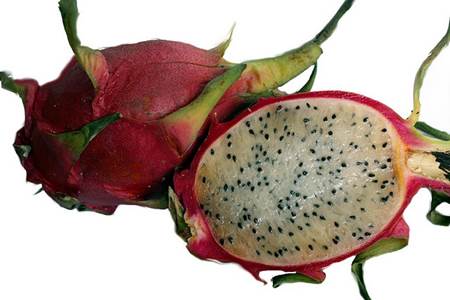 Dragon Fruit
Properly known as pitaya, dragon fruit are very strange looking red-skinned fruits with a fleshy white inside. Eating them can be something of a chore, involving separating the inside carefully from the non-edible skin and cutting the fruit into cubes. These fruits also have many health benefits, including lots of vitamin C.
Pomelo
Ranging in size from a grapefruit to a basketball, pomelo tastes like a sweet, mild grapefruit and is, in fact, a descendant. Pomelo can either be eaten raw or as a part of a spicy salad. Eaten raw, it is usually dipped in a mixture of salt, sugar and chili flakes.
Rose Apple
The rose, or mountain, apple is extremely common in Thailand. It ranges in color from red to pink to green, and is similar in texture and taste to a regular apple, although sweeter. Bell shaped, rose apples are most often eaten fresh, but can also be mixed with shrimp in a spicy salad.
Star Gooseberry
The star gooseberry tree is thought to be good luck in Thailand, and drops fruit almost too fast for the many households that have them to keep up. The tart green fruit is eaten right off the tree and is very high in vitamin C. It is also rumored to straighten hair!
*****
Photo credits:
Rambutan: 16:9clue via Flickr
Mangosteen: Hafiz Issadeen via Flickr
Star Fruit: Hafiz Issadeen via Flickr
Durian: Hafiz Issadeen via Flickr
Lychee: Bernard Tey via Flickr
Dragon Fruit: Maurizio via Flickr
Pomelo: Chuck Moravec via Flickr
Rose Apple: Hafiz Issadeen via Flickr
Star Gooseberry: Duy Thuong Ngo via Flickr