Frequently asked questions about Papua New Guinea and the tour. Click here to jump below for general tour questions.
Q. Do I need a visa to enter Papua New Guinea?
A. Yes, you do need a visa for PNG. Americans, Canadians, Australians and nationals of some other countries are eligible to receive a visa-upon-arrival in Port Moresby. The visa-upon-arrival is free of charge.
Here is the list of countries which do not qualify for a visa-upon-arrival. Note that passports must be valid for a minimum of six months from date of intended travel.
If you are from a country for which the visa-upon-arrival does not apply, you will have to apply for and receive your visa prior to the start of the tour. Here's a link about how to apply in advance for a visa to Papua New Guinea.
If you prefer, you may also apply for your visa in advance. Here are instructions on how to do that. Note that you will ultimately need to contact the embassy for Papua New Guinea in your country, for example the PNG embassy in Washington, D.C. if you are in the U.S.
Q. I'm spending a night in Australia on my way to Papua New Guinea. Do I need a visa to enter Australia?
A. Yes, you do need a visa to enter Australia if you will be there for more time than simply transferring to your onward flight. Most U.S. and Canadian passport-holders traveling to Australia as a tourist for fewer than 90 days can obtain an Electronic Travel Authority (ETA). If you don't qualify for an ETA, information on acquiring a Visitor Visa can be found here. While it's not technically necessary to obtain an Australian visa if you're simply transferring planes (and not stopping over), you may want to do so in case there are delays and you end up in Australia for longer than anticipated.
Q. Will bottled water be readily available on the tour?
A. Yes it will. However, we strongly urge our tour participants to carry their own reusable water bottle and bring a water purifier, such as a SteriPen, so as to cut down on the number of plastic water bottles that get thrown out daily in PNG.
Q. What are the hotels like where we'll be staying?
A. The hotels would generally be considered three-star hotels. You can find a link to them under each day of the itinerary. To some people, they are far better than they expected while other people expect more. This is not a five-star tour and there are few to no luxury properties in PNG. But the experiences you have will be be five-star and highly memorable.
Q. What amenities are available at the hotels?
A. In addition to the must haves (soap and towels), most of the hotel rooms will have tea kettles, instant coffee, tea, hair dryers and shampoo. The exception is Magic Mountain in Mt. Hagen where tea kettles and hair dryers are not available due to the limited electrical grid and in the homestay in the Sepik which has no electricity at all (see next question).
Q. What is the homestay like in the Sepik?
A. The homestay will be very basic. We'll be sleeping in someone's one-room home that's built on stilts. It's likely that we will all be sleeping in this one big room (as opposed to having separate rooms). We will each have our own thin padding as a mattress which will be covered with sheets and include a pillow. Some people prefer to sleep in a silk travel sheet (silk tends to be cooler than cotton).
We'll be awoken by the crowing of roosters, snorting of pigs and, possibly, the snoring of your travel-mates 🙂 In other words, bring earplugs.
There is no electricity in the village save for the occasional use of a generator. If you have electronics that will need to be powered, bring extra batteries, solar power or backup USB power sticks.
As noted in the itinerary, the food is also quite basic as the nearest grocery store is two hours by boat and four hours by road. If you have special dietary needs (i.e. vegetarian), consider carrying some backup food. Typical breakfasts include toast, jam, peanut butter, sago pancakes, French toast, eggs and/or noodles. Lunches and dinners include fresh or tinned fish (such as tuna), cooked vegetables, tinned meat (Spam and corned beef), rice and sometimes fresh crocodile and/or chicken.
Because we will be traveling to the Sepik via motorized canoe, you'll be leaving your large luggage securely stowed at our hotel in Wewak and only bringing an overnight/duffel bag to the homestay.
Q. Do we need to bring our own mosquito nets?
A. Sometimes mosquito nets are available at our homestay in the Sepik, which is the only place you'll need one during the tour. However, we'll let you know whether you'll need to bring your own once the departure date draws near.
There are a variety of styles available. The best option is one that hangs in such a way so as to not touch your skin–in other words one that you can hang from four corners rather than just the top. Your net doesn't need to be huge–a single person net is all that is required and won't take up much space in your luggage.
Something as simple as this will work fine.
Q. Do you suggest we bring gifts for the locals?
A. This can be a bit tricky. Most Papua New Guineans take gift giving very seriously. If you give them a gift, they will feel indebted to return the favor, but they likely won't be able to.
Having said that, those who have had more exposure to the outside world will appreciate small gifts. Appropriate items include small mirrors (so they can put on their own tribal makeup). Consider bringing postcards from your city to share as these will make great conversation starters.
We may have a chance to visit a school or two during the trip in which case pens, pencils, dictionaries, pads of paper and other school accessories would be helpful.
Q. Can I bring small gifts for the children I may encounter?
A. We don't recommend this as it encourages begging. If you'd like to interact with the children you might want to bring bubbles or balloons so that you can interact with them without actually giving them gifts.
Q. Should I expect to pay the performers at singsings or anyone else for photos when I take them?
A. Absolutely not. Over the years there has been a slight increase in the singsing performers asking for money or selling items during the singsing while on the showgrounds but this is discouraged by the show committee. It's very important that money is not exchanged for photos as it encourages begging.
Q. Are there many things to purchase in PNG?
A. There are definitely opportunities to purchase souvenirs throughout our journey including artifacts, particularly in the Sepik River area (known for their carvings) and at the festivals. Items include shell and pig tusk necklaces, wooden statues and masks, penis gourds, paintings and basketry.
PLEASE NOTE – Australian customs is very strict about what you can bring into the country. If you have to clear customs in Australia after leaving PNG (meaning you will be in Australia longer than transferring to another flight), you have to declare your items. Customs looks for animal parts as well as wood with bore holes and shells where small insects may be found. In these cases, they may hold your items for fumigation, quarantine or confiscation. For more details, read this information.
Q. Will I be able to ship larger items home from PNG?
A. While it is possible to ship items home via DHL or TNT (an Australian shipping company), it is very expensive and time-consuming. Shipping costs will likely start at about $300. If you plan on making purchases that you want to ship home, this is going to take away from time spent touring as we will need to send you with a separate guide to handle the packaging and shipping of your goods while the remainder of the group tours.
If you plan to carry your purchases with you, you may have an issue traveling throughout the remainder of the tour as we will be flying on small planes with a checked bag weight limit of about 35 pounds. If your bags are overweight, you may be charged overage costs by the airlines. Also note that these small planes (Fokker 100 and Dash 8) have very small overhead bins.
Q. Is it OK to have more than just a carry-on for the tour (in other words, checked bags)?
A. While you will be more comfortable moving around with fewer bags, you won't be the only one with checked luggage. Because you'll need an overnight duffel in the Sepik, it is difficult to only have carry-on bags for the PNG tour.
Most of our internal PNG flights are with Air Niugini and economy class passengers are permitted a checked bag weighing up to 16 kilos or 35 pounds per person. Carry-on is limited to 5 kilos or 11 pounds per person. While we have never seen in-country airlines weigh carry-on bags, they regularly check the weight of all checked bags and are prone to charging for any weight overage.
For international flights, note that some airlines such as Qantas, have a strict weight limit for carry-on bags so even if you have a small bag, you may be required to check it due to its weight.
Q. How should I dress/pack for this trip?
A. You will not need any dress clothes as we will not being going out anywhere that would require them. Lightweight travel pants and t-shirts will be most comfortable. You'll receive a full packing list upon registration for the tour.
You should not be packing more than two pairs of shoes and one of those pairs should be an older pair of sneakers that you can wear at the show grounds and in the cooler Highlands. It will likely either be very muddy or very dry and dusty in both places. Despite the dirt and dust, they'll be much appreciated by the locals if you choose to leave them behind at the end of the trip.
Q. How should I dress based on the weather?
A. In general, PNG is a hot country. It will also likely be very muggy in Port Moresby and the Sepik. Pack for warm weather but consider being conservative about your clothing. Tank tops and shorts (for women) aren't appropriate but short sleeve shirts, capris and light pants are fine.
The mountain areas can get quite cool, especially at night. You may find that a fleece jacket will come in handy. You will likely need warm pajamas to sleep in (long underwear, a long sleeve shirt and heavy socks are all recommended). There is no heat in the cabins where we stay.
Bring a rain jacket, sun hat and be prepared to cover up your camera equipment with a plastic bag or some other covering that will protect it from the rain. We provide you with a full packing list once you register for our tour.
Q. Would you recommend taking a rain coat or poncho?
A. It would be helpful to have a rain jacket that is a bit heavier than a thin poncho. However, because it will be quite warm, a poncho will do in a pinch. During the day, even in the mountains, it can be warm (and very humid) when the sun is out, so nothing too heavy.
Q. Are there hair dryers at the hotels?
A. There are hair dryers at a couple of the hotels but the majority are not equipped with them. Sometimes it's a matter of there not being any or enough power for them (such as in the Sepik and also at the accommodations in Mt. Hagen). No one's going to be looking their finest, so if you don't have to have the hair dryer, consider leaving it at home 🙂
Q. Do I need any dress clothes?
A. Nope. As a matter of fact, we recommend wearing simple clothes as you'll be hot and likely dirty in the Sepik and potentially muddy/dusty in the Highlands. T-shirts, lightweight pants and a light jacket will be fine. A heavier jacket in the Highlands might be required as the temps can drop to the 40s at night and early morning.
Q. What kind of shoes should I bring?
A. You might consider bringing a sturdy pair of old shoes that you can walk around in during the festival(s) that you don't mind leaving behind. Chances are good that these will get very muddy (after a rain) or dirty from the dust (if there's a dry spell) and you may not want to bring them home. In addition, consider a pair of sturdy sandals such as those from Teva or Chaco Canyon. These will serve you well in the Sepik.
Q. Can I wear something like Crocs?
A. These are not recommended as they have no grip on the bottoms and will be very slippery in the mud.
Q. What kind of food should I expect on the tour?
A. Papua New Guinea is not known for its cuisine. The PNG people who live in remote areas subsist on sweet potatoes, taro, sago, pig, fish, rice and greens. Many people rely on tinned fish (a favorite is tuna) and other meats (such as Spam). In some areas (such as Mt. Hagen), there's an abundance of fresh fruit and vegetables available.
Some of the hotels in which we stay have quite nice buffets and menus with a wide range of fresh and cooked food. Even then, however, PNG is very much a developing country and there are not a plethora of trained chefs to make the best use of readily available ingredients. Expect very basic meals in the Sepik, in other remote areas such as Tari (if your tour takes you there) and when meals-on-the-go (such as at the singsings) are prepared.
If you have special dietary needs or preferences, expect to be flexible. Those who are gluten-free probably won't find items that aren't already naturally gluten-free. Vegetarians won't find tofu, tempeh or protein other than meat and fish. And vegans will find cheese on vegetarian sandwiches and only occasionally find soy milk (as opposed to whole milk).
Despite there being many coffee plantations in the Highlands, instant Nescafe is served in most hotels and restaurants along with black tea. If you'd prefer something higher quality or decaf, consider bringing Starbucks VIA, your own cafe press (and purchasing ground coffee upon arrival) or your own decaf coffee or tea.
Q. Should I bring toilet paper and should I expect "squatty potties?"
A. Hotels will have western-style toilets and provide toilet paper. However, we will be visiting some places, such as our homestay in the Sepik, with very basic facilities and it might be best to carry some small travel toilet paper rolls. You can always pick up additional TP at hotels along the way.
Q. What sort of power adaptor do I need?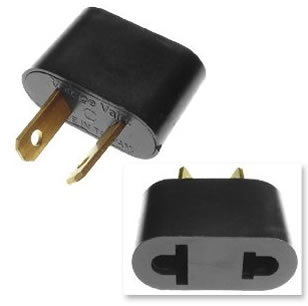 A. PNG uses the same sort of adaptor as Australia. Consider buying one from a local travel store and chatting with a salesperson to make sure you've got the right one but it should look like this >>>>
Q. Will I need a converter for my electrical devices?
A. You will need a converter for any devices unable to handle 220 (ie. your hair dryer, curling iron, etc.).
Q. Can I use my cell phone in PNG?
A. It is now possible to tap into the Digicel or B-Mobile network to use your cell phone through much of PNG. You can easily send text messages and make phone calls using your own phone. Depending on your service provider at home and their roaming charges, text messages are usually about .50 each and calls can be quite expensive depending on your calling plan.
If you have an unlocked phone, you can purchase a sim card and data plan at the Port Moresby airport upon your arrival. Some people purchase both Digicel and B-Mobile sim cards so they can swap between sim cards for the best coverage.
If you have a smart phone and you can find WiFi you can use Skype or other app to text or email.
Q. Is there WiFi throughout PNG?
A. Internet service is very spotty although it is getting better. Major hotels will likely have WiFi but outside of those areas, don't count on it. AND even when the hotel has WiFi, it doesn't always work or it's very slow.
Expect to have some service in Port Moresby, Wewak and Goroka (if your tour goes there). Do not expect it at the homestay in the Sepik, at our cabins near Mt. Hagen or in Tari (if your tour goes there).
Q. Are ATMs available?
A. The most reliable ATMs are at the airport and you'll have time upon arrival to withdraw local funds. While banks will also have ATMs, they don't always work for foreign-issued debit or credit cards.
Q. Can I use my debit or credit card for purchases?
A. It's rare but you might be able to find a shop or two that will accept a debit or credit card. The vast majority do not. Even hotels have a difficult time processing cards for incidentals.
Your best bet is to withdraw local currency (kina) from the ATM or exchange money (U.S. or Australian dollars) at the airport in Port Moresby upon arrival. Once outside of Port Moresby, it will be quite difficult to change money–it can take hours at a bank to do so.
Q. Can I pay for items in U.S. dollars?
A. Most items are priced in kina and that is the preferred method of payment. The PNG people (especially in remote areas) have a difficult time changing money from U.S. dollars to kina. Plan to change as much as you think you'll spend on the trip (and then some). You can always change your money back at the airport upon departure.
Q. How much money should I bring with me?
A. We get this question a lot, and it really does depend on your spending habits. PNG is on the expensive side with regards to meals, but most meals are included in the tour. Souvenirs are reasonably priced but you might find yourself wanting to bring home more than you expected (local artists are everywhere, and all those masks, wooden bowls and drums are very tempting). Bring a little more cash than you think you'll need because access to ATMs is limited. Just be sure to keep that cash in a safe place – i.e. on your body, under your clothes.
Q. How should I best carry my money?
A. PNG is not the safest country on the planet, plain and simple. You'll want to be extremely careful about how you carry your money, passport and other valuables. A bag such as one from PacSafe is a great option because many of their items are slashproof, which means someone can't slash the handle or front of the bag to grab your items. You'll want to consider something like this for your camera gear as well.
Otherwise, tucking items into your bra, underwear and socks wouldn't hurt (though you'll want to keep items in plastic bags to prevent them from getting wet from your sweat and, potentially, rain).
Q. Is tipping appropriate?
A. PNG is one country where we do not recommend that you tip, even your guides. It's not a practice in the country and it can actually create jealousy among the local guides if one gets a tip and another does not. Beth will handle any tipping when appropriate.
Q. Do you recommend any special vaccinations for this trip?
A. There's nothing you need specifically for PNG. However, you'll want to consult with a travel doctor for medical advice.
Malaria and dengue fever are prevalent so you'll want mosquito repellent. We also recommend you talk to your doctor about malarial prophylaxes if you're so inclined.
Q. What is the WanderWorld Foundation?
A. This is our non-profit arm we have created so we're able to support a project or NGO in the countries we visit.
In Papua New Guinea, we have supported a program with Amnesty International that helps women of domestic violence in PNG. We are currently researching a project with Oxfam as well as ways to bring clean water to a community in the Sepik River area.
Q. Do I need insurance for this tour?
A. Although we don't require evacuation or travel insurance, you might consider one or both of these. We highly recommend evacuation insurance for cases where you are sick or injured and need medical attention. You would want to be evacuated out of PNG to Australia or home in this case. Medical evacuations can cost as much as $60,000.
Travel insurance is a good idea for those who may have to cancel a tour at the last minute (due to a potential family issue, for example) or for recovery of lost luggage or missed flights. Insure My Trip has a wide range of options, good customer service, an easy to navigate website. They offer numerous affordable options including travel, medical and evacuation insurance.

General tour questions
Q. Will I receive a refund if I have to cancel my participation in the tour?
A. Once you have paid a deposit, there is a cancellation fee if you cannot join us. The cancellation fee depends on the tour and how far in advance of the tour you cancel. Our refund policy is covered in our Booking Terms and Conditions and is also outlined on the Registration Form that you'll receive within 24 hours of registering. Refunds will be sent by check within two weeks of us receiving written notification (email is fine) of your cancellation. If Beth is traveling when you cancel, it may take longer than two weeks to get your refund check out to you. She'll mail it as soon as she can upon returning to the U.S.
Q. What's the best protection against mosquitoes?
A. In addition to mosquito repellent, covering exposed skin is the best protection against mosquitoes. Consider wearing clothes impregnated with permethrin. Several companies, including ExOfficio, have such clothing. For those not interested in using DEET-based products, consider alternative products such as Avon's Skin-so-Soft with Bug Guard, Herbal Armor or essential oils with lemongrass or other oils that repel bugs.
Q. Are my items safe in my hotel room?
A. Your items *should* be safe, but we recommend that you carry small luggage locks to secure the zippers together so that no one is tempted to peek in your bag.
When something goes missing, it's usually later found in the bottom of one's luggage. In the meantime, hotel staff are the first to be blamed. It's best to keep your items (especially valuables) locked up so that this is not even a question.
Q. Will you be sending an updated itinerary with our overnight accommodations so we can leave it with folks at home?
A. You'll receive the hotel information as well as emergency contact information one or two weeks before departure but it is subject to last-minute changes.
Q. What's the emergency contact info that I can give my family?
A. You will be given a cell phone number for someone in-country as well as a list of hotels. All of this will be provide shortly before your departure.
Q. How do you fit everything into a carry-on and still have room for souvenirs?
A. We encourage you to pack light and do hand laundry along the way. You may then purchase a bag once-in country to bring home souvenirs.