7. SPECIAL COVID CONSIDERATIONS
Q. Do I need a visa?
A. Because Antarctica is not controlled by any one country, you do not need a visa to visit. However, you will need an entry permit which is given prior to the group embarking on the ship.
Q. Who owns Antarctica?
A. No one country owns Antarctica. Instead, it is overseen by a group of nations, as agreed upon in the Antarctic Treaty (created in 1959 and now signed by 54 countries). This states that Antarctica–which includes the land mass of the Antarctic continent as well as the surrounding islands–is not owned by any one country. Instead, the region is autonomous and is only used for peaceful purposes: no military presence is allowed and all work on the continent is devoted to scientific research.
In 1991, IATTO (International Association of Antarctica Tour Operators) was formed to advocate for safe and environmentally responsible travel to the region.
Q. What language is spoken in Antarctica?
A. As a result of no single country having a claim over Antarctica, there is no official language. Having said that, English and Russian are common given that the U.S., Great Britain and Russia conduct a fair bit of scientific research on the continent. There are also bases operated by Chileans, Argentinians, the Czech Republic and more.
On our ship, the primary language spoken is English. But the expedition staff is comprised of an international crew and many other languages will be spoken on board.
Q. Do people live in Antarctica?
A. While there technically aren't any residents of Antarctica, there are people who live there either during the summer months or only in the winter (a much smaller group of people).
Q. Why is this scheduled for Antarctica's early summer?
A. This is THE best time to visit Antarctica! It's impossible to go during their winter due to the amount of ice that blankets the waters. Early summer is when the ice starts to break up and the waters are navigable BUT you're still going to see lots of snow on the islands and the mainland and, if we're lucky, on our landings as well (because it's stunningly gorgeous).
This time of year is nesting and mating season so we might see some action amongst the wildlife as well. 😁
Technically at this time of year, there is no sunset or sunrise as it's daylight for 24 hours. But you will notice the sun dips and rises behind mountains and it will feel like dusk in the middle of the night. Rooms are equipped with blackout curtains, but the scenery is so beautiful that you might find yourself leaving the curtains open to enjoy every moment!
Q. How safe is it going to Antarctica?
A. There are inherent risks in going to any destination that is so remote. But the expedition staff will hold briefings about the safety features of the ship and protocols for remaining safe while on board. This includes everything from how to properly wear a life vest, to how to board the zodiac boats to walking around on the ship.
Q. Are we going to the South Pole?
A. No, we actually won't be anywhere near the South Pole (where the McMurdo Station is located). The only way to get there is to fly (unless you're like one of the few brave souls who wants to ski there, like Beth's friends).
Q. What will the temperatures be like?
A. This tour takes place in the early part of the summer which means there will be some cool weather (but not like the cold that comes with winter). In general, expect temperatures to hover around freezing (32 degrees) with the possibility of it dipping well below that or just above it. Even at "only" freezing, it will feel colder if there is precipitation and/or wind.
Q. Why is Antarctica so expensive?
A. Here's a blog post that addresses this very question.
Q. What can I expect from the food served on the ship?
A. All meals are served buffet-style in the dining area and are exquisite and plentiful. The dining room will open at the same time for everyone on-board and we will have tables reserved specifically for our group. In terms of meals, expect:
Breakfast: Hot and cold items including eggs, sausage, bacon, pastries, cereals and fruit. There's also plenty of coffee, tea and juice.
Lunch: Salads, hot and cold entrees (meat and vegetarian), bread and desserts.
Dinner: Soup, hot and cold entrees (meat and vegetarian), bread and desserts.
Other: There is complimentary coffee, tea and (often) snacks available throughout the day and night at a self-serve espresso machine. There is also a bar (not self-serve!) that's open from morning until late at night for you to enjoy an adult beverage or non-alcoholic drink (bar drinks not included in cost).
Special diets (gluten-free, vegetarian, vegan, etc.) are easily accommodated.
Q. How bad is the Drake Passage?
A. The truth is that it can be rough crossing the Drake Passage–the open water that is after the protected Beagle Channel and before we near the islands of Antarctica. But it's not always bad (a smooth sailing is called the Drake Lake).
We recommend you not watch any videos showing crossings because these are the worst cases and not the average. Whether you are prone to motion sickness or not, we recommend bringing some form of motion sickness medication, be it patches, oral medication or something like a wristband. This will come in handy if you do feel a bit sick.
Most people handle the crossing just fine. But if you find yourself feeling queasy, you can lay low in your comfortable cabin and we'll see to it that you're taken care of.
Q. Who else is on the ship?
A. This particular sailing is not open to the general public. It is a private sailing that will include one or two other small groups like ours, as well as competitors from Racing the Planet who will be competing in a running race on the islands.
In total, there will be approximately 100 passengers on board the ship with about half of them competitors in the race. Their activities will be completely separate from ours. And the beauty is that because they will have to disembark each day to run, we are assured the ability to get off the ship for activities (no running required!) as well. (The exception is if the weather prevents us from doing so.)
Our tour will have dedicated staff/guides providing us with special services and activities that have been pre-arranged for our private group!
Q. What's the difference between a cruise ship and an expedition ship?
A. An expedition ship like ours can accommodate about 115 passengers plus crew and is much smaller than larger cruise ships which can accommodate upwards of 1,000 passengers.
The biggest advantage to visiting Antarctica on a smaller ship is that it can navigate into shallow waters which allows us access to landing in a wide range of locations.
In addition, cruise ships with 500+ passengers are not authorized to allow passengers to go on shore, making the experience one of only viewing Antarctica from the ship and not experiencing it first-hand.
Note that landings in Antarctica are tightly controlled and the number of people who can be on-land at any given time is limited to 100 (in most cases). Therefore, even on a ship with fewer than 500 passengers, the number of people who can go ashore at any one time is controlled, making it difficult and cumbersome logistically for people to get the most out of their adventure, whether that be in zodiacs, kayaks, hiking, etc.
Q. Can I just book the ship on my own?
A. For this particular sailing, you cannot book passage without being part of this WanderTours group.
Q. What are our cabins like on the ship?
A. Note that our cabins on the expedition ship are Twin Window rooms that are shared by two people. These are located on Deck 4.
Each room includes: 1 window, 2 lower berths, a private shower and toilet, desk and chair, flatscreen TV, telephone and WiFi (additional cost), hair dryer and closet/storage space.
For an additional charge, you may upgrade to a Superior room that includes a double bed (rather than two twins), a sofa bed, a small refrigerator and a coffee and tea maker.
See this link for a visual of each cabin type.
There are rooms on the ship that are smaller with porthole windows and that accommodate 3 or 4 people. But those are not our rooms! 🤣
Q. Can I have my own room on the ship?
A. You can have your own room, but you would have to pay the cost for two people in a Deluxe Twin room rather than simply a single supplement.
Q. How often will we be off the ship?
A. This will depend on the weather and when the captain deems leaving the ship is safe. The goal will be to offer at least one on-shore experience each day. This includes kayaking, zodiac cruises, a photography class, hiking/walking or snowshoeing. There may even be a chance to overnight on land in a sleeping bag (supplied) or take a polar plunge!
Q. When not participating in on-shore activities, what is there to do on the ship?
A. There will be lectures given once or twice a day by the very knowledgeable staff. Topics include information about icebergs, wildlife, penguins, whales, regional politics, and more.
There will be opportunities for bird viewing and, likely, whale watching.
Without (much) internet access, when you have downtime, you will find yourself enjoying time to read, journal and edit photos.
Q. How fit do I have to be?
A. While our activities won't exactly be demanding, there are some things about being on a ship in Antarctica that make it unique to other destinations.
You should have good balance as you'll be walking around a sometimes rocky boat. This could be in your cabin, your bathroom/shower or around the ship in general. The rule of thumb is to always be holding on to something (other than a drink!).
Getting in and out of the zodiacs requires some agility and balance as well. If the sea is even a little rough, there will be some bouncing, not only as you get in and out of the zodiac, but also while it's crossing the water.
Once on land, you'll likely be immediately walking in snow or on a rocky path to get to the snow. Depending on the day's activities, you might be wearing either snowshoes or the boots that are on loan to you for the week.
Q. What happens if I become seriously ill while on board?
A. There will be at least two highly qualified medical doctors on board to treat passengers should anyone become ill or injured.
IAATO requires that all passengers to Antarctica carry evacuation insurance with at least $100,000 of coverage. We will be checking that all participants have this prior to the start of the tour.
Q. Do I need special clothes/equipment to visit Antarctica?
A. Yes, we will provide you with a list of clothing and gear for the tour. Some of this will be mandatory, while some will be suggested items meant to make your trip more comfortable. Some gear can be rented in Ushuaia (we'll provide you with this information once you've registered), but we recommend you place your order well in advance as options are limited.
Some gear will be provided to you on the ship. This includes boots to be worn on the zodiac boats and on land (you'll be given a pair that you use all week). These will be washed once you return to the ship to remove any penguin poop. It's imperative that penguin droppings do not get transferred from one island to the next as this can easily spread disease amongst the penguin populations.
Q. How many bags can I bring?
A. While some of your clothing will be bulkier than on a trip you might take to a tropical destination, you also won't need a wide variety of clothes once on board the ship, nor will you need anything fancy to wear. Having said this, typically a person might pack a carry-on size piece of luggage as well as a duffel bag or large backpack that might accommodate additional items. You'll check your luggage in at the port early in the day of our embarkation and it will be waiting for you later in the day in your cabin.
Q. Is there WiFi on board the ship?
A. While there is WiFi available on board the ship, it is very expensive and your data package is likely to be gone quickly, whether you're using your phone or your laptop.
At a very reasonable cost, you can pay for a special temporary email address where you can receive and send emails so you can stay in touch with friends and family during your trip. We'll provide this information to you closer to departure.
Q. What sort of plug adaptors do I need?
A. The power outlets are like those found in most European countries with two round pins.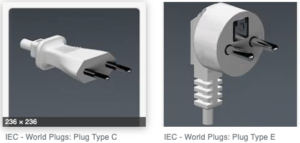 Q. Will I be able to use my cell phone to make calls?
A. There is no cell service, per se, on the ship. If you have a data plan, you could try to make a phone call, but it would likely eat into your data so quickly that you would barely be able to say 'hello.'
Q. What sort of camera do you recommend?
A. While it's not necessary, if you are so inspired (financially and photography-wise), consider bringing a camera with a telephoto lens. For those with photography experience, you may already have a favorite brand. For those with less experience or looking for your first camera, consider a more a versatile camera such as the Sony RX10 IV (this is what Beth shoots with).
Whatever you bring, be sure that you're familiar with how to use it before arriving in Ushuaia!
Q. What currency is accepted on board the ship?
A. You will be able to pay for all purchases (drinks, souvenirs, etc.) with a debit or credit card and this can be charged in U.S. dollars (recommended) or euros.

Q. Are tips included?
A. Tips for the ship's crew are not included as we find this is so individualized per person's experience. Typically, $10 – $12 per day is recommended (or more if you felt especially well taken care of by the crew). This is paid into a general fund at the end of the tour and can be paid via card directly to a representative on board the ship.
Q. What else should I budget for?
A. A fuel surcharge of U.S. $25 per night per person may be applied if fuel prices exceed U.S.$100/barrel, or U.S. $50 per night if fuel prices exceed U.S.$150/barrel. Please note that this is set by the ship and is out of our control whether this is charged or waived.

6. WANDERTOURS TRAVEL DETAILS

Q. Do I need insurance for this tour?
A. In addition to the IATTO requirement for evacuation insurance to travel to Antarctica, we suggest that all tour participants acquire travel insurance. We have now partnered with Travel Insured International so that you have the ability to purchase "cancel for any reason" insurance. We HIGHLY recommend travel insurance (no matter who your provider is) to protect your travel investment from any future issues. Although we are technically not requiring it, if you choose not to purchase it, you will be asked to sign additional paperwork acknowledging the risk of traveling without insurance.

Q. Is there a schedule for installment payments?
A. We don't have anything formal set up, but you can definitely send in payments on your own schedule. Some people send in monthly payments while other people send in payments when it's convenient.
Q. Will I receive a refund if I have to cancel my participation in this tour?
A. Due to the unique nature of this trip and our partnership with the expedition ship, the full deposit is non-refundable once you send it to us.
Full payment is due 100 days prior to the tour start date. Our refund policy is covered in our Booking Terms and Conditions and is also outlined on the Registration Form that you'll receive within 24 hours of registering with a deposit.
Q. What's the emergency contact info that I can give my family?
A. You will be sent emergency contact info shortly before departure.

7. SPECIAL COVID CONSIDERATIONS
Q. Will I be required to have a negative Covid-19 test result to join this tour?
A. At this time, you will not be required to provide a negative Covid-19 test result in order to participate in our tours. The exception to this is if Antarctica requires a negative test prior to entry. We will provide you with any entry information in advance so you will be prepared, but you will not be required to send WanderTours your test results.
We will provide you with all entry information in advance so you will be prepared.
Q. Do I need to have a negative Covid-19 test to return home?
A. There are a handful of countries that still require a negative Covid-19 test prior to boarding your flight to that destination. Usually, the test must be administered no more than 72 hours prior to boarding the flight. Alternately, in some cases, you may show proof of having recovered from Covid-19.
We will do our best to keep you apprised of this situation but, ultimately, it is your responsibility to abide by the mandates, laws and recommendations put forth by the government at your next destination. If a negative test is required, we will make time in the itinerary to get tested to ensure that anyone who needs one has results before departure.
Q. Will masks be required during this tour?
A. Masks will not be required during the tour. If, however, you find yourself with any symptoms that are associated with Covid, we ask that you mask up for the protection of others.
There are still inherent risks with traveling while Covid-19 is actively occurring and one's health cannot be guaranteed by WanderTours.