Why is it so expensive to go to Antarctica?
It's a reasonable question to ask.
Once you start looking into options for going to Antarctica, you'll notice that not only do prices vary from ship to ship but, within a ship, prices can fluctuate quite a lot.
We are delighted to be offering this once-in-a-lifetime trip that includes personalized touches that are always part of the WanderTours experience.
Though you'll be on board a ship that's part of a larger group of people, you'll be mostly with our small group, with Beth as your tour escort, organizing each day's programs and activities. Leading up to the tour, you'll receive a packing list and guidance for how to best be prepared for this trip!
Big plus–you'll be traveling with like-minded (wonderful) people, the type of travelers attracted to the Wanderlust community. All that at a cost that is equivalent to or lower than other tours to Antarctica.
Below, we help explain what to expect from our tour and why, in general, this extraordinary destination is so expensive, why there is such a wide range of costs from tour company to tour company, and why what we're offering is your best option when it comes to an Antarctica expedition! 😁
Ships
An expedition ship like ours can accommodate about 115 passengers plus crew and is much smaller than larger cruise ships, which can accommodate upwards of 1,000 passengers.
The biggest advantage to visiting Antarctica on a smaller ship is that it can navigate into shallow waters which allows us access to landing in a wide range of locations.
The larger ships are too big to get into shallower waters or closer to shore, making it impossible to visit some areas. In addition, cruise ships with 500+ passengers are not authorized to allow passengers to go on shore, making the experience one of only viewing Antarctica from the ship and not experiencing it first-hand.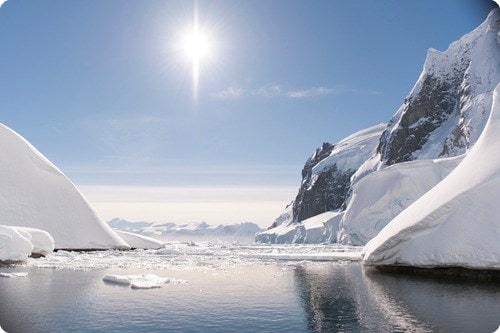 Note that landings in Antarctica are tightly controlled and the number of people who can be on-land at any given time is limited to 100 (in most cases). Therefore, even on a ship with fewer than 500 passengers, the number of people who can go ashore at any one time is limited, making it difficult and cumbersome logistically for people to get the most out of their adventure, whether that be in zodiacs, kayaks, hiking, etc.
While the larger ships may be able to offer a wider range of cabin prices, overall you'll get a much more in-depth and participatory trip experience on a smaller ship like ours.
Cabins
Large cruise ships with 500 – 1,000 people may have cabins that seem reasonably priced, but you'll notice these cabins are located on lower decks and have portholes for windows, providing no view to the beauty of Antarctica. In many cases, these lower cabins accommodate three or four people in bunk-style beds.
Once you look into upgrading your room to a window that affords a view, you'll see the cost starts to soar upward pretty quickly. Typically, tours that include these rooms are $18,000 – $25,000 for the tour (this is ONLY for the ship portion and doesn't include Ushuaia or Buenos Aires).
Even our expedition ship has cabins for quadruples with these porthole windows, but these are NOT the rooms we have reserved for our group! We have reserved Twin Window rooms on one of the upper decks so you'll always have a window from which to view icebergs, glaciers, birds, sealife and the islands.
Activities
As the larger passenger ships are not able to allow guests to leave the ship at all, it becomes a trip where you are only viewing Antarctica from the boat itself, never from a zodiac boat, kayak or on land.
Once we've passed through the Beagle Channel and the Drake Passage and are firmly in Antarctica surrounded by islands and the mainland, we offer the chance for you to get off the ship and experience Antarctica first-hand. You can take part in shore excursions such as snowshoeing, hiking, camping or photography workshops. Or join water excursions such as kayaking or zodiac cruises. These activities are all included. You can participate in one or all of them, it's up to you!
Know that budget trips to Antarctica usually don't include these activities–what the tour operator would call "extras." And they can easily add thousands of dollars to your trip if you've booked with a budget outfit.
Every day on our tour, in addition to the activities listed above, there will be at least two lectures where you'll get to learn about all things Antarctica.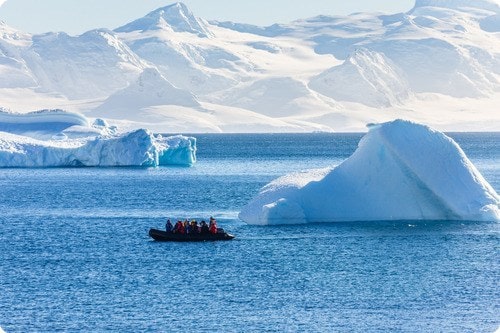 Expedition Staff
Having first-hand experience with the company that owns this ship (Oceanwide Expeditions), Beth can speak personally about the quality of the expedition crew.
This international staff, who will be providing our daily lectures, has years of experience in their fields of expertise (biologists, scientists, ornithologists, geologists and photographers) but also a wide range of knowledge about Antarctica in general.
Included in this international crew is the expert kitchen staff, who serve up three fantastic meals each day.
There will also be at least two doctors on board, one or both of whom will have experience on previous Antarctic journeys.
Buenos Aires!
There are really just a couple of options for flying into Ushuaia and one of the most reliable jumping off points is from Buenos Aires, Argentina. BA is a magical city in which one could spend two weeks and still only scratch the surface.
While we won't spend two weeks there, it would be tragic to only stop for a layover in BA to then fly onward to Ushuaia. We have therefore included four nights in Buenos Aires as a chance to experience this vibrant city and to allow us to get to know one another prior to boarding the ship in Ushuaia.
You'll soon discover why this is a city that should not be missed!
Interested in joining us in Antarctica in 2024? See our full itinerary or register now!