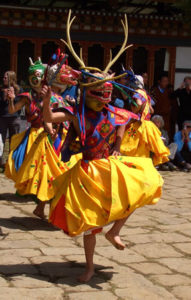 Bhutan is a land of festivals – raucous, joyous occasions, with a deeply spiritual underlay – offering not only the chance to cleanse your soul, but plenty of opportunity for photos as you're swept up in the colorful celebrations. The WanderTours Bhutan Women-Only Festival Tour in October 2014 includes visits to two of the most popular tshechus (festivals), in Thimpu and Bumthang.
Attending tschechus – one large and one smaller and more intimate – in two different regions of the country lets us experience how the festivals vary from place to place. Many of the dances performed date back to before the Middle Ages and are only performed once or twice a year.
The first dance of the Thangbi Mani Tshecu in Bumthang, is the Fire Dance where participants leap over a fire to wash away all their sins for the coming year; in fact it is believed that just watching the dance will do the same thing for you!
Highlights of this tour include: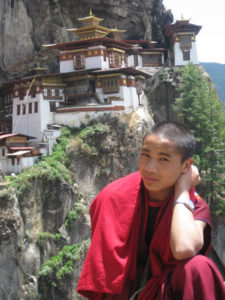 A hike to Taktsang (Tiger's Nest) – the country's most photographed monastery
Attendance at two fantastic festivals in Thimpu and Bumthang
Light hikes in the peaceful majesty of the Himalayan foothills
A visit to Punakha Dzong – considered the most beautiful monastery in Bhutan
Why not make 2014 the year you join us and help Bhutan celebrate its ancient traditions? We also still have space on our Bhutan Paro Festival tour in March 2014. Give us a call (206-317-1860) or Contact Us via email and we'll be happy to answer any questions you might have!
Embrace life,
Pat
To stay up-to-date on all things WanderTours, follow us on Facebook and subscribe to our blog via email or RSS.