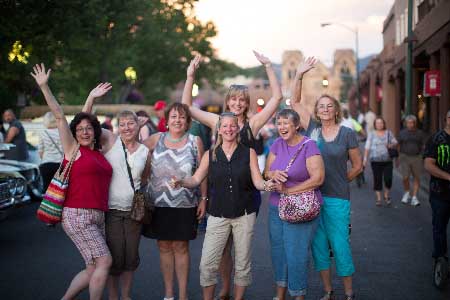 Roommates Wanted! While some of our tour participants travel with a sister or a friend, we do sometimes have those who book a tour on their own, but would rather not pay a single supplement for a single room. (See below for what exactly a single supplement is.) Although we can never guarantee that we'll find them a roommate, we do our best to do so. Often, we're successful.
In an effort to facilitate matching potential roomies, we'll be updating this blog post regularly. This will will make it easy to check in advance which of our tours has a single who is looking for a same-sex roommate. Just a heads up…even if we can match you up, we can't guarantee the match until both parties have made their complete and final payment on the tour.
Right now, we're looking for roommates on the following tours:
We don't have any room shares available at this time, but check back soon! Please contact us if you are interested in more information for any of our tours.
Our typical clients are fun-loving, adventurous women who love to travel. Some are single, some widowed and some have partners who prefer not to travel. Although we do occasionally have participants in their late 20s or early 30s join us, the typical age range on one of our tours is 40+. Our women-only tours are great for girlfriend or sister getaways, mother and daughter adventures, or if you're traveling on your own, making a whole lot of brand-new BFFs! On our co-ed tours, we usually have a mix of singles, couples and sometimes a parent with an adult child.
Why a Single Supplement?
Hotel costs are based on double occupancy. You'll notice that any time you book a hotel room, it's the same price whether you're traveling alone or traveling with another person. When we work on the costs for our tours, we have to base them on a per person cost. In other words, we split the price of the hotel in half and then add in the other costs including food, transportation, activities, entrance fees, drivers, guides and anything else pertinent to the tour. Therefore, each person's tour cost is calculated based on half of that double occupancy rate.
When a person requests a single room, the other half of the double occupancy (which would be covered by a second person) must be covered by someone. And if not a second tour participant, then by the person who has requested the single room. The other option would be to to raise the tour price for every person so that when there IS a single, it's covered by group collectively. But that doesn't seem fair to those who are sharing.
If you're interested in one of our tours and would like to share with someone, contact us or call us at 1-206-317-1860.
To stay up-to-date on all things WanderTours, follow us on Facebook and subscribe to our blog via email or RSS.