TECHNOLOGY including CELL PHONES, CAMERAS AND COMPUTERS
FAQs SPECIFIC TO THE SNOWMAN TREK


1. GETTING TO BHUTAN
Q. Will I be flying directly to Bhutan for this tour?
A. You will want to book your flights into Bangkok at least 24 hours prior to the first day of the tour. We suggest that you stay overnight in Bangkok as the group will depart (usually quite early in the morning!) for the flight to Paro, Bhutan. WanderTours will book your round trip ticket from Bangkok to Paro.
Q. Do I book my plane tickets to Bhutan?
A. Due to Bhutan's restrictions and control on visitors into the country, it's not possible to book your own flight into Paro, so we book your flights into and out of Bhutan for you. Usually this is from Bangkok, where most people stay prior to the start of your tour. But there are flights into Bhutan from Delhi, Calcutta and Kathmandu (which we would also book), if you prefer to fly from one of those destinations and meet the group in Paro for the start of the tour.
Q. When I arrive in Bangkok (or Delhi) before the tour, do you think a print-out of the hotel's name and address, in English, will be sufficient for the taxi driver?
A. In all likelihood the taxi driver will speak English and he'll understand but having it on paper is a great idea.
Q. What is the FREE checked baggage allowance allowed on Druk Air flights between Bangkok and Paro?
A. Druk Air allows up to 20 kilos (44 pounds) of checked baggage. As these planes are very small, only one piece of hand baggage – such as a purse, a coat or a camera – will be allowed on board. All other baggage will be added to your checked baggage allowance. Excess baggage charges will apply if weight exceeds 20 kilos. Baggage restrictions can be found here.
Q. Can I bring my 22″ carry-on bag on our Druk Air flight?
A. The cabin space is too small to accommodate large carry-on bags so this will need to be checked.
Q. Does the FREE baggage allowance differ on Bhutan Airlines?
A. Passengers traveling on Bhutan Airlines are allowed checked baggage with a combined maximum weight of 30 kilos or 66 pounds. Carry-on baggage can't exceed 7 kilos (15 pounds). Dimensions can be found here.
Q. Do I need to secure my own visa for Bhutan?
A. No, we handle that at WanderTours and it is included in the cost of your tour.
Q. I'm thinking of booking an early evening flight home from Bangkok on the last day of the tour. Will that work?
A. On the last day of the tour, our flight from Bhutan to Bangkok doesn't usually arrive until 4:30 pm or later. We recommend that you book your international flight home for very late that night or that you consider staying in Bangkok for one night in case flights out of Paro are delayed (not uncommon).


2. WHILE VISITING BHUTAN
Q. Will bottled water be readily available?
A. Yes, it will but we strongly urge our tour participants to carry their own reusable water bottle and bring a water purifier, such as a SteriPen, so as to cut down on the number of plastic water bottles that get thrown out daily in the country.
Q. What kind of food should I expect on the tour?
A. Meals are usually served buffet-style at the hotels and include plenty of cooked vegetables, rice and meat. Vegetarians will have no issues finding enough to eat. Chile and cheese is the national dish of Bhutan and is often available at meals. Rice is always plain and vegetables are often served plain or with cheese.
Q. For the treks over multiple days, I'm trying to keep my day pack as small as possible. I have room for water, snacks and jacket in my camera backpack, but will I need room for my lunch?
A. On the treks, lunch will be carried by the porters, so you don't need to worry about that. You'll need just a day bag with your personal items and perhaps some snacks like protein bars.
Q. I was wondering if there is a need for altitude meds?
A. On occasion, people have had an issue with the altitude but it's such a personal thing that it's hard to tell who it's going to be a problem for. Bhutan is situated high in the Himalayas. Participants should be fairly fit and expect to do light hiking throughout the journey. We suggest asking your doctor.
Q. Do I need to worry about mosquitoes and/or malaria in Bhutan?
A. While you may encounter a stray mosquito or two, malaria and Japanese encephalitis are not found in the areas you'll be visiting in Bhutan. However, we suggest that you consult your doctor about whether you should get malaria medication.
Q. Do you recommend taking a driver's license with you on trips where you aren't planning on driving? Or just rely on your passport, or get an International Driver's License as another form of ID?
A. You definitely won't need your driver's license but if you feel more comfortable carrying it, by all means, do. Your passport is really the most important ID you'll need.
Q. Should we bring our own toilet paper? Do they have the "squatty potties" of China fame?
A. No need to bring toilet paper as it will be available at all hotels. All toilets (except for the woods) are western style. There may be a number of outdoor potty breaks but you can grab TP from the hotel for this.
DO expect to squat in the woods – you won't always be near a toilet when it's time to go. We hope you're not shy 🙂
Q. Do I need a walking stick?
A. It depends on your athleticism and your balance. Usually only those on the treks have a need for walking sticks but you might decide you want one for the day hikes. If you're in generally good shape, one would be good but we could always find you a sturdy stick along the way. There's usually a man at the base of the Tiger's Nest hike that "rents" them and sometimes the hotels have them.
If you're relatively steady and have good walking shoes, you may not need to bring one or two walking sticks with you.
Q. I get motion sickness. Will I be able to sit in the front of the van/bus on the tour?
A. We do try to make our tour participants as comfortable as possible, so please tell your tour guide if motion sickness is an issue for you. We can't guarantee the front seat of the van or bus every time as it really depends on how many people in the group tend towards motion sickness or have other medical issues where they may need a different seat. We suggest that you bring ginger, wrist bands or ask your doctor about a prescription.


3. HOTEL INFORMATION
Q. What are the accommodations like in Bhutan?
A. Hotels are quite comfortable, usually in the 3- to 4- star range (5-star hotels are an additional $1,000/night!) and have private bathrooms, heat and hot water.
Q. Will you be sending a list of hotels?
A. All of our hotels are listed on our itinerary and you will receive a list of hotel contact information about two weeks before departure (note: it is subject to last-minute changes).
Q. Will the hotels have a laundry service so that I can pack light?
A. They definitely have laundry service at a reasonable rate. You'll want to consider having it done at one of the hotels where the group is staying for more than one night as it will be difficult for your clothes to dry in that climate. Also, be sure that you bring quick-drying clothes made for this purpose.
Q. Are there hair dryers at the hotels?
A. Sometimes but don't count on it. As mentioned above, there will be power at all hotels. Just remember that no one's going to be looking their finest, so if you don't have to have the hair dryer, consider leaving it at home 🙂


4. PACKING INFORMATION
Q. I have been researching new luggage and took to heart your message of going LIGHT. With the caveat to go light no matter what, I'm looking at carry-on wheeled options. Is it safe to assume we are going to be responsible for moving our luggage around every day, and also that in Bhutan we may be needing to pick it up more than wheel it, due to fairly uneven and unpaved terrain?
A. You'll have very little interaction with your luggage as the guides and hotel staff help with moving it from the van/bus to your room. You might consider a small roller bag that is carry-on size (under 22″).
Q. How should I dress based on the weather in the spring or fall?
A. You might consider either a fleece and/or light rain jacket for your outer layer, then a button up shirt underneath and a t-shirt as a bottom layer. Evenings will be cool – possibly freezing – and days will can get up to the low 70's if it's sunny.
Q. Will I need a swimsuit?
A. No swimsuit for Bhutan but your hotel in Bangkok or Delhi might have a small pool – check their website (and the weather) to determine whether you should bring a swimsuit.
Q. Can I wear shorts?
A. It's not recommended to wear them in Bhutan as it's disrespectful to the locals. You definitely can't wear them to the monasteries. Capris are preferable and we've even heard that some guides bristle at these when going to a festival or monastery.
Q. Are short skirts (slightly above the knee) acceptable in the temples? How about calf-length skirts?
A. It's best not to wear above the knee skirts to temples. They could potentially deny you entrance. Calf-length skirts will be fine. Shorts and short skirts really aren't appropriate in Bhutan.
Q. Do I need any dressy clothes?
A. Nope.
Q. What kind of shoes should I hike in?
A. It depends on how much ankle support you need. Hiking boots may not be necessary, unless you are doing one of the treks. Consider light hikers or even something like Keen or Teva sandals that have a grip on the bottom.
Q. Do you know if I can bring hiking poles in my carry-on bag?
A. It seems as though security at the airport does not like hiking poles in your carry-on. We do know people who have been able to bring them through with no problem but you may not want to risk it. Even though we do not recommend checking bags, if you're going to bring poles, this may be your only option.
Q. Would you recommend taking a rain coat? Something more than one of those flimsy "emergency" ponchos? I'd like to be out walking when we can be and making the climb up to Tigers Nest.
A. The vast majority of the time, you should have nice weather in Bhutan but you might experience a rain shower or two. A light rain jacket isn't a bad idea. Remember to dress in layers, too, so that when the sun's out, it'll be easy to layer down into lighter clothes.
Q. What tricks do you use to fit all that stuff into a carry-on? And still have room somewhere for souvenirs?
A. It's true that if you pack light, you'll have to do more laundry. But I'd rather live with rinsing out some clothes every 4 or 5 nights than lugging around a big bag. Check out this article I wrote on my secrets to packing light.


5. TECHNOLOGY including CELL PHONES, CAMERAS AND COMPUTERS
Q. Will we have internet access?
A. As of 2012, hotels are now required to provide either WiFi service or computers to guests. Sometimes the service is free, sometimes it's not. Note that some computers can very extremely slow, infected with a virus or just not working. Having said that, it's likely that you'll have access to the internet in most locations (except when trekking) but know that there will be times when it goes down in the whole country.
Q. What sort of power adaptor do I need?
A. Bhutan uses the same sort of adaptor as India (see photo). Buy one from a local travel store and chat with a salesperson to make sure you've got the right one. Some power plugs at hotels actually accept the US-style of power plug, too.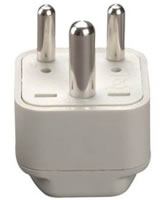 Q. Will I need a converter for my electrical devices?
A. You will need a converter for any devices unable to handle 220 (i.e. your hair dryer, curling iron, etc.).
Q. Can I use my cell phone/iPad in Bhutan?
A. It depends. First, your cell phone must have GSM technology in order to tap into the local network. If you plan on bringing the phone that you use on a daily basis at home, CHECK WITH YOUR PROVIDER to determine what they will charge for both calls and texts – both outgoing and incoming – and for calls within Bhutan and for international calls. These calls can be exorbitant. AT&T charges something like $4.99/minute for roaming in Bhutan.
Consider carrying an old phone that is "unlocked" – one that you're currently not using and doesn't have a call plan attached to it. Remember that it has to have GSM technology in order to tap into the Bhutan network. When you arrive in Bhutan, you can purchase a SIM card for that phone and then be able to tap into the local network. Domestic and international calls will likely be far cheaper than using your own phone on your current plan. When you add the new SIM card, this phone will be assigned a phone number that you can then share with your family at home and they can call you directly (sometimes you're not charged for incoming calls).
Here's a blog post about cell phone usage abroad.
The above also applies to iPads with 3G. If you are under contract to an internet provider at home, you will probably not be able to change out the SIM card in your iPad. The iPad must be "unlocked" in order to use the 3G capabilities without paying huge roaming fees. Please check with your provider before leaving home. You might also consider signing up for Skype and putting money on your account so that you can call home using this technology.
Having said all this, your best option might be to rely on using your phone over a WiFi network (which is possible through a setting on your phone). Although WiFi will only be available at hotels and, even then, not 100% reliable, it will be free and you can make and receive both calls and texts this way.
Q. Can I bring my laptop?
A. Of course, you will have power at all of the hotels. Power outages do happen but not frequently.
Q. I was thinking of buying a digital book reader for the trip, can you recommend one?
A. It seems that both the Kindle and the Barnes and Noble Nook are popular options. Both are pretty user-friendly. The Kindle is easier when it comes to downloading books. The Sony eReader is another option.


6. MONEY, GIFTS, TIPS
Q. Shall I bring rupees to Bhutan?
A. You can if you want to but it isn't necessary. They are accepted and interchangeable with ngultrum, the local currency, but shops will not take 500 rupee notes and larger due to counterfeit currency. Most transactions with foreigners are done in US dollars. We suggest that you change your money upon arrival. $50 bills/travelers' checks (and larger) get a better exchange rate than smaller bills. You can then exchange more in Thimphu at the bank (note there's ONE bank).
Q. Are ATMs available in Bhutan?
A. There are a few ATMs in Bhutan but they may or may not accept foreign credit/debit cards. We suggest you change money at the airport or in Thimphu.
Q. Do vendors usually take credit cards or do small vendors not have the equipment?
A. Credit cards are only accepted in a couple of shops in Thimphu and one shop in Bumthang. And, theses shops charge something like 7% for the transaction fee. You can use them in an emergency, but we don't recommend it.
Q. Are traveler's checks viable in Bhutan?
A. Travelers checks can be used at the airport and in Thimphu and only occasionally will a shop accept a traveler's check – please don't count on it.
Q. How much money do you recommend bringing?
A. Remember that most everything will be covered during your time in Bhutan – hotel, food, transportation and water. If you want soft drinks or alcohol (beer is widely available as is wine) these will be extra. The most common souvenir purchases include tapestries and thangkas (wall hangings). They CAN be expensive but range from about $20 upwards (easily into the hundreds, and even over a thousand, dollars). Prepare for this if you plan to bring home some nice souvenirs. There are plenty of inexpensive souvenirs you can pick up as well. Recommended amount in Bhutan? It just depends on your habits. We've seen people spend maybe a hundred or two while others spend far more than that on the tapestries. Consider doing your souvenir shopping on your return trip through Bangkok or Delhi so you won't have to withdraw so much during the first part of the trip.
Q. If I bring US dollars, is Bhutan fussy about them being perfect.
A. It's a good idea to have newer/crisper bills as sometimes the shopkeepers won't take bills that are wrinkled or torn.
Q. I would imagine there would be little theft in Bhutan?
A. Bhutan is an incredibly safe country. No need to worry about theft.
Q. I have a moneybelt that goes under my pants or skirt in which I carry my passport. Do you recommend getting a case-hardened steel chained passport holder?
A. I think that's overkill and it sounds uncomfortable! Bhutan is very safe.
Q. How much should we be prepared to bring extra for tipping? What about gifts for our local guides?
A. We've recently changed our policy on tipping for local guides and drivers and if there is a WanderTours escort on the trip, such as Beth, she will handle all tipping. Having said that, if you feel like someone has done an exceptional job, please feel to tip on your own if you're so moved. If you are escorted by a WanderTours guide (other than Beth – no tips required for her), then plan on tipping her $5-10/day.
If it is an un-escorted trip (meaning no WanderTours person traveling with you), you can tip the guide $5-10/day and your driver $3-5/day. At hotels, there will be a tip box at the front desk where you can leave tips for the hotel staff (perhaps 50- 100 ngultrum per night).
Q. Do you recommend bringing small gifts for the children we will encounter?
A. No, it's best not to bring gifts such as candy, chocolate etc. If you want to interact with the children, you could consider bringing a bottle of bubble liquid and you can entertain them by blowing bubbles for them. Remember to put in your checked luggage, though.


7. WANDERTOURS TRAVEL DETAILS
Q. Do I need insurance for this tour?
A. Until the pandemic has been declared over, we ask that all tour participants acquire travel insurance. We have now partnered with Travel Insured International so that you have ability to purchase "cancel for any reason" insurance. We HIGHLY recommend travel insurance (no matter who your provider is) to protect your travel investment from any future issues. Although we are technically not requiring it, you will be asked to sign additional paperwork acknowledging the risk of traveling without insurance.

Q. Is there a schedule for installment payments?
A. We don't have anything formal set up but you can definitely send in payments on your own schedule. Some people send in monthly payments while other people send in payments when it's convenient.
Q. Will I receive a refund if I have to cancel my participation in the tour?
A. Once you have paid a deposit, there is a cancellation fee if you cannot join us. The cancellation fee depends on the tour and how far in advance of the tour you cancel. Our refund policy is covered in our Booking Terms and Conditions and is also outlined on the Registration Form that you'll receive within 24 hours of registering with a deposit.
Refunds will be sent by check within two weeks of us receiving written notification (email is fine) of your cancellation. If Beth is traveling when you cancel, it may take longer than two weeks to get your refund check out to you. She'll mail it as soon as she can upon returning to the U.S.
Q. Will you be sending an updated itinerary with our overnight accommodations so we can leave it with folks at home?
A. Yes, you'll receive the hotel information as well as emergency contact information one or two weeks before departure (note: it is subject to last-minute changes).
Q. What's the emergency contact info that I can give my family?
A. You will be given a cell phone number for your in-country guide and your tour escort. All of this will be provided shortly before departure.
Q. What is the WanderWorld Foundation?
A. This is a program we have developed for most of our international tours, where a portion of your tour cost goes towards supporting a project or non-profit organization in the country where the tour is taking place. Read more about the WanderWorld Foundation here.


8. FAQs SPECIFIC TO THE SNOWMAN TREK ONLY
Q. I can't decide which sleeping bag to bring with me on the Snowman Trek. I want to be warm enough but also want to be able to use the bag again for other camping trips.
A. It DOES get really cold on the trek. Interesting enough, it usually feels coldest in the late afternoon after trekking and before dinner. This was when the tents had just been set up and our body heat hadn't warmed it up a bit. Once tucked in (with warm clothes on!), sleeping shouldn't be an issue in terms of the cold. Here's a review for a sleeping bag that worked well on the Snowman Trek.
Q. What size of duffel bag should I bring?
A. You might consider a medium-sized Eagle Creek Bag and perhaps another smaller bag. Alternately, consider bringing just one slightly larger bag. Here's a review about the Eagle Creek bag.
Q. Are sleeping pads provided or should I bring my own?
A. Sleeping pads are provided but you might consider bringing your own and doubling up for extra comfort. Klymit manufacturers ones that pack down relatively small. Here's a review about one of their sleeping pads.