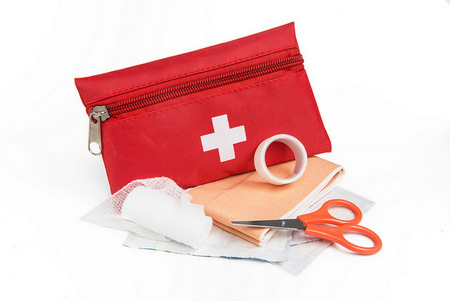 I'm prone to blisters, and I don't think I've ever gone on a trip anywhere that I haven't needed to search out a pharmacy for Band-aids and antiseptic ointment. And there was that one trip to Thailand when I needed to actually use the antibiotic medication prescribed by the travel doctor for a tummy upset. Luckily, that's been the extent of my first-aid emergencies when I've traveled, and—believe me—I realize that I've been lucky.
One thing I've never gotten around to doing is putting together a travel first aid kit. Don't ask me why…I've just never done it. But I'm not always going to have ready access to a pharmacy, so I've made up my mind to make this a priority before my next trip (definitely before I go on the Tanzania safari in 2017).
While the items in my travel first aid kit may vary depending on the destination I'm traveling to, there are a few basic items I'll include every time.
Travel First Aid Kit Packing List
Adhesive bandages of varying sizes, gauze and adhesive tape.
Some kind of antiseptic wipes—useful when cleaning wounds—as well as antiseptic ointment.
Blister pads or moleskin—going back to that whole blister issue.
Alcohol hand sanitizer—this is something that I have already begun carrying with me. It's nice to be able to clean your hands, particularly when there's no water available.
Hydrocortisone cream for treating insect bites.
A few basic medications such as Tylenol, an antihistamine, an anti-nausea and anti-diarrheal. Just remember to carry them in original packaging or you may run into a problem with airport security.
Tweezers for removing splinters and ticks.
Safety pins and scissors.
It's also important to carry a copy of your eyeglass prescription (if you have one) and copies of any medication prescriptions (in case you lose them and you need a re-fill). These items should be carried in your carry-on.
See also: Why You Should Visit a Travel Clinic | The Importance of Travel Insurance
Again, depending on your destination, you may want to include: insect repellent, sunscreen, aloe gel and water purification tablets or a filter such as a SteriPen. I leave the final decision of what to include in your kit to you, but at least this is a start!
Embrace life,
Pat
To stay up-to-date on all things WanderTours, follow us on Facebook and subscribe to our blog via email or RSS.
Photo credits:
Red Cross First Aid Kit –  www.directline.com via Flickr
Eyeglasses – www.SeniorLiving.Org via Flickr