We women get a bad rap when it comes to packing light for a trip. The stereotype is that we need multiple outfits a day and a different pair of shoes for each outfit. While that isn't me, I must admit that I do have a problem whittling down my packing as much as I'd like to. It's so difficult not to try and cover every eventuality—what if it rains or what if I get invited to a super-fancy restaurant? There's no way to cover every situation that might happen along the way.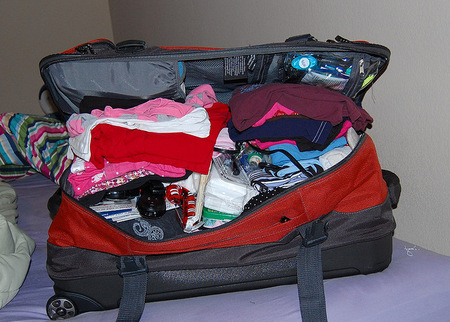 I know there are a lot of women travelers out there who can travel for weeks with only a carry-on bag, but so far, I'm not one of them. If you're like me and would like to learn how to reduce the things you need when you travel, here are a few tips:
Consider your destination and the wardrobe you'll need. Obviously, your destination plays an important role when choosing your clothes. A trip to a sunny destination requires a whole different wardrobe than a trip around the European capitals. Also, take into consideration local customs, and don't expect to tour churches or other religious sites in short shorts and a tank top. Pack appropriately.
Reduce the number of shoes you take. Try and only take two comfortable pairs of walking shoes—possibly one close-toed and one open-toed—and wear one of them on the flight. If you're traveling to a sunny destination, feel free to throw in a pair of flip flops or sandals as they don't take up too much space. Try and make one of the pairs dressy enough that you could wear them with a skirt or when you go out in the evening.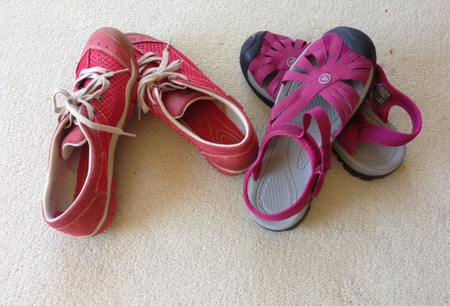 Pack clothes that you can mix and match. Lay out all the clothes you're thinking of packing and then go through and pick out items that can be worn in different combinations. Only pack those things and put the rest back in your closet. The general rule for packing is that you put out everything you want to take, and then weed out half of it to leave behind. You're on vacation. No one is going to care if you wear the same clothes more than once.
Only take two or three pairs of underwear and socks. Pack quick-drying underwear and cotton-blend socks. Throw in some small packets of laundry soap and be prepared to wash out these items as needed. For optimum use of space, stuff your socks inside your shoes when packing.
Take multipurpose items. A sarong can serve multiple uses—use it as a towel, a skirt or a scarf. While convertible pants may not be the most fashionable look around, you may appreciate the ability to roll up the legs and make a pair of capris out of them. A t-shirt and leggings can do double duty as both sleepwear and exercise wear. Once again, it's important that the clothes be quick-drying so that you can wash them between uses.
Accessorize. It's amazing how much different an outfit can look when you add a scarf, a necklace or some bangles. These items don't take up much room in your bag and can dress up your look considerably.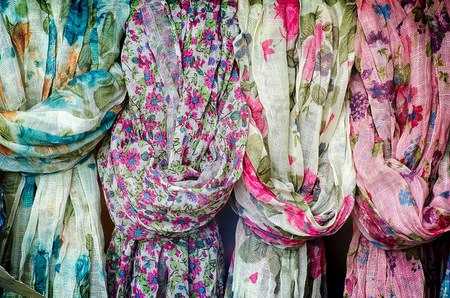 Wear your heaviest clothes on the plane. Dress in layers for the journey—it'll save you having to find room in your bag for larger bulky items such as a jacket or fleece.
Travel-size toiletries. Pack travel-size toiletries or buy them once you reach your destination. It's likely not that important if it's not the brand(s) you normally use. It'll only be for a short while. Re-evaluate the amount of makeup you need. Will you really be wearing as much on vacation as you do in your everyday life? Rethink taking your hairdryer and curling/straightening iron. Most hotels these days supply a hairdryer and your hair may thank you for not curling or straightening it while on vacation. 🙂
Use packing cubes. We all seem to travel with so many electronics these days…which means lots of power cables. Use a packing cube to keep them organized. The cubes come in a variety of sizes and can also be used for organizing other items.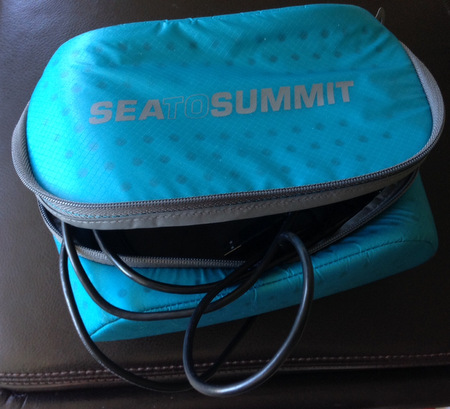 Read here for more packing tips.
Try some of these tips the next time you're packing for a trip. Hopefully a lighter suitcase will make traveling more enjoyable. We can help you choose the destination…but not what to pack. Contact us or call us at 1-206-317-1860 for details on any of our upcoming tours.
Embrace life,
Pat
To stay up-to-date on all things WanderTours, follow us on Facebook and subscribe to our blog via email or RSS.
Photo credits:
Packed suitcase – Catherine via Flickr
Shoes and packing cube – Pat Awmack
Scarves – Garry Knight via Flickr