By Rachel Diebel
What sets the cuisine of Santa Fe apart can be captured in one word: chilies. People in New Mexico tend to eat chilies on everything, all the time, from cheeseburgers and French fries to traditional Mexican food. This can be a little different for the southwestern newcomer. The Santa Fe WanderTour will introduce you to the full wonders of southwest cooking, but here's a beginners guide to the world of Santa Fe chilies.
Lingo
Sometimes it can seem like there is an entirely new language surrounding chilies. "Smothered" means that your order will be covered in chili sauce, while "handheld" means that the chilies are neatly contained inside your food (most commonly a burrito). "Christmas" is a phrase used to show that you would like both green and red chilies in your food, and a Hatch chili is any chili grown in a southern village, Hatch, the Chili Capital of the World. It can be confusing, but it's easy once you get the hang of it!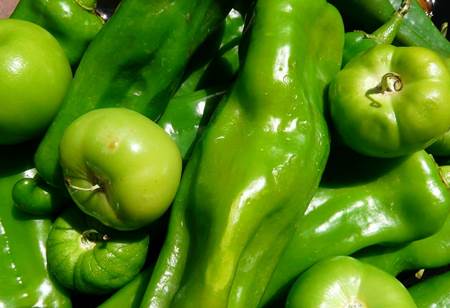 Green Chilies
The phrase "green chili" is used so much in Santa Fe cuisine that it can be hard to tell what people are actually referring to. Green chili can be an actual chili pepper, a sauce or stew made from the pepper, or a chopped up pepper used as a condiment. No matter what kind of green chili condiment, topping or pepper you try, you're likely to be pleased.
Red Chilies
Red chilies are the same as green chilies in Santa Fe, just picked at a different stage of ripeness. These have more of a traditional chili pepper taste, and have a mild heat and a light sweetness that make them delicious is almost any dish.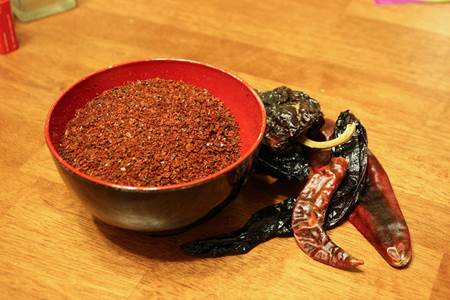 Chili Powder and Spices
In New Mexico, don't expect chili powder to be the same stuff you make chili with at home. Here, chili powder is made from either red or green New Mexico chilies and has a distinctly different taste than your run-of-the-mill chili powder. Mild green chili powder is great on popcorn! Be sure you pick some up while on your WanderTour and take some home as you can't always find it at grocery stores around the country.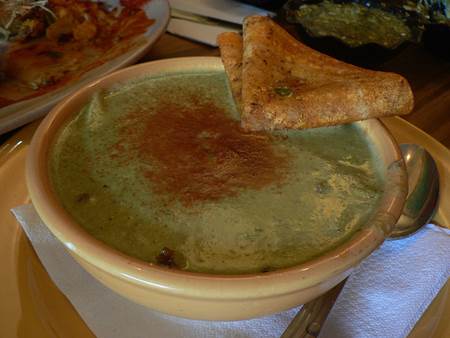 Green Chili Stew
Green chili stew is a New Mexican staple that you will find in any restaurant, and a must-try during your Santa Fe culinary tour. Though there are many variations, the basic green chili stew consists of pork, tomatoes, potatoes, onion, garlic and chilies, all simmered down to a delicious stew. Pork is most commonly used, but other meats can be substituted.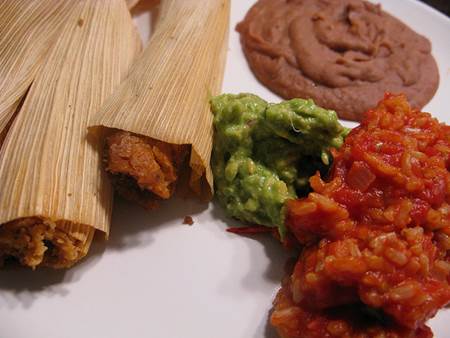 Tamales
During your WanderTour, you will visit the Santa Fe School of Cooking to learn the ins and outs of making tamales, a delicious masa flour snack or meal. You'll likely learn a bit about chilies along the way, too. Chilies can be added as a sauce once you have unwrapped your tamales from the corn husk and are ready to eat, or they can also go inside for additional zing.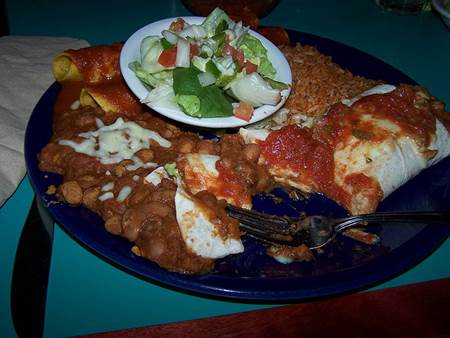 Enchiladas and Burritos
Enchiladas in New Mexico are served either rolled or flat, typically with steak and cheese and almost always smothered in chili sauce. Burritos are served in a similar way, although you can also have your chilies served "handheld" inside a burrito. In fact, chilies are a staple of any traditional Mexican food in Santa Fe, from quesadillas to chili rellenos.
To stay up-to-date on all things WanderTours, follow us on Facebook and subscribe to our blog via email or RSS.
*****
Photo credits:
Chilies of Santa Fe: Beth Whitman via WanderTours
Green Chilies: kris wilson via Flickr
Red Chili Peppers: Alberto Vaccaro via Flickr
Chili Powder: Jon Roberts via Flickr
Green Chili Stew: stu_spivack via Flickr
Tamales: Kari Sullivan via Flickr
Enchiladas and Burritos: Thomas Crenshaw via Flickr