Susan Weis-Bohlen, a Chopra Center certified teacher of Ayurveda, will lead the WanderTours Women-only Bhutan Yoga Tour in March 2016. In this Q&A, you'll find out a little bit about Susan as well as why she thinks Bhutan and yoga are a natural fit.
Q. You've traveled to Bhutan before. What were the highlights of that trip for you?
A. The people were amazing—especially the children. They were so open and curious as they don't see many foreigners. And the architecture also just astonished me as I have never before seen structures like those in Bhutan. It looks like Shangri-La! Stepping out of the airport, I was mesmerized by the beauty of the buildings and how they blended in so easily with the landscape. Great care was given to creating a synergistic landscape with buildings, people, flora and fauna, and mountains and streams in mind.
Q. What are you looking forward to on this trip to Bhutan?
A. It's been nearly 10 years since I first visited Bhutan and I thought that was a once-in-a-lifetime trip! I am so excited to experience it again. I look froward to creating a comfortable trip for the group and supporting everyone in the full experience of taking in the sights and sounds of this beautiful, peaceful country. I come with fresh eyes, but will also view the trip through the eyes of the women I am accompanying, and making sure everyone's needs are met to the best of my abilities.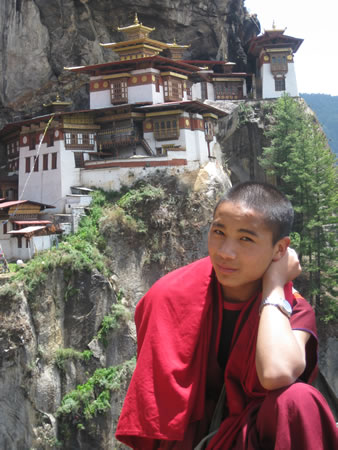 Q. Why do you think that Bhutan and yoga are a natural fit?
A. Yoga means union. It is more than just a series of postures. Yoga is a philosophy—a peaceful, powerful way of life. As Bhutan is a Buddhist country, most of the Yogic philosophies are infused in the Buddhist way of life. The asanas (postures) of yoga help us to align ourselves mentally and physically with a more balanced, quiet, less-dramatic way of life; they make us more connected to the earth and its elements, and more accepting of our path and the paths of others. Yoga is about the journey—not the final pose. Which is much like travel. It's about the journey, not the about the final destination or about flying home and sharing photos on Facebook and Instagram! It's about the experiences we collect along the way. It's also about being open to whatever arises, without attaching to an outcome in our minds.
Travel and yoga are similar in that we never quite know what we are going to get! Some days you nail that triangle pose, hand on your ankle and one arm reaching straight into the sky as you gaze upward into infinity. Other times, one hand reaches only to the knee and our elbow doesn't open as fully and we can't seem to gaze beyond our own fingers, yet we notice something within ourselves, a wisdom that says, "For today, this is enough. For today, this is perfect."
Sometimes the final pose is just a suggestion, and wherever we wind up is perfect. Different but equally as good or sometimes even better! As with travel, sometimes the journey or the final destination doesn't go quite as planned, but the alternative could take us to a more exciting place—something unknown and exotic. Yoga teaches us to be open to all possibilities and to be equally delighted by all outcomes!
Q. Must tour participants be experts at yoga to accompany you on this tour?
A. If you can breathe, you can do yoga. I will adjust the yoga sessions to meet all needs. I am trained in all types of yoga from chair yoga, to gentle yoga, to more vigorous workouts. I imagine in a country with such a high altitude as Bhutan, we will be working with our breathing to help us adjust. And there are poses for all occasions—to get us ready for a long bus ride, seated stretches to keep us limber on the bus, to unwind after a hike, to rejuvenate, to rest, to energize, to illuminate! (Tour participants, please note that participation in yoga is optional).
Q. You've been practicing yoga for 20 years—can you give us a brief glimpse into who you are, and what prompted you to become interested in yoga in the first place?
A. In the early 1990s, I began practicing meditation, and yoga came right along with that. (Yoga was originally created as a series of postures to help "yogis" meditate longer with more comfort and ease). I had been living overseas in Israel for nearly a decade, and yoga and meditation were much more common there than they were in the U.S.
When I moved back home I found the one yoga center (Iyengar—still my favorite!) and the one place to practice meditation (Shambhala). These two centers became my sanctuaries. I had become a vegetarian in the mid-70s while in my teens, and I found my "peeps" in the yogic world. I just fit right in and it felt like the right place to be. Who knew that all these years later there would be a yoga studio on every corner, and places like Google and Yahoo offering meditation classes to their employees?! So I may have been a bit ahead of the curve, but it has served me well.
Q. You're a certified teacher of Ayurveda. Can you explain a little bit about that concept?
A. Ayurveda is the oldest medical system in the world—about 6000 years old. In Sanskrit, "ayu" means life and "veda" means science—so it's the Science of Life. Much like Chinese medicine, Ayurveda is a whole-body health and wellness system that primarily looks to food first, as medicine. We also treat with herbs and oils and use meditation and yoga to create a life of balance and harmony.
If you're interested in joining Susan on the Bhutan Cultural and Yoga Tour please contact us or phone us at 1-206-317-1860.
Photo credits:
Tiger's Nest – Beth Whitman
All other photos – Susan Weis-Bohlen