By Rachel Diebel
From Hanoi to Saigon, a WanderTour through Vietnam is an amazing cultural adventure, but to be sure—it's an amazing foodie adventure too! Even better, food in Vietnam isn't typically expensive, especially if you enjoy street food. You'll have time on your tour to go out and explore on your own. When you do, don't miss these tasty street foods. You are sure to find something in Vietnam to tickle your taste buds and help to create lasting culinary memories.
Also check out: Crossing the street in Vietnam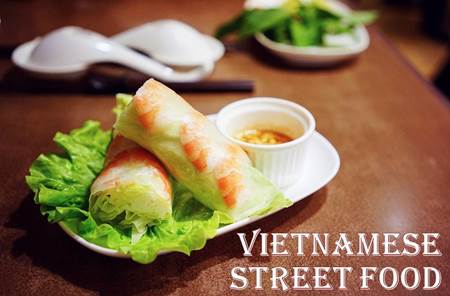 Spring Rolls
Spring rolls are an easily transportable and delicious snacking option while you are wandering the streets of Vietnam. Spring rolls usually contain veggies, cooked pork and sometimes prawns wrapped in rice paper and ready to go. They're great for a healthier snacking option, or you can get them deep fried if you're feeling the junk food craving. For an additional tang, dip them in sweet soy sauce mixed with crushed peanuts.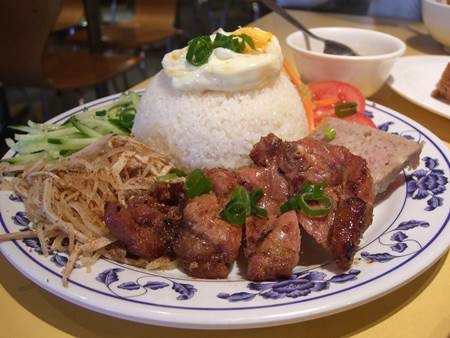 Broken Rice
Broken rice is rice of a "lower" grade, with more broken grains than you would usually find. However, this rice has become a delicacy in and of itself in Vietnam. When cooked it is sticker than regular rice, making it an easy street food when served with pork, egg cake and fish sauce (a staple in Vietnamese cuisine).
Vietnamese sandwiches or bahn mi
The Vietnamese sandwich one of the most famous Vietnamese foods to make it out of Vietnam (you'll spot these as most pho restaurants), but they're also popular in Vietnam. Tourists and natives alike love the combo of crunchy bread filled to the brim with goodies like Vietnamese ham, liver pate, veggies such as cucumber and green onion, and pickled carrots.
Bun Bo Hue
Bun Bo Hue originates in Hue, a city in central Vietnam, and is quickly gaining in popularity in the U.S. It is a beef-based soup, known for being spicy and flavorful, made with beef bone, lemongrass and rice vermicelli noodles. If you want even more flavor, it can be served with a handful of onions, extra herbs, chilies and (if you're feeling extra adventurous) a hunk of ox tail.
Noodles
Noodles in general are a big deal in most of Asia, and Vietnam is no exception. You'll see noodles in soup, noodles with veggies and various kinds of meat—all kinds of noodles! Thin rice noodles called vermicelli are especially popular, but you'll also find bánh canh (big, thick noodles), wheat flour noodles and more.
Banh Cuon (rolled cake)
Okay, so it's not exactly a cake, but bahn cuon is popular throughout the country and easy to find in most locations as it's a popular street food. It's a type of steamed rice cake served with meat and veggies. It's very delicate and there are two types—northern and southern. The southern style is a bit wetter and less "roll" looking than the northern.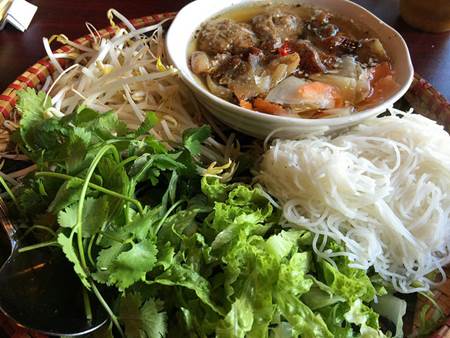 Bun Cha
Bun cha, a delicacy from Hanoi, is yet another delectable Vietnamese soup. This soup is made from small, seasoned pork patties grilled over charcoal and served alongside fresh vermicelli noodles. The most common way to eat this concoction is to add a bit of the noodles to the soup, garnish to your preference with chilies and herbs, eat and repeat. The patties have a smoky sour taste unlike anything you've had before, so be sure to try some during your stop in Hanoi!
To stay up-to-date on all things WanderTours, follow us on Facebook and subscribe to our blog via email or RSS.
*****
Photo credits:
Spring Rolls: Luke Ma via Flickr
Broken Rice with Pork and Veggies: Alpha via Flickr
Bahn Mi: Naotake Murayama via Flickr
Bun Bo Hue: Ron Dollete via Flickr
Banh Canh: Ron Dollete via Flickr
Banh Cuon: fabulousfabs via Flickr
Bun Cha: Roland Tanglao via Flickr