The flavors and aromas of Indian cuisine are both mouth-watering and mysterious. Whether you're a carnivore or vegetarian, there is something for everyone!
The cuisine of North India is strongly influenced by its geographical location, resulting in a combination of regional cuisines, including Mughali, Kashmiri, Rajasthani and Punjabi.
Hot weather allows for an abundance of seasonal fruit and vegetables. And many Indian dishes are vegetarian, making this tour ideal for vegetarians and meat-eaters.
North India curries have thick, moderately spicy and creamy sauces, and dairy products such as milk and yogurt play an important role in many dishes (to help cool the heat from the spices). Flatbreads such as roti and paranthas are out of this world.
On our North India Culinary tour we'll learn about the spices and cooking methods involved in creating the traditional dishes of this area. All this, plus the opportunity to visit world-renowned sites such as the Taj Mahal – we can't wait!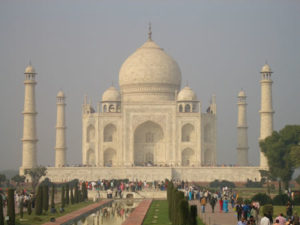 Highlights of this brand-new tour include:
A visit to the Taj Mahal at sunrise – the best time to take pictures
An unforgettable sunset boat ride down the Ganges in Varanasi
Cooking classes and demonstrations, where you'll learn how to make chai, chutneys, curries and breads
Meals in the homes of several families
Walking tours of colorful markets and street vendors
This fascinating tour of North India is sure to sell out. If you're interested in joining us on this inaugural trip, give us a call (206-317-1860) or Contact Us via email and we'll be happy to answer any questions you might have!
Embrace life,
Pat
To stay up-to-date on all things WanderTours, follow us on Facebook and subscribe to our blog via email or RSS.