A guest post by WanderTours participant, Lauren Van Mullem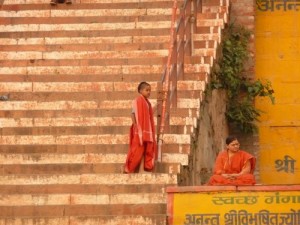 Four years ago, I spent an October morning floating on the Ganges at dawn. The tawny daylight crept through the haze of Varanasi to light the ghats in gold. Worshipers lined the river listening to the echoing prayers of the holy men, bathing in the opaque river water, and floating tiny candles downstream. Some of the steps leading down to the water were clothed in swathes of drying saris, others with carts of souvenirs. I had never seen any place more beautiful.
Two days before, while scrambling to reach the crowded platform of the night-train to Varanasi, I saw a sight that was haunting in its horribleness. Five young men in their early 20s – my age – missing their legs above the knees, scooted on the ground using their hands and begged for spare rupees. Some missed fingers and hands as well. I could not, cannot, imagine the conditions that would lead to that circumstance, but to love India is to take in the worst visions humans can manufacture with the best. The fact that they exist side by side, in such close quarters, astounds.
"And therefore as a stranger give it welcome. There are more things in heaven and earth, Horatio, than are dreamt of in your philosophy." – Hamlet, Act 1, Sc.5.
My memory of India is a country that assaults the senses – blasting smells, sounds, sights and tastes – figuratively blowing the mind clear of debris. Four years ago, I needed my mind blown after coming out of two very dark years at a traumatic job in Los Angeles. I had lost myself under the glare of florescent lighting and gray cubicles, living in constant fear of an abusive boss. "Abandon hope all ye who enter here," might as well have been the company logo. I finally quit, and in a bout of claustrophobic panic I booked a WanderTours trip to Northern India with Beth Whitman.
In India I discovered, for one, a tour group of incredibly inspiring women who were living their lives on their own terms – who traveled where they liked, who owned their own businesses, who were remarkably self-sufficient, wise and fun-loving, and had perspectives to offer a 20-something traveler starting out life as an adult. I discovered a capability in myself (which one can only gain through traveling solo) to be able to handle and survive stressful situations (taking a rickshaw to an ATM during Delhi rush hour remains one of the most terrifying experiences of my life). I discovered that the thrill of adventure isn't something that must be set aside to accommodate mundane adult life – in fact, adult life makes real adventures even more possible. In India, I learned to be a smarter traveler, a wiser world-citizen, a savvier woman, a more appreciative Westerner, and a far more patient and accepting human being.
Somewhere in the middle, perhaps while sitting on the bus through the mountains and valleys flanking Udaipur, the dark cloud of my Los Angeles life lifted. Nothing from back home could shade the vivid colors of the saris flashing by in the fields. And I felt that feeling – the feeling I had lost in the two years of uncertainty after college – that I was finally becoming the person I always hoped to be.
Lauren Van Mullem is a contributing author to the book Emails From India: Women Write Home now available on Amazon and in bookstores. As co-owner of Copy Muse, she works as a freelance writer, ghost-writer and web content creator, which allows her to work from her home in Southern California, be her own boss, and travel whenever she likes.