By Rachel Diebel
Ireland is more known for its rolling green hills, castles and the promise of charm around every corner than it is for its food, but that doesn't mean that there aren't delicious (or at least unique) traditional foods every visitor should try. From classic tourist must-trys like Irish stew and Guinness to local favorites like black pudding, Irish food has something to offer everyone who explores the Emerald Isle.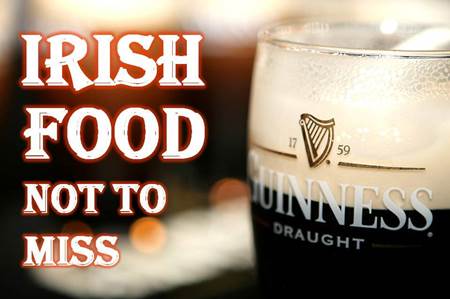 A Pint of Guinness
Ireland is famous for Guinness, the stout beer made from roasted barley and hops that started in Ireland and is now sold around the world, but many believe Guinness tastes best at its source. People travel from all over the world to visit the Guinness factory in Dublin, although the company is now headquartered in London. Guinness has been nicknamed the "meal in a cup," because it is known for being thick and very filling. The famous inches-thick foam that forms when it is poured is caused by mixing the beer with nitrogen for smaller bubbles and more froth!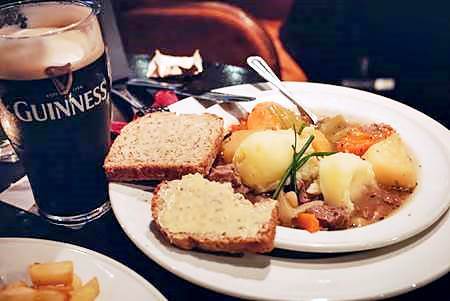 Irish Stew
Originally made with mutton, Irish stew is commonly made with lamb nowadays, as well as carrots, potatoes, onions and barley. The stew is big on flavor and is frequently seasoned with thyme, parsley and bay leaves. Make sure you order the stew on your hungriest day, because this hearty meal will fill you up for hours at a time. Irish stew is better the longer it is left to cook, so if you're planning on making your own, make sure you leave time to let it stew.
Curry Cheese Chips
Every country has their late night fast food favorite, and Ireland has curry cheese chips (what the United States calls fries). This classic comfort food is served at a popular fast food chain in Ireland called Supermac's, and also comes in garlic cheese and taco varieties. Steak fries covered in a sweet, spicy curry sauce and loaded down with onions and cheese are the perfect end to a late night of pub crawls and sightseeing.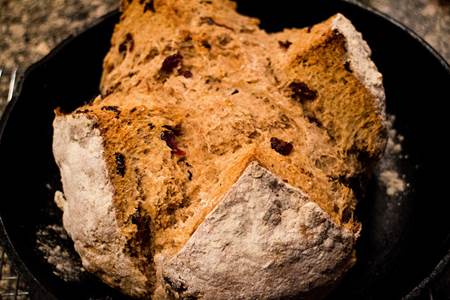 Soda Bread
There are as many varieties of soda bread as there are families in Ireland, because most families have a recipe that has been handed down for generations. Some recipes call for additives like honey, dried fruit or even Guinness. It even comes in two different shapes, called cake and farl. All soda bread, though, is made using baking soda as the leavening agent instead of yeast and buttermilk, and it is all eaten the same way: liberally buttered!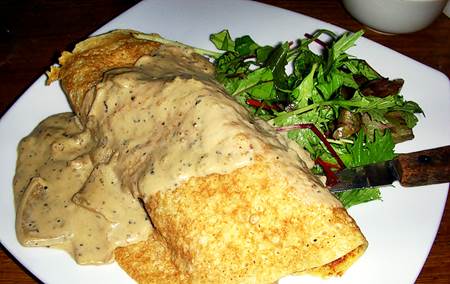 Boxty
Boxty, or Irish potato pancakes, can be served in many ways. Grated potatoes are mixed with mashed potatoes and either boiled and fried for dumplings or mixed in a loaf tin and baked in the oven. Some say the name comes from the Irish phrase for "poor man's bread," but wherever it comes from boxty is a greasy, buttery pancake that's bound to be a crowd pleaser. This hash brown/pancake hybrid makes for a delicious breakfast when paired with bacon and eggs, or it can even be a side dish for your smoked salmon!
Black Pudding
Black pudding is a kind of blood sausage, meaning that it is made of pork meat, fat, and pig's blood mixed with other ingredients like oatmeal, suet and onions. Although the intensely flavored sausage takes getting used to, it is a favorite in Ireland. Black pudding is a breakfast staple, but is also served at lunch and dinner. For those who are a little more squeamish, there is also a version called white pudding, and it leaves out the pig's blood.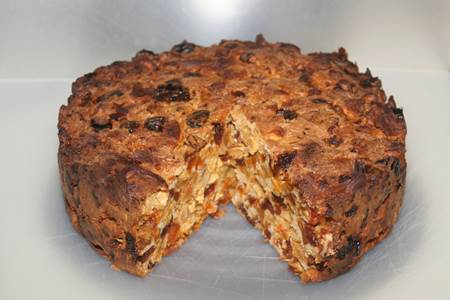 Barm Brack
A sweetened Irish bread, barm brack is made with sultanas, raisins and currants and has a delicious slightly spicy taste. The best way to devour this tasty treat is to toast it and slather it with butter with your breakfast or tea. Traditionally, when barm brack was made for Halloween, the baker would hide a pea, a stick, a piece of cloth, a ring and a coin inside the loaf. Each object had a specific meaning for whoever got it in their slice. Just watch out when biting down!
Smoked Salmon
Though now a rarer treat than in the past, Ireland is still home to some of the most delicious smoked salmon on the globe. The Burren and Connemara smokehouses are the most famous places to eat smoked salmon, and each smokehouse uses a different kind of wood in the process. Oak and beechwood are popular, and one smokehouse even uses turf to smoke their salmon. On this maritime nation, seafood is popular, but try to find some delicious smoked salmon to brighten your meal.
To stay up-to-date on all things WanderTours, follow us on Facebook and subscribe to our blog via email or RSS.
*****
Photo credits:
Guinness Beer: David Dennis via Flickr
Irish Stew and Guinness: daspunkt via Flickr
Soda Bread: Jim Lukach via Flickr
Boxty: LWYang via Flickr
Barm Brack: sylvar via Flickr