Alana Morgan is an expat American who currently lives in the city of Chiang Mai, Thailand. She used to blog for Beth at Wanderlust and Lipstick and we thought it would be fun to catch a glimpse into her life in Thailand.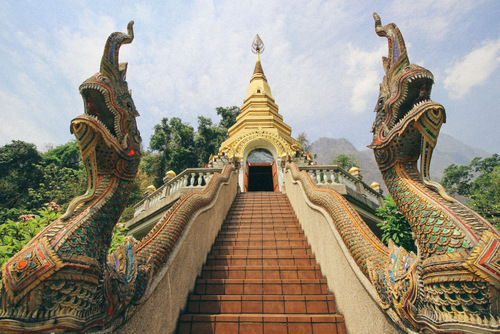 Q. Alana, you live in Chiang Mai, Thailand. What drove you to quit your job, pack up your life and move halfway around the world?
After university I didn't want to go back home to Seattle, but also didn't know where I wanted to be…so, of course, I ended up back home in Seattle and started working in a PR agency right away. Two years later and I still didn't know where I wanted to go or what I wanted my life to look like, but I knew it wasn't commuting two hours a day and working 50+ hour weeks. I had visited a friend in Thailand for a quick vacation, fell in love with the country and knew I wanted to spend more time in the region so decided to make the move and start there…I never thought I'd be here this long though!
Q. Do you travel around a lot or spend most of your time in Chiang Mai?
I'm more in Chiang Mai than on the road, but still travel much more often than many people I know at home—sometimes throughout Thailand, sometimes elsewhere—and always go back to the U.S. for at least a month or two every year. It just depends on my workload and whom I can convince to come along with me!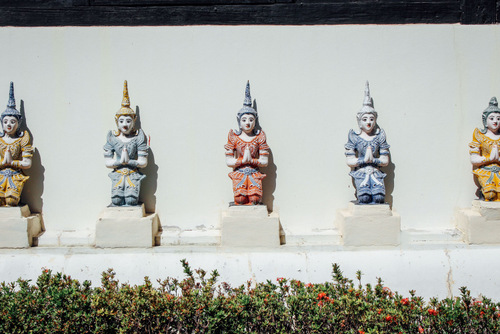 Q. How do you support yourself?
I'm a copywriter, content creator and all around words person for various clients in the hospitality and travel industry. Working online lets me work from anywhere with Wi-Fi. That said, over the past several years I've also had a variety of random jobs and had saved a good chunk of money before I left home so I could travel and live abroad long term…now going on five years.
Q. I know a lot of expats have chosen Chiang Mai as their home. Can you tell us what the attraction of the city is?
There are a ton of expats here from a range of groups. For instance, Chiang Mai is one of the world's leading destinations for retirees and digital nomads. The relatively low cost of living combined with the high quality of life, including affordable and comfortable accommodation, delicious food everywhere, Western amenities for those who want them, and a beautiful natural setting, make it very attractive for many people. I personally also love the size—even though it's one of Thailand's largest cities, it's nowhere near the size of Bangkok and still has a small, close knit community feel—everyone knows each other.
Q. I read on your blog, Paper Planes, that you're learning Thai. Are you learning both spoken and written? How difficult is it to learn the Thai language?
I've been based here nearly five years and am still nowhere near fluent… It's difficult for several reasons but ultimately, like any language, it just comes down to how serious you are about learning and making a continued effort. I can read and write Thai—it's nearly impossible to learn the proper tones and way to say words if you can't read the Thai characters—and can get by just fine. But I don't have many Thai friends that I speak Thai with, so am not completely immersed in it, which I think is the key part to learning another language. That said, I'm not giving up—I go to private Thai lessons still two to three times a week!
Q. I know that some people are uncomfortable eating street food. Can you share any tips on how to make sure you pick a food stall that won't make you sick?
When I first visited Thailand I was told by a travel doctor not to eat the street food, which is completely crazy since that's how everyone eats here. Yes, the hygiene and food preparation standards or monitoring are different than home, but you also have to realize that street food—produce, snacks, sweets, drinks, full meals—is so ingrained in Thai culture and if everyone got sick all the time the stands, carts and stalls wouldn't exist! I really believe that you're just as likely to get a funny tummy from a restaurant geared toward tourists here as a street stall. Something I've heard over and over is to stay away from sliced fruit, but there are carts everywhere selling fresh, sliced fruit for a quick and healthy snack and I've never known of anyone to get sick from them.
That said, to be on the safe side, eat at street stalls that cook made-to-order dishes instead of having food sitting out. You can usually see most of the ingredients stalls and carts use—if they look wrong to you don't eat there. If there are a lot of customers or a longer line somewhere than it probably means the food is pretty good (not always…I've been in lines at McDonald's before) and at the very least there's a high turnover of food and ingredients meaning things haven't been laying around.
My number one tip is to not worry (too much) about it though. If you're thinking about it all the time, even if you don't end up getting sick, you won't enjoy any of your meals. The street food in Chiang Mai is incredible.
Q. How would you describe Thai food?
Flavorful and much more varied than most foreigners first think—try something other than phad thai and green curry!
Q. Can you offer any tips to women traveling in Thailand (either on their own or as part of a tour group)?
The only Thailand-specific tip that I can think of that is to be aware that you need to dress modestly with your shoulders and knees covered when entering temples. Other than that, it isn't any different than what you would normally keep in mind anywhere else. It's incredibly easy to meet other travelers and get around here, so I think it's a particularly good place to come if you're traveling solo or it's your first time in Asia.
Q. Three items you always pack when traveling?
Yoga pants, a big scarf or shawl and baby powder.
Note: We visit Alana's surrogate home city of Chiang Mai on our 2017 Thailand Laos Tour!
Photo credits:
Temple pictures – Alana Morgan
Pictures of Alana – www.lightworks360.com