By Rachel Diebel
Although English is commonly spoken throughout Cambodia, particularly at hotels and businesses, you are sure to gain some respect from the locals by knowing a little Khmer, the official language of Cambodia. Khmer is spoken by about 16 million people throughout Southeast Asia, and has many different dialects and variations. It is the second most common Austroasiatic language (that's the technical term for the languages of Southeast Asia) after Vietnamese.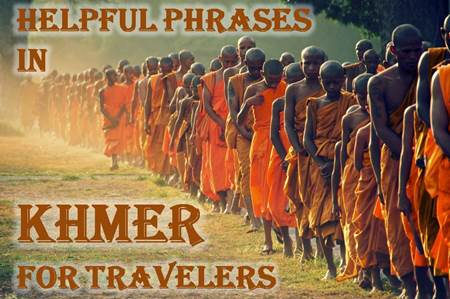 Unlike the main languages of many of the countries surrounding Cambodia, Khmer is not a tonal language, so the meaning does not change depending on how you pronounce each word. Bonus—this means fewer awkward moments for new speakers of Khmer! There are no inflections in the language, but there is a different script style. Khmer script has many accents and flourishes, and is descended from the Indian Brahmi script. For easy learning, the phrases here have been listed in phonetic, English-style script.
More about Cambodia: Vietnam and Cambodia FAQ | Vietnam and Cambodia Tour
GREETINGS
Welcome
Soum swa-kumm
Hello
Formal: Chum reap suor (as you say this, put your hands together in front of your heart and bow your head)
Informal: Sous-dey
Goodbye
Formal: Chum reap leah
Informal: Leah sin houwy
Good morning
Arunn sous-dey
Good afternoon
Tiveah sous-dey
Good night
Reatrey sous-dey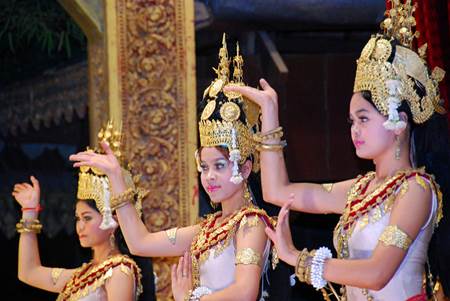 USEFUL PHRASES
Thank you
Aw-koon
Please
Soum
Excuse me
Somm toh
Yes
Chah for a female
Baht for a male
No
Ort teh
Cheers!
Choul mouy
I'm sorry
Somm toh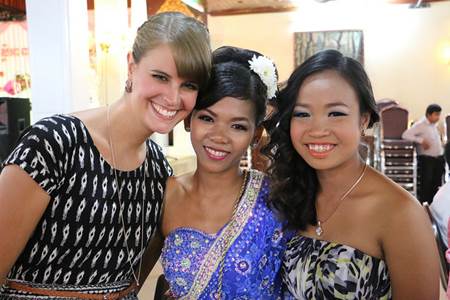 BASIC CONVERSATION
What is your name?
Formal: Lohk mean chmuah tah much?
Informal: Neak chmuah ay?
My name is…
Khñomm chmuah _____.
How are you?
Formal: Tae lohk sokh sabbay chea teh?
Informal: Sokh sabbay chea teh?
Where are you from?
Niak mao pii prateh naa?
I'm pleased to meet you.
Khnom trawk or nah dael bahn skoal lohk.
How do you say…in Khmer?
… kh'mai tha mait?
I don't understand.
Min yuhl teh.
How much is this?
Tlay bonmaan?
What time is it?
Maong bon maan?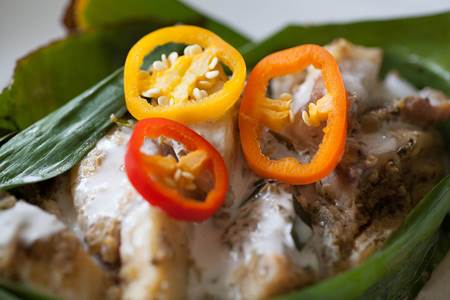 FOOD
I'd like to order…
Khnhom chng kom m ng mhoub…
Fish amok – the national dish of Cambodia, a fish curry
Bai sach chrouk – pork and rice
Cha houy teuk – a jelly-like dessert
Nom banh chok – khmer noodles
Kdam chaa – fried crab
Ang dtray-meuk – grilled squid
Samlar Machu – Cambodian sour soup
TRANSPORTATION
Taxi
Taksai
Car
Lahn
Auto rickshaw
Tuk tuk
Train
Ah-teh-plerng
Scooter/moped
Moto
Rickshaw
Cyclo
GETTING HELP
Where is the toilet?
Tae bangkon nou-annah?
Help!
Chewy khñom pawng!
Call the police!
Juay hav polih mao!
Leave me alone.
Kom pa poal
NUMBERS
1 – Muay
2 – Bee
3 – Bei
4 – Buan
5 – Prahmm
6 – Prahmmuay
7 – Prahmmbee
8 – Prahm bei
9 – Prahm buan
10 – Dawp
Resources to Learn Khmer
If you want to learn more Khmer phrases or get a start on learning the language overall, there are plenty of online resources. Try Wikitravel for a great list of phrases as well as more about the grammatical structure of the language.
YouTube can also be a great resource as you can hear native or practiced speakers pronouncing the phrases. Several YouTubers have put together a series of lessons, including this one.
To stay up-to-date on all things WanderTours, follow us on Facebook and subscribe to our blog via email or RSS.
*****
Photo credits:
Monks: Balint Földesi via Flickr
Khmer Dancers: Robert Young via Flickr
Foreigner with Khmer Girls: ND Strupler via Flickr
Fish amok: Sodanie Chea via Flickr
Tuk tuk: arileu via Flickr