Plastic water bottles…we love them for the convenience, but they are such hazards to our environment! Many of the countries that we travel to on our women-only tours don't yet have the infrastructure to recycle plastic and this is turning into a huge ecological problem for them and the rest of the world.
Here's an interesting piece of history that I bet you didn't know about plastic. Apparently, the first form of natural plastic was created during the Renaissance by Leonardo da Vinci. Wow, he has a lot to answer for! (HAHA) He combined organic fibers with both animal and vegetable glues, which he then used to coat cabbage leaves and papers. When this mixture dried, he was left with a plastic-like substance.
Plastic has come a long way in the 500+ years since then, and has become an integral part of our lives. The good news is that we've become pretty adept at learning how to recycle it…the bad news is that not everywhere in the world can or does recycle.
Startling facts about plastic water bottles
Of the 50 billion bottles used annually around the world, 30 billion are in the U.S. Of those 30 billion, only about 23% are recycled…and we have the technology to do so! That makes me wonder how many of the remaining 20 billion are recycled. I'm guessing only a very, very small percentage.
Check out the sign above to see how many plastic bottles are used in Bali every month—30 million. That's mind-blowing!
Plastic water bottle production in the U.S. alone uses more than 17 million barrels of oil a year.
Plastic bottles take hundreds of years to biodegrade.
Millions of pounds of plastic debris in the oceans are causing the deaths of all kinds of marine life.
Bottled water companies are rapidly draining aquifers and lakes to meet demand.
Most bottled water is simply tap water that has been treated…at anywhere from 1,000 to 4,000 times the price!
By the way, did you know that New York City's tap water is the cleanest in the country? Or that most of San Francisco's water supply comes from Yosemite National Park? So why is everyone paying to drink water out of a bottle?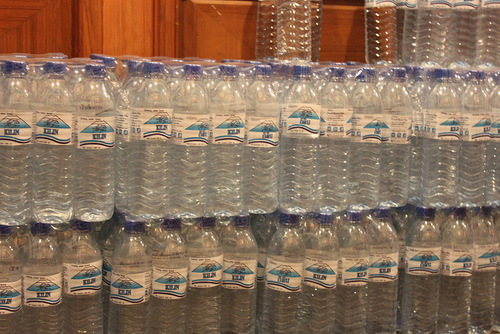 Because we don't want to contribute to the ecological issues other countries face due to plastic waste, we recommend you bring your own reusable bottle and a SteriPen (if it's an international tour) when you travel with us. It's also a reason that we are supporters of Travelers Against Plastic (TAP).
How does a SteriPen work?
Cities have been using ultraviolet light to purify water for over 100 years. SteriPen has taken the ultraviolet technology and put it into a small, handheld device that's ideal for packing. Using it is simple and within minutes you can turn tap water or water from a mountain stream into safe, potable water. Your SteriPen kills 99.99% of any bacteria or viruses. There are a number of different versions of the SteriPen available—ranging in cost from $49.95 – $99.95.
If you'd like to join us on any of our tours, contact us or call us at 1-800-818-9918.
Embrace life,
Pat
To stay up-to-date on all things WanderTours, follow us on Facebook and subscribe to our blog via email or RSS.
Photo credits:
Single bottle image – Kate Ter Haar via Flickr
Bali sign – Beth Whitman
Bottles on shelf – Twenty-four Students via Flickr
Plastic bottle waste – Rusty Clark via Flickr