Some people, when they travel, are all about living in the moment, unconcerned about having a permanent memento of the trip. But I've found that most of us like taking photos while traveling. We love going home and sorting through hundreds, if not thousands, of images, each one of which brings back a memory of one of our many adventures. I can't imagine going on a trip and not taking photos but I do try not to become obsessed with snapping and remember to stop and enjoy the moment.
One of my biggest dilemmas when I travel is which camera to use. I love my DSLR but as a newbie to such technical terms as f-stops, ISO, white balance etc., I sometimes find it a hassle to use when I'm traveling because I spend more time fiddling with my camera than I do enjoying the experience. Which is why I sometimes decide to leave my large camera behind and venture off for the day with simply my iPhone.
Why do I like using my iPhone camera?
I pretty much always carry my phone with me. That means it's quick and easy to access when I'm in a situation where I want to take a photo. Besides which, it weighs a fraction of what my DSLR does!
The quality of the camera in the iPhone has improved a lot in the last few years. This means that I can get really decent photos. It even seems to work pretty well in low light situations. Try it for yourself.
I find it easier and less obtrusive to take pictures of people I encounter than when I use my large DSLR.
It's easy to switch to video mode and shoot short videos during my travels.
Carrying a bulky camera around your neck immediately says "I'm a tourist," potentially making you more of a target for thieves. With an iPhone you could be taken as a local pretty much anywhere in the world.
Apple has made it super-easy to share your photos on social media. I love that I can share my adventures with family and friends before I ever return home. I've mastered Facebook and Twitter, but I'm still trying to figure out Instagram!
Things I don't like about using my iPhone camera
As with any camera, you have to worry about holding it steady while shooting, otherwise you'll end up with photos that aren't sharp. I find I have to concentrate especially hard to keep my iPhone steady while shooting. I've found that if I hold it with two hands it really helps prevent those blurry pics that I'll immediately delete when I get home.
I also find that using my phone to take photos means that my battery wears down extremely quickly and I have to remember to charge it every time I have an opportunity.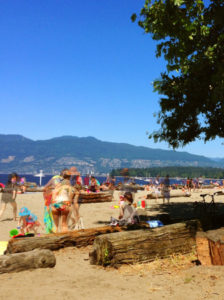 Tips
Your iPhone has the ability to auto-focus and auto-expose. Line up your shot, touch the screen on a specific point that you would like the camera to lock on to. This will ensure  your photo is correctly focused and exposed. If you've done it correctly you'll see AE/AF lock appear on your screen.
There are some really cool apps which will allow you to edit your photos. I'm still experimenting with these but I like Camera+ and have just recently started using Pro HDR. Pro HDR takes two photos – a light exposure and a dark exposure and merges the two photos together to give you a photo that has crisp, clear colors. My first attempt resulted in this picture – note to self: don't use this app when there are moving objects in your photo otherwise you'll end up with ghosts in your picture. (See what I mean? Stunning colors but ghostly shapes on the beach!)
On the other hand, I'm having fun experimenting with Pro HDR and looking forward to producing some stellar shots as I grow more proficient.
Embrace life,
Pat
To stay up-to-date on all things WanderTours, follow us on Facebook and subscribe to our blog via email or RSS.