As with anywhere in Asia, some of the best shopping in Myanmar is found at the local markets. The country is renowned for its artisans with their exquisite handicrafts, laquerware, tapestries and carvings as well as its precious gems. This could be your opportunity to spoil yourself with a new bauble.
Where to shop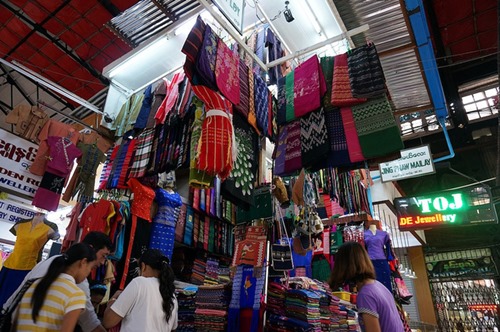 Yangon
Bogyoke Aung San Market (formerly Scott's Market), with its 2000 shops, colonial architecture and cobblestone streets, was built in 1926 and is a popular tourist attraction. Here, you'll find tiny antique shops, art galleries, handicraft stalls and jewelers, selling Burmese jade, rubies and other precious stones. In the new wing of the market you'll find shops selling medicines, clothing and food.
Bagan
Myanmar is famous for its lacquerware, with Bagan being the center of its production. As Bagan is an ancient city, you won't find modern malls here, but you will find plenty of workshops where you can purchase both lacquerware and wood handicrafts.
Mandalay
Mandalay doesn't have the giant malls that Yangon has, but there are dozens of local shops here. This city is the country's handicraft center and you'll find plenty of woodcarvings, kalaga tapestries and plenty of gold-leaf. It's also a good place to look for jewelery.
Inle Lake
Because Inle Lake is a rural area rather than a city, you are likely to do most of your shopping at the rotating five-day markets. There is a set schedule for the market as it rotates through five different villages on the lake. Many villagers transport their goods to market by boat and you'll see local hill tribe people here, dressed in their native garb. On our tour of Myanmar, we'll also visit a lotus-weaving factory, where clothes are made from lotus plants. While most souvenirs are reasonably priced, a lotus scarf can set you back $200!
Tips for shopping in the markets
Feel free to haggle with the proprietor of the shop or stall. Don't worry, it's expected! Keep in mind that prices start out higher for tourists than they would for a local.
Shop around and do your research before you begin the bargaining process. It's good to know going in what an acceptable price is.
Whenever possible, shop ethically. Avoid purchasing anything made from animals, shells, turtles or ivory. You likely won't be allowed to bring it home through customs anyway.
Make sure you're truly buying something that is made locally and not mass-produced elsewhere.
Look on the bargaining process as a game not a competition. Smile and keep it light-hearted. Remember, it's expected that you bargain! Don't appear too eager to purchase or the price will never come down. Be prepared to walk away if you can't come to an agreement on the price. You'll likely find the item elsewhere.
Coming on this tour with us? Make sure you leave plenty of room in your suitcase or you'll likely find yourself buying another bag so you can haul your purchases home!
Embrace life,
Pat
To stay up-to-date on all things WanderTours, follow us on Facebook and subscribe to our blog via email or RSS.

Photo credits:
Bogyoke Aung San Market, Yangon (Rangoon): Yisris via Flickr
Bagan: CJP4610 via Flickr
Mahamuni Buddha Temple: Paul Arps via Flickr
Pagodas at Inle Lake: Paul Arps via Flickr