One of the many things that make our tours special are the people we meet along the way.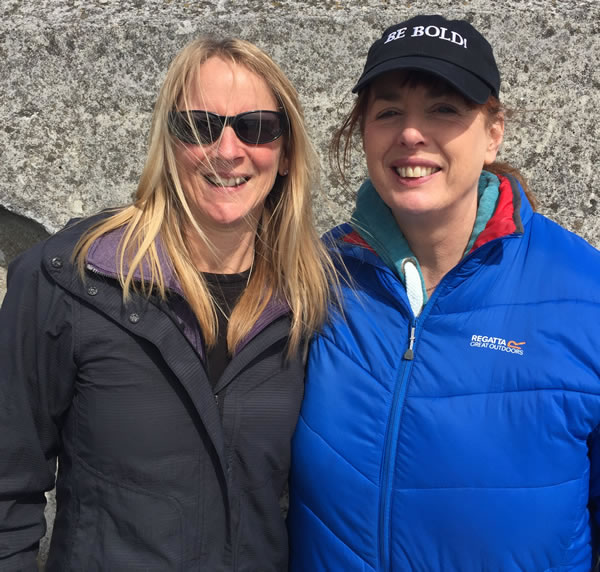 Una McDonagh is one of those very special people!
Una lives on Inis Oirr, the smallest of the Aran Islands off of Ireland's west coast. It's remote, rugged and filled with beautifully wonderful people.
I wanted to know more about Una and, whether you're on one of our Ireland trips or not, I thought you'd be interested in hearing more from her, too!
Q. You were born and raised on Inis Oirr. How many people currently live on the island?
A. I was born and raised on Inis Oirr, the smallest and most beautiful of the Aran Islands. At that time there was no secondary school on the island therefore everyone went to boarding school on the mainland from age twelve or thirteen.
It was a very difficult adjustment as for many this would have been their first time away from home. I am talking about the 1970s and 1980s, before the era of mobile phones and daily ferry services to the island. Therefore students only got home to the island for Halloween break, Christmas, Easter and summer holidays.
In my opinion leaving for boarding school at such a young age, and being segregated from home and family, really took its toll on island life and the population. Leaving a very young and a very ageing population on the island in the late 70s.
The majority of young people went on to college or to work on the mainland or emigrated after secondary school and set down roots elsewhere only returning to the island for summer holidays in many cases. This exodus of young people from the island was recognized locally and the same was true of all offshore islands and many rural communities at the time. Various government grant-aided schemes and initiatives were set up to encourage employment to keep the young on the island and to encourage others to return home to raise their families on the island.
None were more successful than the group of parents who returned to raise their families in the island environment of their own upbringing who decided that it just was not good enough to send their children off to boarding school at such a young age and they started the secondary school Colaiste Ghobnait on the island which had just nine students.
After teaching for about nine months they received Department of Education recognition. As the saying goes, the rest is history–31 years later.
Of all the schemes to keep a healthy balance of population on the island, the secondary school has been key. Young families have and are continuing to return to live on the island and now we have the full range of education available right up to college including preschool, primary and secondary.
Now there are seven children attending preschool, 30 in primary school and 23 in secondary school. Young couples are settling down and raising their families in one of the most safe and beautiful unspoiled environments in the world. It's rich in language, culture and community. In total, there are 280 residents on the island at present.
Q. What was it like to grow up in such a small community?
A. Growing up on an island is so unique and special. Looking back now our generation was on the cusp of change and we were so lucky to experience the old traditional ways with no modern amenities such as no running water or electrical power. But we also embraced the change and the new, bringing the island into the 20th century.
Running water and electrical power came in 1970 and 1971. It made life easier and
labour-saving devices were gladly welcomed such as washing machines, fridges, electric kettles and clothes driers.
We no longer needed to go to the well three times a day for spring water for tea making and cooking. Everyone harvested rainwater in a tank near the house which was used for washing and the like though we still went to the well to bring water to the cattle and animals in the fields.
We grew up immersed in island life as everyone young and old helped out with gardening, farming, collecting seaweed, cooking or whatever had to be done according to the season. Everyone was involved. It was not all work and no play however and each season brought its own particular games. Nobody made a decision to change from say spring games of skipping and ball games and the like to summer games such as playing Staggs or having sandcastle competitions. It just seemed to happen automatically with the weather. I am pleased to announce that many of those games are still played in the schoolyard today.
We had all the freedom in the world and once our chores were done we were gone only returning home when it got dark or hunger sent us homeward bound. As the saying goes, "It takes a village to raise a Child." Nowhere is this more true than on Inis Oirr.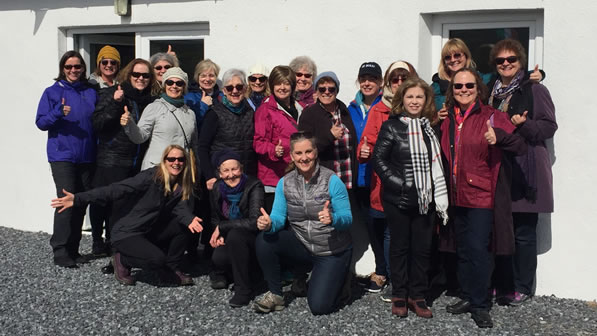 Q. The Aran Islands are known for being one of the most traditional areas in all of Ireland. What are some of the traditions that Aran Islanders have held on to?
A. As far as we are aware, people have inhabited these islands as far back as 1,500 B.C. They have eked out a living from the barren limestone landscape by farming, fishing, creating fields by clearing the stone, building drystone boundary walls, and layering the fields by drawing sand and seaweed from the beach and layering those to sow crops. Those crops included potatoes, wheat, barley and vegetables to sustain their families and animals.
Even though soil is scarce on the limestone landscape, that which is present proves very rich in minerals and nutrients. This very same method of farming is still in use today and you will see a patchwork of small fields and potato and vegetable drills on your visit.
Due to modern building methods and availability of high quality insulation systems, the day of living in the thatched cottage is well gone as everyone likes their creature comforts in this day and age. This has also made obsolete the need for the heavy homespun traditional clothing and shawls.
Recently a group of island women started a conversation about the traditional dress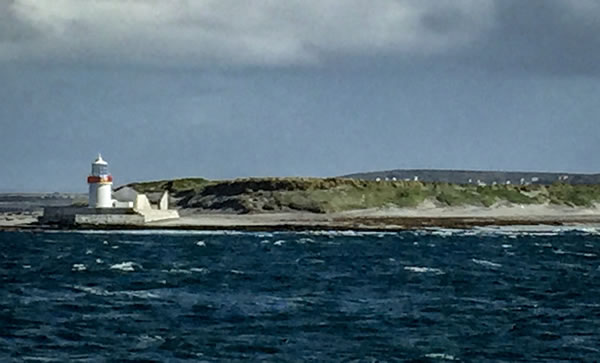 and that anyone under 25 years of age would be hard pressed to remember such clothing and that pretty soon that same clothing would be forgotten completely thus Stitches in Time was born, an exhibition and history of the traditional clothing and island dress.
Down through the ages scholars, writers and artists visiting the Aran Islands have commented on island dress as unlike anything they had ever seen before. This was especially true of the Crios (pronounced Kris) a multi-coloured woven belt worn by men to keep up their trousers but also to support the back as well as the multi-coloured patterned crochet shawl worn by the women.
Even though the islands have improved immensely over the last 30 years in terms of creature comforts, housing, accommodation, and access from the mainland, we still remain a unique and very special community.
Our language is our most important asset. Gaeilge is our language, the language spoken on the island every day and in most homes. All of our education systems are through the medium of Gaeilge. Traditional music, song and dance (old time dancing not to be confused with Irish dancing) are alive and well among the people.
Feast days and traditional customs are still practiced today such as St. Bridget's Day on February 1 marking the first day of spring where the young girls still go house to house with the Brideóg (a straw doll dressed in communion dress and veil to represent St, Bridget).
The head of each household will pull out some straw and make a St. Bridget's Cross and will hang one in the house and one in the barn to guard both people and animals from disease and also from fire. St. Bridget is the Patroness of Ireland as St. Patrick is our Patron. Here and on Inis Meáin, our neighbouring island, are probably the only places that this tradition still survives today.
The Wren Boy's celebrate the Wren on St. Stephen's Day on December 26. St. Gobnait, our only lady saint to build a church on the island is celebrated on February 11, her feast day and Naomh Caomhán (St. Kevin), Patron Saint of Inis Oirr is celebrated on June 14. This day is still classed as a holiday with open air mass at his church in the graveyard and a vigil on the previous evening.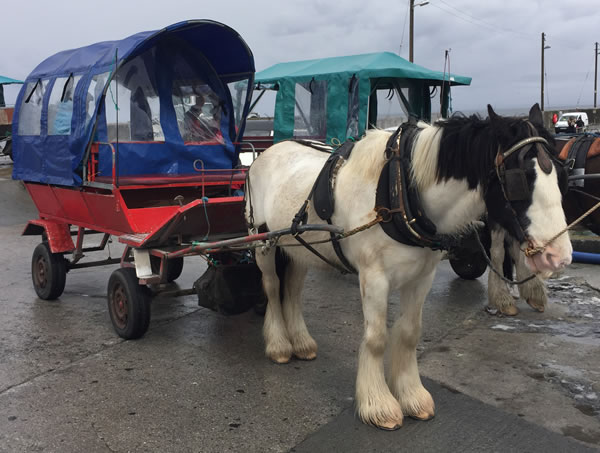 There is a parade and music and dance and sometimes currach and boat races. It is still held in very high regard as is each island's Patron Saints Day with similar celebration.
There was always a method of doing things on the island passed down from generation to generation and, even though there are modern ways and means of making jobs easier, traditional methods and ways are still adhered to because there was a reason for their survival – they worked. These are but a sample as the island has held on to many traditions and are too numerous to mention here. Luckily islanders have recognized the importance of preserving the old while embracing the new.
Q. You're quite the entrepreneur – running a restaurant and also holding knitting workshops and cooking classes there. What made you decide to start these businesses?
A. My family holds a long tradition of involvement in the tourist industry for many generations. My grandmother accommodated guests such as poets, writers and artists from the late 1800s to early 1900s in the family cottage.
Our house was built in 1932 specifically to accommodate guests. At that time there was a passenger and cargo ferry service twice a week from Galway City which anchored in the bay and everyone and everything had to be rowed ashore by currach (a canvas and tarred canoe).
Guests booked their holidays by letter at Christmas or early in the new year. That time only the well-to-do took holidays in Ireland and they would stay on the island for a number of weeks–full board at Ard Mhuire–and truly immersed themselves in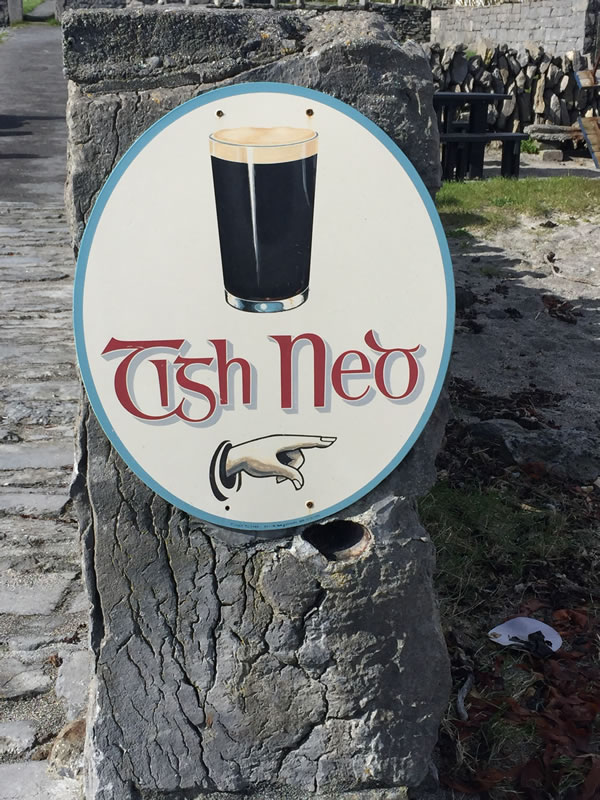 island life and its traditions.
In the evenings everyone would gather in the kitchen, guests and locals alike, to relate stories of the days goings-on and of course to sing and dance. Island singers would be looking forward to some visitors in particular who would be known to have a good song or story.
My father played the melodian. My mother came from the same tradition as her own mother and father who were emigrants from New York and Boston. They set up a grocery shop and guest house in 1932/33.
Granny provided tea for visiting day -rippers from Inis Mór, an island popular in the 1950s and 1960s with honeymooners who would sometimes hire a boat for the day to visit Inis Oirr. They would lunch or picnic at Granny's.
I grew up immersed in that environment in a house full of history and stories and good friends who started off visiting on a family break and returning year after year. One family has come for four generations and we are still in contact with them.
It was a natural progression for me to continue in this tradition. The knitting workshops came about initially to offer something of our traditions to the visitor and encourage increased bed and breakfast nights at Ard Mhuire. However it developed into something more pretty quickly as I realized the need to embrace tradition and to pass on local stitches, skills and island techniques.
There is no longer an everyday market for the heavy Bainín sweaters as modern living has dictated and also there is a shortage of knitters of such garments (it takes 60 hours on average to hand knit a sweater).
I feel what I am doing in the workshops with knitting, baking, butter churning and spinning and dying is a way of sharing our history and culture and preserving and keeping alive our traditions for future generations.
Q. Because the islands are somewhat difficult to get to, I know you don't have a lot of visitors (and even fewer than Isis Mor which is quite a bit larger). About how many tourists do you interact with in any given year?
A. Access to the Island has improved immensely in recent years, especially with the introduction of the new ferry services from Doolin that get you across in 20 minutes– weather permitting of course.
This improvement has lengthened the tourist season on the island now, running from March to the end of October. We need this extended season to ensure the survival of the many tourist-related small business set up, in many cases by the returning young islanders, and to ensure the survival of future generations.
It can sometimes feel a little busy around the pier at sailing times but walk in any direction for about 10 minutes and you really do get away from it all to enjoy a unique and special jewel. We have a Céad Míle Fáilte (welcome) for everyone and our wish is that you leave refreshed and enriched from your island experience.
Q. And of the tourists, how many are from outside of Ireland?
A. On a yearly average we get about 500 visitors a day and of those about 60% are from abroad and 40% are Irish. Once people make the discovery, many return year after year.
Q. Some people might go a little stir crazy in such a remote location. What is it that keeps you on the island?
A. Island life in this day and age really is the best of both worlds. Every day is different, dictated by nature and the weather while also accommodating the everyday work-life. Daily access to the mainland on a year-round basis ensures we want for nothing. It's 60 minutes by ferry to Rosaveal, 10 minutes by air via Aer Arann and 20 minutes to Doolin. These run from March to October.
Access to broadband is good on the island, enabling some people to work from home. The island community of immersion in the Irish language and culture is a perfect environment to raise a family and a very active community offering crafting, language classes, and sporting and dance exercise classes to anyone interested so there is no excuse to be idle as there is something here for everyone.
Q. What are the top things to do on Isis Oirr? Is there something in particular that can't be missed?
A. How to spend a day on Inis Oirr? Start your day on arrival by walking up the pier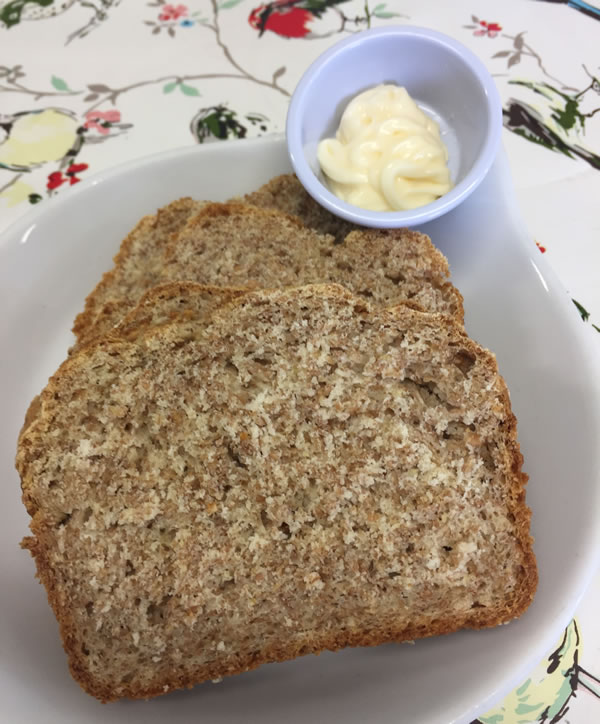 to Caifé Úna and enjoy a homemade scone or cake fresh out of the oven along with great coffee or tea.
Take stock of your surroundings perched on the waterfront and beautiful sandy beach, watch Sandy the dolphin play and entertain you while you plan your day.
Take an island tour in the Wanderly Wagon or a pony and trap ride and meet some locals while getting a history tour of the island. Feeling a little more energetic? Take a walk along the beach and shoreline or cycle and discover the sights for yourself.
Even though we are a small island, there are many roadways and walking paths to discover. Among some of the highlights to see is our beautiful church which is in the process of restoration at the moment. This work is a very specialized job as it is a protected structure.
Other sites to see include St. Kevin's Church in the Graveyard and St. Gobnaits Church, our only lady saint to spend time on the island. There are the ruin of O'Brien's Castle towering over the island and a beautiful lake and the lighthouse. There's also "The Plassy" shipwreck off the coast where islanders rescued the crew (it was later featured on Fr Ted TV).
The landscape itself is special boasting many rare wildflowers such as the Bee Orchid and Gentian and many unique butterflies and birds.
Return to the Village for lunch and afterwards take in the other half incorporating Aras Éanna Art Centre where there is usually an exhibition or an evening show if you decide to stay overnight. There's also the holy well of St. Éanna.
Return to Caifé Úna to await your ferry or take a leisurely stroll on the beach.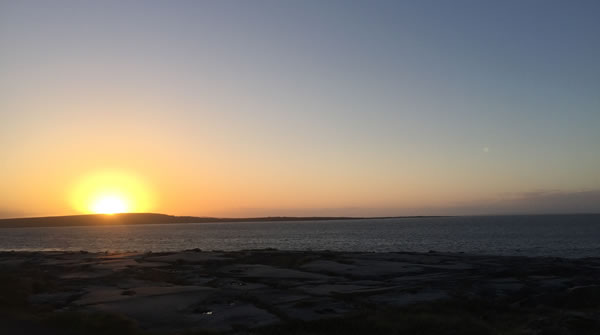 Q. What's the best way for a person to meet some locals when visiting the island?
A. The best way to meet the locals is to talk with the people you meet. Stay overnight to sample the nightlife and get a better sense of place. Book a crafting or knitting tour with Beth at WanderTours to really sample our culture and traditions and have all your questions answered firsthand.
Everyone is very friendly and happy to oblige. So come and visit and talk to the locals. It's amazing the similarities between peoples even though those we think are worlds apart!
Céad Míle Fáilte,
Una McDonagh