We love leading our tours to Bali and Java, but how much do folks really know about this island—one of over 13,000—that make up the nation of Indonesia!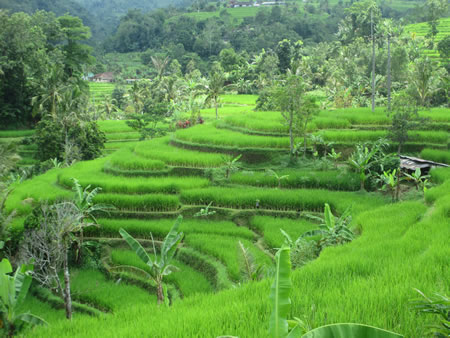 History
Commonly referred to as Island of the Gods, Bali and the rest of Indonesia have been inhabited for over 2,000 years. Captured by the Dutch in the 1800s, Indonesia was known as the Dutch East Indies until after WWII, when it became the independent nation of Indonesia.
Location & Geography
Bali is located in the Coral Triangle, an area that includes the waters of Indonesia, Malaysia, Papua New Guinea, the Philippines, the Solomon Islands and Timor. This area is considered the "Amazon" of the seas and is important for its marine biodiversity, with 3,000+ species of fish and 500+ species of coral. You'll have an opportunity to explore this underwater kingdom on your own, by booking an optional snorkeling trip!
Bali is a volcanic island with rugged, barren mountains, both white and black sand beaches, lush green rice terraces and great crop production. The island produces a large rice crop, as well as coffee and vegetables. One of the highlights of our tour will be watching the sun rise from the peak of Mt. Bromo, one of the volcanoes.
The People and Culture
The population of Indonesia is a combination of Islam, Buddhism, Hinduism, Animism and Christianity and we'll visit ancient temples and holy sites. Bali is home to the majority of the nation's Hindu minority, with 85% of the island's people adhering to Balinese Hinduism.
Bali offers a visually colorful culture, infused with deep spirituality. You'll quickly get used to seeing tiny offerings set out in every Balinese home, work place, restaurant and souvenir stall. They are set out with burning incense sticks and sprinkled with holy water. Don't worry if you step on them, just don't do so deliberately, as that will bring you bad luck!
The people are warm, friendly and welcoming.
There's so much more to learn about Bali and Java…I haven't even touched on the amazing food!
If you're interested in joining us, call us at 206-317-1860 or Contact Us via email.
Embrace life,
Pat
To stay up-to-date on all things WanderTours, follow us on Facebook and subscribe to our blog via email or RSS.