We all remember the images…of people clinging to rooftops, waving their shirts, in the hope of being rescued from the flood waters surging below. It was the last week of August 2005 when Hurricane Katrina hit the city of New Orleans, destroying countless homes and causing over $100 billion in damage.
Here it is, nine years later and although not totally sure what to expect, I was interested to see how the city was recovering from one of the worst natural disasters to ever hit the country. When I visited in May, a coach tour of the Katrina disaster area was included in our five-day tour of the city.
At first I was a bit hesitant about touring the ravaged wards as it almost felt like a violation against the thousands of people whose lives were impacted by the hurricane. We drove down streets of tattered-looking abandoned houses marked with the first-responders' X, their overgrown yards and boarded up windows revealing the horror of the devastation, listening to the stories of people packing up their lives and leaving New Orleans for good. I wondered how the city could possibly have survived such devastation and loss.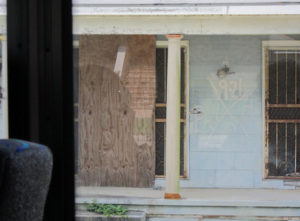 Although hundreds of people left the city, never to return, the story that emerged was one of people rebounding from adversity, picking themselves up and starting again. Organizations such as Habitat for Humanity stepped in within a week of the storm and began two projects: Operation Home Delivery and Musicians' Village.
Operation Home Delivery pre-built homes around the country and shipped them to the affected areas while Musicians' Village became the center of the rebirth of the Ninth Ward. This project, devised by Habitat for Humanity, Harry Connick Jr. and Branford Marsalis was built, not only as homes for musicians but as a tribute to the musical history of NOLA. In the nine years since Katrina, Habitat for Humanity has built over 400 new homes in the area.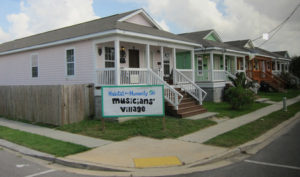 In 2006 Brad Pitt teamed with designer William McDonough to create the 'Make It Right Foundation,' to aid in the rebuilding of the Lower Ninth Ward. There will eventually be 150 environmentally-friendly homes in this development.
As we continued our drive around the city we noticed giant stainless steel stick figures on the sides of roads. Our guide explained that these are 'Evacuspots,' in place since the beginning of hurricane season 2013. In the event of a need for evacuation during a hurricane, these act as bus stops for those needing transportation out of the area. Let's hope they'll never be needed again.
After Katrina, Congress gave the Army Corp of Engineers $14.6 billion to repair and improve hurricane and flood protection. The south shore has been enclosed by a series of levees, walls and gates, built to keep out a 100-year storm surge. Although NOLA remains a smaller city than it was pre-storm, indications are that it is recovering. Business startups are expanding, sales of homes are increasing, recreation facilities such as bike paths and trails are growing and tourists are returning to the city. The city recently commemorated the ninth anniversary of Katrina with numerous wreath laying ceremonies, memorial masses and even theatrical events.
You could be a part of the recovery by joining us on our 2015 NOLA Culinary Tour.
Embrace life,
Pat
To stay up-to-date on all things WanderTours, follow us on Facebook and subscribe to our blog via email or RSS.