TECHNOLOGY including CELL PHONES, CAMERAS AND COMPUTERS
WANDERTOURS TRAVEL DETAILS


1. GETTING TO PERU
Q. What's the best airline to take and best way to fly into Lima?
A. Usually people book their flights based on price and loyalty programs. Cost will be different depending on where you are flying from.
Q. Do you recommend we arrive early into Lima?
A. It's not necessary, but you might consider arriving a day or two early in case of flight delays, to shake off jet lag and to tour Lima on your own.
Q. Do I need a visa for Peru?
A. Residents from many countries do not need a visa in advance of arriving in Peru. A tourist entry stamp can be obtained upon arrival. Read further about it here.
Q. If I want to arrive prior to the start of the tour or stay on beyond the last day, can you book additional hotel nights for me?
A. Yes, of course we can. As soon as you have your flights booked, let us know which nights you'll need additional accommodations and we can handle that (based on availability, of course).


2. WHILE VISITING PERU
Q. Will bottled water be readily available on the tour?
A. When not trekking, bottled water will be available. However, we strongly urge our tour participants to carry their own reusable water bottle and bring a water purifier, such as a SteriPen, so as to cut down on the number of plastic water bottles that get thrown out daily in Peru.
For those on the four-day trek, boiled water will be provided. You'll want to have your own water bottle(s) and/or a water bladder that you'll fill up each day and be responsible for carrying.
Q. What kind of food should I expect on the tour?
A. Peru's culinary scene has exploded in the last 10 years and there are many high-quality restaurants, particularly in Lima and Cusco. We have purposely not included some meals in the itinerary so that you can explore on your own, whether it be high-end cuisine or local fare.
Having said that, most dishes include potatoes (which has its very beginnings IN Peru!). It will be served in a multitude of ways including mashed, with meat, seafood, in stews and in tamales. In the highlands, where the trek takes place, expect lots of soups.
If you have special dietary needs or preferences, expect to be flexible. Those who are gluten-free may find some options (beyond what is normally gluten-free) in the cities. Vegetarians shouldn't have a difficult time but vegans will find it more difficult given that many dishes are made with eggs and dairy.
Q. Do you recommend any special vaccinations for this trip?
A. There's nothing you need specifically for Peru except for a yellow fever vaccine IF you are coming from a country with the disease. However, you'll want to consult with a travel doctor for medical advice.
Q. Will we encounter mosquitoes in Peru?
A. In the areas where we will be going, there may be some mosquitoes depending on the weather. We may also encounter some sandflies that can be annoying. Note that there is no malaria in the areas where we will be.
Q. How can I best acclimate for Peru's altitude?
A. While there's not a lot you can do in advance of arriving at altitude that will help you acclimatize, the better physical shape you are in, the easier it is to be at altitude, period. Having said that, even the fittest people can get altitude sickness.
One of the best things you can do in advance is to take walks or hikes at altitude to understand what your body feels like and adjust your actions (slow down and hydrate!) accordingly.
Once at altitude, there are some things you can do to help your body get acclimated:
Stay hydrated
Eliminate or cut down on alcohol while at altitude
Take it slow in terms of walking, hiking or any activities that raise your heartrate
Spend as much time at a lower elevation as possible
Consult a doctor and bring high altitude meds
Eat well
Alert your guide immediately if you're feeling ill

3. HOTEL INFORMATION
Q. What are the accommodations like in Lima, Cusco and the Sacred Valley?
A. We have secured lovely hotels for our stay throughout the tour. You can find links to each property on the itinerary.
Q. Will you be sending a list of hotels?
A. You will receive a list of hotel contact information about two weeks before departure (note: it is subject to last-minute changes).
Q. Are there hair dryers at the hotels?
A. Sometimes but don't count on it. Remember that no one's going to be looking their finest, so if you don't have to have the hair dryer, consider leaving it at home 🙂
Q. Are my items safe in my hotel room?
A. Your items *should* be safe, but we recommend that you carry small luggage locks to secure the zippers together so that no one is tempted to peek in your bag.
When something goes missing, it's usually later found in the bottom of one's luggage. In the meantime, hotel staff are the first to be blamed. It's best to keep your items (especially valuables) locked up so that this is not even a question.


4. PACKING INFORMATION
Q. How should I dress/pack for this trip?
A. Whether you're on the one-day or four-day trip to Machu Picchu, you'll want to dress in layers as temperatures can swing wildly at this altitude. It could be close to freezing at night and then be warm during the day. We'll provide you with a full packing list for the tour.
Q. Would you recommend taking a raincoat?
A. Definitely. A light raincoat that can be worn over layers is best as we will likely see some precipitation.
Q. Do I need to carry my own tent for the four-day trek?
A. No, you do not need to bring your own tent. However, you will need to bring your own sleeping bag. We'll provide you with a full packing list for the tour. Here is a typical tent >>>
Q. Is it OK to have more than just a carry-on for the tour (in other words, checked bags)?
A. Yes, a checked bag is fine, especially since you'll need to dress in layers. For those on the four-day trek, you'll need to carry hiking boots and other gear especially for the trek which means more (or larger) luggage.
** Important note for four-day hikers! There is a strict limit to the weight you can bring on this trek. Our local ground operator provides a waterproof duffel (see Jon's photo here) for each of us and we are allowed to bring 7 kilos (15.4 pounds) of gear. This is strict and includes your sleeping bag! The rest of your luggage will be left at the hotel while you'll bring only what you need for the trek including your backpack with your daily necessities (camera, water, medication, sun block, hat, water, sunglasses, etc.).
Your sleeping bag will not be carried IN the duffel so don't worry about the size of it. All of your other gear (sleeping pad, clothes, food) that you aren't carrying on a daily basis will need to fit in the bag which measures 60 x25 cm.
As you depart each morning to trek, you'll leave this duffel behind and it will (magically) find its way into your tent and will be waiting for you when you arrive at camp later in the day. Here is a photo of the typical duffel bag>>>
Q. How do you fit everything into a carry-on and still have room for souvenirs?
A. We encourage you to pack light and do hand laundry along the way. You might bring a spare duffel or extra bag that packs down small to carry souvenirs in.


5. TECHNOLOGY including CELL PHONES, CAMERAS AND COMPUTERS
Q. Will there be WiFi access?
A. There is free WiFi at the hotels. Note that this can sometimes be unreliable but it is available 🙂
Q. What sort of power adaptor do I need?
A. Peru uses type B and C power plugs. These are the same that are used in the U.S. They look like these…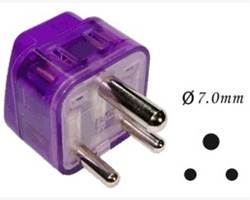 Q. Will I need a converter for my electrical devices?
A. You will need a converter for any devices unable to handle 220 (i.e. your hair dryer, curling iron, etc.).
Q. Can I use my cell phone in Peru?
A. There are a few ways you can use your cell phone in Peru. First, consider buying an international data plan from your provider. AT&T offers something called the Passport, for example. You purchase a certain amount of data and you have a month to use it. You can use it for maps, internet, phone, texting, apps, etc.
Second, you can simply turn your data off and only use your phone when there's WiFi.
Third, if you have an unlocked phone, you could buy a local sim card and use a data plan on the local network.


6. MONEY, GIFTS, TIPS
Q. What's the currency used in Peru?
A. The nuevo sol (new sun) is the currency in Peru.
Q. Are ATMs available?
A. There will definitely be ATMs available throughout the tour. Most have nuevo soles as well as U.S. dollars available.
You'll want to let your bank know in advance that you are traveling so they don't deny usage of your card thinking it's a fraudulent charge. You'll also want to find out what, if anything, your bank changes for international ATM withdrawals. If it's based on each transaction, you'll want to take larger amounts of money out rather than making numerous small withdrawals so as to limit the charges. In addition, there will be a fee by the local bank to use the ATM.
Be very careful when using ATMs as it's not uncommon for thieves to steal your pin and card.
Q. Can I use my debit or credit card for purchases
A. Mid- to high-end hotels and shops will accept debit and/or credit cards for purchases.Don't forget to alert your bank to your travel plans so they don't flag your purchases as fraudulent.For purchases at small shops and vendors, you'll need either nuevo soles or U.S. dollars.
Q. How much money should I bring with me?
A. We get this question a lot, and it really does depend on your spending habits. You'll need money for meals not covered in the itinerary, snacks, drinks and souvenirs. Having said that, when you change money, be sure to get small bills as many times vendors cannot break larger bills (anything over a 50 sol) so your best bet is to have small bills.
Q. How should I best carry my money?
A. While Peru is a relatively safe country, there are opportunistic thieves everywhere looking for a way to separate you from your cash. You might consider carrying your passport, credit/debit cards and cash in something like a neck pouch or a large wallet like this one from Baggallini. You could then put that in a larger bag that you wear over your neck.
Q. Is tipping appropriate?
A. The majority of tips for our guide(s) are covered under your trip cost. For those who have gone above and beyond, feel free to tip something extra. As for restaurants, some will include a tip in the cost of your bill. If not, a tip of 10% or so for your waiter is normal.


7. WANDERTOURS TRAVEL DETAILS
Q. Do I need insurance for this tour?
A. Until the pandemic has been declared over, we ask that all tour participants acquire travel insurance. We have now partnered with Travel Insured International so that you have ability to purchase "cancel for any reason" insurance. We HIGHLY recommend travel insurance (no matter who your provider is) to protect your travel investment from any future issues. Although we are technically not requiring it, you will be asked to sign additional paperwork acknowledging the risk of traveling without insurance.

Q. Is there a schedule for installment payments?
A. We don't have anything formal set up but you can definitely send in payments on your own schedule. Some people send in monthly payments while other people send in payments when it's convenient.
Q. Will you be sending an updated itinerary with our overnight accommodations so we can leave it with folks at home?
A. Yes, you'll receive the hotel information as well as emergency contact information one or two weeks before departure (note: it is subject to last-minute changes).
Q. What's the emergency contact info that I can give my family?
A. Along with the hotel contact information, you will be given a cell phone number for your tour escort shortly before departure.
Q. Will I receive a refund if I have to cancel my participation in the tour?
A. Once you have paid a deposit, there is a cancellation fee if you cannot join us. The cancellation fee depends on the tour and how far in advance of the tour you cancel. Our refund policy is covered in our Booking Terms and Conditions and is also outlined on the Registration Form that you'll receive within 24 hours of registering with a deposit.
Refunds will be sent by check within two weeks of us receiving written notification (email is fine) of your cancellation. If Beth is traveling when you cancel, it may take longer than two weeks to get your refund check out to you. She'll mail it as soon as she can upon returning to the U.S.