As a child, I remember constantly asking my mother for stories of the "olden days." When she was very young, my mother lived in Tanganyika, East Africa,which we now call Tanzania. My siblings and I never tired of hearing her tales of picnics in the bush where gray boulders in the distance turned out to be a herd of elephants, of gangly giraffes parading past the foot of the garden and of villagers warding off marauding lions (likely a more common problem back in the 30s than it is now). We marveled at the stories as it was a life unimaginable to us, comfortable in our middle-class North American home. We could only dream about what it would be like to meet these creatures in their homeland.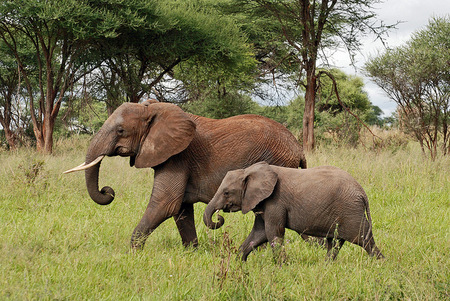 Africa definitely weaves a magical spell and an African safari is on the bucket-list of many. That's why we're so excited to announce our inaugural Tanzanian Safari Tour departing in early 2017! Initial response to the suggestion of this co-ed tour indicated that one tour wouldn't suffice. We're therefore offering two back-to-back tours. And Beth loves climbing and trekking so much that she's also added a trek up Mt. Kilimanjaro for the super-adventurous.
The Mt. Kili trek is the first part of this adventure. You'll trek for nine days with the ultimate goal of reaching the top of Uhuru Peak at 19, 341 feet. The trek ends with one day of rest before you begin the safari. This will be a 10-day tour that includes such highlights as the Ngorongoro Crater, Serengeti plains and the Great Rift Valley. You'll experience both morning and evening game drives in varying locations. Expect to see lions, elephants, giraffes, antelope, wildebeest and many more exotic African animals. It'll be a photographer's dream vacation!
Those who wish to climb Mt. Kili must book the first safari, while those who don't wish to do the climb may have an option of two different safari departure dates.
If you've always dreamed of seeing wildlife in its natural habitat, this co-ed tour could be just what you're looking for. If you have questions or would like to chat to Beth about this or any of our tours please call 1-206-317-1860 or email her here.
Embrace life,
Pat
To stay up-to-date on all things WanderTours, follow us on Facebook and subscribe to our blog via email or RSS.

Photo credits:
Giraffes – Larry Johnson via Flickr
Elephants – Harvey Barrison via Flickr
Mt. Kilimanjaro – Diana Robinson via Flickr