.

We're sorry you missed this tour. Please contact us if you're interested in being notified about future New Orleans tours or if you'd like to join us for any of our other tours.
– – – – – – – – – –
HIGHLIGHTS of the New Orleans Culinary Tour
* Dine on muffulettas, jambalaya and grits as you enjoy Creole and Cajun food at some of the most interesting restaurants in the French Quarter
* Take a three-hour guided walking tour of the French Quarter with a focus on food
* Learn about Hurricane Katrina and how the city is rebuilding the most devastated areas
* Savor cafe au lait and beignets at Cafe du Monde
* Head out of town for a plantation tour
* Take part in two cooking demonstrations with dynamic female chefs
* Though possible, this tour is not suitable for vegetarians
* Returning WanderTours participants receive a 5% discount on land costs

Please note that participants should be able to walk at least a mile at a reasonable pace (25 minutes).
– – – – – – – – – –
.Note: cancellation fees apply. Please read our Booking Terms and Conditions before registering.
The tour begins on Sunday, May 13, in the afternoon. Arriving in New Orleans, participants will make their own way to the hotel in the French Quarter. Airport shuttles are available. A rental car is not necessary.

New Orleans Culinary Tour Itinerary
Day 1
Sunday, May 13, 2018
Meals: Dinner
We will begin our exciting culinary adventure in New Orleans with a guided walking food tour of the French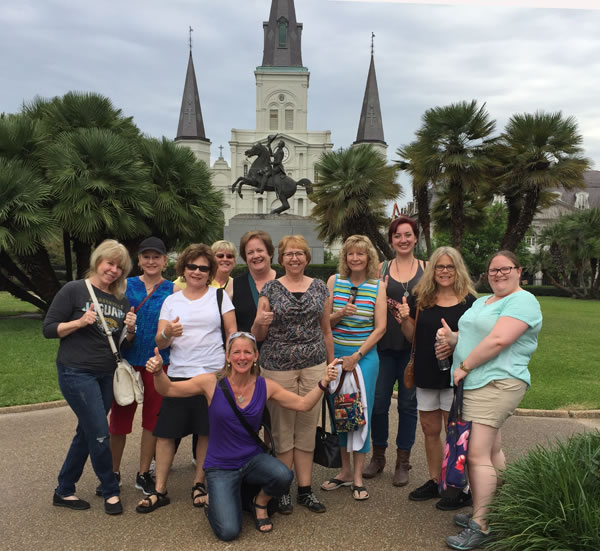 Quarter beginning at 2:00 p.m.
As we stroll along, a local expert will teach us about the area's history and significance in the world of food. We'll be sampling plenty of typical N'awlins fare along the way.
After a short break, we'll make our way to legendary Mulate's for dinner. This restaurant specializes in Cajun and Creole food as well as live Cajun music! How can we go wrong with this? We can't! There is no finer way for us all to get to know each other and have a relaxing and enjoyable evening together.
HIGHLIGHT! Today's walking tour will give you an excellent lay of the land, namely the 78 blocks that make up the French Quarter, New Orleans's heart and soul, all while you enjoy and learn about the food of the city.
Overnight at Bourbon Orleans Hotel.
Day 2
Monday, May 14, 2018
Meals: Breakfast, Lunch, Dinner
After breakfast at a nearby restaurant in the French Quarter, we'll head to the French Market to check out some of the souvenirs, handicrafts and locally produced food items, and stop for a late morning pick-me-up of café au lait and beignets at Café du Monde.
For lunch we'll grab some world-famous muffuletta sandwiches to enjoy during our organized bus tour where we'll learn about Hurricane Katrina. This will be a tour focusing on the destruction and rebuilding that continues today.
We'll take a break in the afternoon. During this time, you can walk the French Quarter on your own or rest before we enjoy a fantastic cooking demonstration for dinner at the home of chef Amy Sins. Not only will we get to experience local flavors and learn how to cook N'awlins-style but we'll also get to peek inside a local's home in the French Quarter!
Listen to the Be Bold podcast with guest Amy Sins!
Overnight at Bourbon Orleans Hotel.
HIGHLIGHT! You'll love learning how to prepare some of New Orleans's favorite dishes. We'll finish the evening with full tummies and recipes in hand.
Day 3
Tuesday, May 15, 2018
Meals: Breakfast, Lunch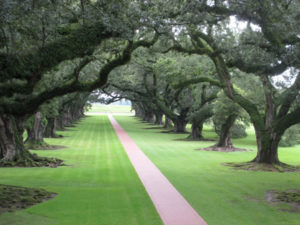 We'll start the day early with breakfast at The Grill. This restaurant was spawned from its sister restaurant, the popular Camellia Grill, located on the St. Charles streetcar line. The Grill specializes in comfort food. Nothing too fancy here, but excellent food and a must-visit breakfast hotspot.
After breakfast, we'll drive about an hour to a couple of historic plantations — Laura and Oak Alley plantations. Both plantations were known for their sugarcane production at the height of America's slavery era. We'll tour Laura and have lunch at Oak Alley, with the chance to take plenty of photos at both locations. We'll also learn about the history of these at-once amazing and tragic destinations.
Tonight you'll have dinner on your own to give you the opportunity to explore a culinary experience that's exactly to your liking. Closer to the tour date, we'll provide a list of suggestions from which you can choose (or you can discover one on your own!).
Overnight at Bourbon Orleans Hotel.
Day 4
Wednesday, May 16, 2018
Meals: Dinner
Today feel free to sleep in and grab breakfast on your own.
By mid-morning, we'll be ready to take a tour on the Hop-On, Hop-Off Bus outside of the French Quarter, which will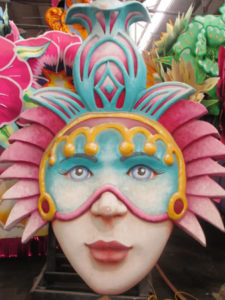 include Magazine Street with its wide range of antique, jewelry and art shops as well as cafes, restaurants and bars. During this tour, you might choose to stop at Mardi Gras World or the World War II Museum (both activities on your own) or perhaps shop, browse and have lunch on famous Magazine Street.
For dinner we'll head to another iconic eatery, Tujague's, near the French Market. This is the second-oldest restaurant in New Orleans at an impressive 150 years old, and our host will be cookbook author and local personality, Poppy Tooker. Poppy is a New Orleans native and the host of Louisiana Eats on NPR. This will be a special final evening in NOLA!
Overnight at Bourbon Orleans Hotel.
HIGHLIGHT! You'll love dinner with Poppy. She's a beloved character of New Orleans and is credited with saving Tujague's from the wrecking ball.
Day 5
Thursday, May 17, 2018
Meals: Breakfast
We'll have one final breakfast at the hotel before checking out. Transfer on your own back to the airport.
** Itinerary subject to change without notice.
_______________________________________________________________

We're sorry you missed this tour. Please contact us if you're interested in being notified about future New Orleans tours or if you'd like to join us for any of our other tours.


Costs
Tour:
Single supplement:
Interested in sharing the cost with another fabulous traveler? We do our best to pair up our tour participants so you can avoid the single supplement. However, priority is given to the first deposits received. If you're interested in sharing, please send in your deposit as soon as possible in order to take advantage of this benefit. (Why a single supplement? See this FAQ page for an explanation.)
Booking and Payment Details
Price includes: Accommodation, no fewer than eight meals, transportation in the city, local guides, tips and tours as outlined in itinerary.
Price does not include: Flights to and from New Orleans, shuttle to/from airport, travel insurance, purchases of personal nature such as souvenirs, laundry and beverages.
This trip is limited to 14 women and requires a $300 deposit to secure your spot.
Minimum bookings required: 6 people (minimum not yet reached)
Final payment is due no later than March 13, 2018.
It's easy to register…
We love checks as it helps keep our costs down by avoiding credit card fees. If you're able to pay the deposit or full amount by check or wire transfer, we'll not only love you more but we'll send you a free copy of one of Beth's books (your choice which one). ** U.S. residents receive a print copy, international residents receive a PDF.
Here's our mailing address:
WanderTours
PO Box 16102
Seattle, WA 98116
Note: cancellation fees apply. Please read our Booking Terms and Conditions before registering.
.

The fine print

New Orleans Culinary Tour 2018 Registration Form (online form)
.
New Orleans Culinary Tour Itinerary 2018 (PDF)
.
We recommend Insure My Trip for travel insurance.


For questions, contact Beth at:
beth (at) wandertours (dot) com
206-317-1860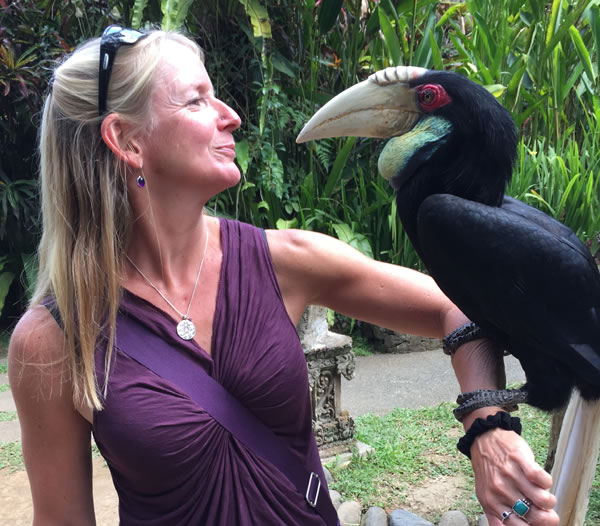 Trip Escort: Beth Whitman
Beth has traveled to New Orleans since the late 80s. Though it's been years since she visited during Mardi Gras and JazzFest, she's delighted to reconnect with the city for the higher purpose of food exploration.
She is thrilled to be sharing this city — its food, music and culture — with this group. Laissez les bon temps rouler!
Beth is the author of the Wanderlust and Lipstick guides including The Essential Guide for Women Traveling Solo and For Women Traveling to India. She is also the publisher and founder of Wanderlust and Lipstick and WanderTours and hosts the Be Bold podcast which can be found through your favorite podcast provider.
She is also the founder of the WanderWorld Foundation.
Related Links:
Be Bold podcast with Chef Amy Sins
New Orleans Photo Gallery
New Orleans and Jazz
New Orleans Cocktails