Frequently asked questions about Tanzania and our tours to Tanzania.

Click here for FAQs specific to the Mt. Kilimanjaro trek.
Q. How do I apply for a visa to Tanzania?
A. Here's a handy link where you can find those details. You will need a passport that is valid at least six months beyond your dates of travel and three unused pages in your passport.
Q. Will bottled water be readily available?
A. Yes, as there are very few water sources in the national parks, it will be carried in the jeeps during the safari . However, we strongly urge our tour participants to carry their own reusable water bottle and bring a water purifier such as a SteriPen so as to cut down on the number of plastic water bottles that get thrown out daily in Tanzania. However, you won't always be able to drink the water, even when sterilized, and you will find that bottled water is your only option. Some of the lodges rely on boreholes and some truck in water for showers etc. This water can not be used for drinking. Please don't drink untreated tap water anywhere.
Because of the nature of this trip there will be more plastic wastage than we would regularly see. Plastic bottle disposal throughout the country is a growing problem and we encourage you to do your best to help minimize it by filling your reusable bottle whenever possible.
Those climbing Mt. Kili—please read at the bottom of this page for info about water on the trek.
Q. Do you suggest we bring gifts for our local guides/drivers?
A. While small mementos from your hometown are always appreciated, a small cash gratuity would be even more appreciated. ☺ (Note that tips for guides and drivers ARE included in this tour so anything you provide is above and beyond.)
Q. Can we bring candy for the kids?
A. No, that is not recommended. If you'd like to interact with kids, perhaps you could carry some bubbles or small rubber balls to play with and leave behind.
Q. What should I pack for the safari?
A. We encourage you to pack as light as possible and will send you a packing list shortly after you've registered for this trip. In general, you'll want light cotton or linen clothes that are not brightly colored (consider, beige, khaki, brown). Wear short-sleeved shirts, light pants, long shorts or capris.
Q. Will I need hiking boots for the safari?
A. Hiking boots are not necessary but for those concerned about ankle support, they will come in handy. Make sure that whatever you bring, they're broken in before you arrive.
Sandals – Because we'll be traveling a lot by car, and because there will be a lot of dust and dirt, bring a pair of sandals like Chaco, KEENs or Tevas so you can easily wash them (and your feet) once back at the hotel/lodge. Consider wearing them with socks otherwise your feet might get bitten by bugs.
Old tennis shoes – This is another good alternative. You can leave these behind after the safari and the locals will appreciate it. Bottom line is wear comfortable walking shoes.
Q. You've mentioned that it will be dusty. Are there any ways we can protect against the dust?
A. As mentioned above, bring a pair of sandals that can easily be washed. It's also a good idea to bring a scarf or buff to tie over your face when needed. But most importantly…dust can be extremely damaging to camera equipment. Many photographers carry their camera in a pillowcase when driving. If your camera doesn't have a super-long lens you could probably get away with wrapping it in a buff.
Q. Should I bring a swimsuit?
A. Some of the hotels will have pools, so bringing a swimsuit is a good idea.
Q. What should I pack for the Mt. Kilimanjaro trek?
A. We will also send you a packing list for this portion of the tour as well. In general, you'll want appropriate hiking gear and warm clothes as it will likely be freezing at night.
Q. I'm thinking of adding a side-trip to Zanzibar on to my safari. Is this possible?
A. Absolutely! This is the perfect opportunity to see more of Africa. We suggest flying from Arusha Airport to Zanzibar, however, typically the last flight of the day departs Arusha at 1:00pm and arrives into Zanzibar at 2:35. Because we won't be leaving Tarangire until early afternoon—in order to arrive at the airport for late evening international flights—we won't arrive in Arusha in time for this flight and you may have to spend an additional night either in Tarangire (and pay for an expensive airport transfer) or overnight in a hotel close to the Arusha airport. If you are interested in doing a Zanzibar add-on let us know and we'll do our best to help you with your transfer arrangements to the airport.
While there are flights from Kilimanjaro International Airport to Zanzibar, we don't recommend flying via Zanzibar as these flights are often delayed or canceled.
Q. Do I need to be concerned about my luggage weighing too much?
A. Airlines for in-country and intercontinental flights will weigh checked bags and you'll be charged for overages. If you have additional flights scheduled, please check with the airline for details.
Q. My flight is connecting through Kenya. Do I need a visa to enter Kenya?
A. Visitors to Kenya must obtain a Kenyan visa. A transit visa costs $25.00 and allows you a day to leave the country. If you intend to use Nairobi as your entry point to East Africa and take the shuttle bus service to Tanzania, then a transit visa is all you require. If you plan on spending a longer period in the country you will need to get a visitor's visa. For further info on obtaining a Kenyan e-visa, visit their website.
Q. Will hotels have a laundry service so that I can pack light?
A. Hotels will have laundry service but you would be wise to bring quick-drying clothes that you can wash in your room (carry a rubber sink stopper for this). There have been problems with people getting their clothes returned in time for departure even at hotels where we have a two-night stay.
Q. Are there locks on our hotel doors?
A. The following accommodations will have room doors which lock: African Tulip, Kitela Lodge, Rhino Lodge, Rhotia Valley and Tarangire River Camp.
Q. For the tents that don't have locks, how do I know my things will be safe?
A. We encourage you to bring luggage locks so that you can lock up your valuables. Don't leave valuables such as cell-phones, iPads etc. lying around.
Camps are in remote locations deep in the bush and staff are highly trusted because being found guilty of theft would result in them losing their job. It's not like thieves can walk away from the camp with ease. If you do leave anything behind in your room, leave it locked up in your luggage.
Q. Is it safe to leave my passport, cash or camera in my room while I'm out?
A. We highly recommend that you carry your passport, cash, credit cards and cameras with you at all times. Consider buying a pouch for around your neck or under your clothing to hold these items.
Q. Is it safe for a single woman to stay in a room/tent?
A. Our tour operator, a woman, has lived in Africa for 15 years and has never heard of any single woman being approached inappropriately while on safari.
Q. Do camp guards carry guns?
A. The guards do not carry guns but are well-trained to watch for and fend off animals at night and no one should be out roaming around on their own in the dark. You must wait in your tent to be walked back and forth after dark. In the daylight, if there are animals in camp —like an elephant—and you see it, it is best to remain in your room until someone comes for you. (Enjoy having an elephant in camp!)
Q. Do I need to learn any of the local language?
A. Ki-Swahili is the main language spoken in Tanzania although many Tanzanians speak English (especially those in the tourism industry). It's highly unlikely you'll need to know any Ki-Swahili but it's always nice to learn at least a few phrases. Being able to say "hello," "goodbye," "thank you" and "excuse me" will go a long way. Lonely Planet has an excellent phrase book that will get you started.
Q. Can I use my cell phone in Tanzania?
A. If you have an unlocked phone (one that is not tied into a contract) you can purchase a local sim card and add talk time. This is the least expensive way to do it. If your mobile service offers it, you may also add an international data plan to your phone (before you leave home) in order to get email through the cell service. The other option is to use Wi-Fi (when available) and make calls using WiFi.
Q. Are ATMs available?
A. ATMs are available in Arusha only. This will be your best bet for getting cash in Tanzanian shillings. But please note that ATMs are notorious for running out of cash or not working at all. Your best bet is to bring cash in U.S. dollars and exchange them for the local currency once in-country.
Q. Will I get a better rate for larger bills?
A. Yes! $50 and $100 US will get a better exchange rate than small bills. Also note that bills older than 2003 will not be accepted.
Q. Can I change my US dollars at the lodges or only in Arusha?
A. It's not guaranteed that you can change your US dollars into the local currency at the lodges but dollars are accepted as payment for extras and bar tabs. For local currency, your best bet is to change in Arusha.
Q. Do hotels and vendors take credit cards?
A. A couple of hotels will accept cards but there may be additional charges added to your purchases. You'll be hard pressed to find a vendor/shop that will accept cards. Plan to use cash.
Q. Are travelers checks accepted in Tanzania?
A. They are but it's a laborious and frustrating process to cash them. You must have the original receipts from your bank (which most people don't travel with) as well as a copy of your passport. Plan to use cash.
Q. If I bring U.S. dollars, are the Tanzanians fussy about them being perfect?
A. Absolutely. Bills must be the newer "big head" bills meaning the more recently released ones with the president's head being large. Your bills cannot have any ink marks, staple holes, tears, punctures, etc.
Q. Are short skirts (slightly above the knee) acceptable? How about calf-length skirts? Just pants?
A. Tanzania is a conservative country with a large Islamic population. Even among the Bantu tribes, women are expected to wear their kangas (sarongs) to their ankles and cover legs and buttocks – the African erogenous zones. (Breasts are ok, as they are just mammary glands! But we don't recommend this for our groups. ☺) While you can wear shorts on safari, it's advised that long shorts (just above the knee) are best. These are OK in Arusha as well. Sleeveless shirts on safari are OK but not the best option.
Q. Would you recommend taking a raincoat?
A. The short rains end in January but you never know, there may be a few showers in January/February. We suggest you bring a raincoat that is lightweight and doesn't take up too much room. A wind breaker/light raincoat can be used on early morning game drives before the sun rises.
Q. I have been researching new luggage and took to heart your message of going LIGHT. Is it safe to assume we are going to be responsible for moving our luggage around every day, and also that we may be needing to pick it up more than wheel it, due to fairly uneven and unpaved terrain?
A. Pack as little as possible in terms of clothes and bring only one carry-on if you can manage. Though there will be people at the hotels to help with bags, the lighter you can travel, the happier you'll be! It's best to have soft-sided luggage as these fit better in the vehicles.
You'll have very little interaction with your luggage other than moving it from the van to your room and usually there's hotel staff to help with that. You might consider a small roller bag that is carry-on size (under 22″).
Please note that there won't be a lot of room for luggage in the safari vehicles. Therefore, we encourage you to pack as light as possible so to avoid luggage being placed on the roof of the vehicle–this is not ideal for game viewing.
Q. What tricks do you use to fit all that stuff into a carry-on? And still have room somewhere for souvenirs?
A.
It's true that if you pack light, you'll have to do more laundry. But I'd rather live with rinsing out some clothes every four or five nights than lugging around a big bag.
Check out this article on secrets to packing light
. I sometimes purchase a bag at my destination in which to carry souvenirs.
Q. How strict are the airlines in regard to luggage weight?
A. Airlines for in-country flights will weigh your checked luggage and you will be charged for overages.
Q. Will I be able to purchase toiletries and medical supplies along the way?
A. No, bring all you the medical supplies and toiletries that you'll need as it is unlikely you'll be able to replenish these along the way.
Q. I wear contact lenses. Will that be an issue on this trip?
A. It will be very dusty. If you wear contact lenses, you might consider bringing prescription glasses instead and carrying an extra pair in case one set gets broken.
Q. What will the weather be like?
A. It is very difficult these days predicting the start and stop of the rainy seasons. January – April is the hottest season in Tanzania although the really hot temps are found in Dar es Salaam and Zanzibar.
Expect the temperature during the day to be in the 80's and mostly dry (although we might get rain). Mornings will be cooler, especially in the Ngorongoro Highlands (Karatu and Ngorongoro Crater) so you'll want a jacket and long pants.
Arusha is at 4,600 feet elevation and has more pleasant temperatures than the coast. The Ngorongoro Crater is at 7,000 feet and experiences cool mornings and evenings.
Q. What sort of power adaptor do I need?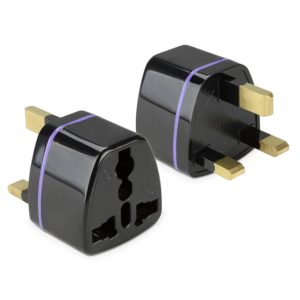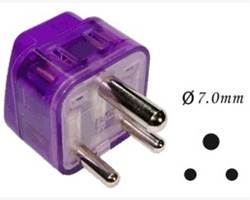 A. The most common outlet type you'll find in Tanzania is the Type G version (three square pins). Type D may be found occasionally but isn't as common any longer.
Q. Are there hairdryers at the hotels?
A. The hotels in the cities may have hairdryers but these are not allowed in the parks or conservation areas. Overall, these are discouraged due to energy concerns.
Q. Will I need a converter for my electrical devices?
A. You will need a converter for any devices unable to handle 220 (ie. your hair dryer, curling iron, etc.).
Q. Will we have access to power throughout the trip?
A. Most rooms will have power plugs in the room. But at least one hotel (Tarangire Lodge) only has outlets in the lobby and bar areas.
Q. Do I need insurance for this tour?
A. Until the pandemic has been declared over, we ask that all tour participants acquire travel insurance. We have now partnered with Travel Insured International so that you have ability to purchase "cancel for any reason" insurance. We HIGHLY recommend travel insurance (no matter who your provider is) to protect your travel investment from any future issues. Although we are technically not requiring it, you will be asked to sign additional paperwork acknowledging the risk of traveling without insurance.

Q. Will I receive a refund if I have to cancel my participation in the tour?
A. Whether or not you receive a partial refund depends on how far in advance of the tour you cancel. Our refund policy is covered in our Booking Terms and Conditions and is also outlined on the Registration form that you'll receive within 24 hours of booking. Refunds will be sent by check within two weeks of our receiving written notification of your cancellation (email notification is fine). If Beth is traveling when you cancel, it may take longer than two weeks to get your refund check out to you. She'll mail it as soon as she can upon returning to the U.S.!
Q. Can I bring my laptop?
A. Of course. You will have power at all of the hotels and Wi-Fi will (hopefully) be available at some of them.
Q. Do any of our hotels have Wi-Fi/Internet?
A. There will be Wi-Fi at some of the hotels although there is usually a daily charge for it. Please note that even when Wi-Fi is "available," it's not uncommon for it not to work. It might be best not to expect it so you'll be pleasantly surprised if you do.
Q. What are typical meals like?
A. Breakfasts are usually a buffet with a selection of cereals, eggs, toast, muffins, fruits and yogurt. At hotels, lunch tends to be a buffet of salads, pasta and fresh greens. Packed lunches might consist of sandwiches – cheese or meat – barbecued chicken, vegetarian samosas, chocolate bars, juice and fruit. Dinner buffets will include a selection of meat with vegetables, fish and/or curries.
Most people find they are fed far too much on safari and need to lose weight when they get home!
Note that hygiene has greatly improved in Tanzania and salads at the hotels/lodges are well-washed. Though most people have no problem at all with the fresh salads (and ice, as long as it's from filtered water), on occasion someone might get ill. Please use your best judgment.
Q. Is this trip suitable for vegetarians?
A. Absolutely. The cooks can accommodate vegetarian requests although if you require a lot of protein, please consider bringing protein bars and/or protein powder. (By the way, the Maasai call vegetarians, "grass eaters.")
Q. I'm gluten-free, will that be a problem?
A. It's very difficult for the cooks to accommodate gluten-free diets. If you're gluten-free, you'll likely want to pack some food for yourself.
Q. Will we see the great Wildebeest Migration?
A. There's a good chance we will see the Wildebeest Migration but it will depend on the rains from the previous season. It's more likely that we will see calving wildebeest this time of year.
Q. How active is the safari portion of the tour?
A. Being on safari is actually not very active. Though we do include some shorter walks, much of your time will be spent in 4WD jeeps on game drives.
Q. I'm a photographer and would like to spend a lot of my time shooting. Will I have this chance?
A. Of course, but this is not a photography tour so please do not expect that we'll be spending an extraordinary amount of time on photographing the wildlife. If you're used to early mornings and late afternoon shoots, you might consider a safari that is specifically geared toward accommodating photographers.
Q. Do I need to worry about mosquitoes and/or malaria in Tanzania?
A. There are more mosquitoes in the cities (where there are more hosts and stagnant water) than in the bush. And, yes, malaria is found in Tanzania. Since we are not doctors ourselves, we suggest you check with your doctor about malaria prophylaxes.
Q. Is it necessary to spray my clothes with an insecticide?
A. You will likely encounter both sand fleas—which are often the bigger nuisance—and mosquitoes on the trip. To avoid them, you can wear clothing with Permethrin or wear some sort of mosquito repellent. There are a number of natural repellents available. It is possible to purchase a repellent meant for your clothes and use that to deter mosquitoes.
Q. Do I need to get immunizations before the trip?
A. Yes, you are responsible for obtaining the recommended immunizations for travel to East Africa. Some immunization procedures must begin well in advance of travel. Hepatitis A and B require more than one injection, spaced six months apart. A useful website on travel health preparation is http://wwwnc.cdc.gov/travel/destinations/list/.
We also recommend that you discuss the requirements with your local travel medical clinic. Once you've received the necessary shots, you should travel with your international health certificate (in the US, called a yellow health card) which records your immunizations. You can be denied entry into the country if you don't have proof of immunizations.
Q. Do I need a yellow fever vaccination?
A. According to the CDC website, a Yellow Fever immunization is needed if you are arriving from an infected area or will be spending an extended period of time in Tanzania. A record of this vaccination must be presented before you can enter Tanzania so make sure you have this documentation with you. This vaccine must have been given at least 10 days prior to arrival in Tanzania.

You can bring a letter from a doctor if you cannot take the YF vaccination for medical reasons. This tends to apply to the elderly and anyone with a compromised immune system.

Q. What is the WanderTours Giving Program?
A. This is a program we have developed for all of our international trips, where a portion of your tour cost goes toward supporting a project or non-profit organization in the country where the tour is taking place. Read our blog post on this topic.

Mt. Kili Trek FAQ
Q. Will bottled water be readily available on the trek?
A. No. Porters can not cart up bottled water, so trekkers will need to bring their own reusable water bottles and water purifier such as a SteriPen.
Q. What sleeping bag do you recommend for the Mt. Kilimanjaro Trek?
A. It will get quite cold on the trek. It's best to dress in layers to keep warm and strip down if you get too warm so bring long underwear to wear at night (and on our big hike on the last day). Having said that, consider either a 3- or 4-season sleeping bag depending on your budget and how hot your body temp normally runs. Here's a review for a sleeping bag that worked well on the Snowman Trek in the Himalayas.
Q. What size of duffel bag should I bring?
A. We'll be hiking for 7 days which is just long enough that you're going to want to have at least 2 changes of clothes. If you dress in layers, you can wear the same clothes multiple times and they won't get very dirty. The point is that you won't need a large duffel because you won't be carrying that many items with you. For the Snowman Trek in Bhutan, we suggested the medium Eagle Creek Bag. This would be a good size as it will allow you to carry everything you need but not be overly large. Here's a review for the Eagle Creek bag.

Q. What kind of tents will we be sleeping in?
A. The outfitter uses VAUDE tents from Europe. Here's an example.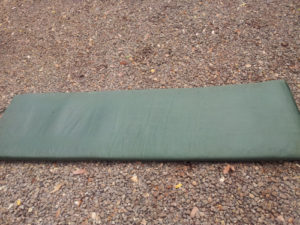 Q. Will we have sleeping pads to sleep on?
A. Yes, sleeping pads will be supplied. Keep in mind that the porters will be carrying all the gear, so don't expect thick, luxurious mats. Here's an example.
Q. Will there be toilet tents in camp?
A. Yes, there will be three toilet tents in each camp, but be prepared to use "happy bushes" along the trail.
Q. What's the altitude at Uhuru Peak (Mt. Kilimanjaro's summit)?
A. We'll be at 19,341 feet when we reach Uhuru.
Q. I've heard that only 50% of people who attempt to summit Mt. Kilimanjaro make it. Is that true?
A. Technically that is true, but many of the people who don't summit are those not in shape so they choose the easier (and much more popular) Marangu route. It's more common for people not to summit because they aren't in shape than the actual difficultly of the trek.
We'll be taking the Macheme route which is the second most popular route. Though this will be somewhat heavily trafficked, it does require a bit more trekking experience than Marangu, the most popular route. BUT, you'll be rewarded on our route with some of the most spectacular vistas found on any of the routes.
We've chosen this one because it is only moderately long, allows for some time to acclimate (in other words, it's not one of the shorter routes) and we'll have some spectacular views.
Here's a description of all the routes.
Q. What's the best time of year to climb Kilimanjaro?
A. There are 2 ideal climbing seasons, January – March and June – October. While it's true that the weather is a bit warmer in the summer, there are fewer crowds in the earlier part of the year (when we're going).
Q. Should I be concerned about high altitude sickness on Mt. Kilimanjaro?
A. Altitude sickness can hit anyone at any time, no matter their level of fitness, age or sex. Therefore, you should be concerned about it. We highly recommend you seeing a doctor and finding out his/her recommendation in terms of high altitude medications to carry with you.
Q. What kind of safety training do the climbing crews have?
A. Guides have the following government-recognized certification: Sentinel Outdoor Research, Wilderness First Aid (WFA and Wilderness First Responder (WFR). This certification covers them to respond to and treat altitude sickness; to conduct CPR and administer general first aid procedures. They attend refresher first aid courses annually.
Q. What kind of safety gear do the crew carry?
A. They carry a stethoscope, an oxymeter and oxygen tanks and thermometers. The first aid kit contains, among other items: Diamox (which treats symptoms of altitude sickness), painkillers, bandages and water purifying tablets. As per standard health and safety procedures the Guide uses a "Client Assessment Form" to monitor the health progress of the person. As Mt. Kilimanjaro is not a highly-technical mountain, other recommended safety support gear are walking poles and good hiking boots.
Q. Should I have travel/evacuation insurance for this trip?
A. We require that you have evacuation insurance for both the Mt. Kilimanjaro hike as highly recommend it for the safari portion of the tour.
Q. Do you have a packing list?
A. Yes! Once you've registered for the tour, we'll send you a packing list for the trek.
Q. I am participating in both the trek and the safari and will have a separate bag of clothes for each of these segments of the trip. Will I be able to leave a bag somewhere before the trek as well as before the safari?
A. Yes, you will be able to leave a bag in Moshi prior to embarking on the trek. The drivers will then bring your bag to you in Arusha at the end of the trek. You will also be able to leave a bag in Arusha, before setting off on safari, and will be able to retrieve it at the end of your stay.
Q. I know we have a rest day in Arusha, between the Mt. Kili trek and the start of the safari. Where will we be staying?
A. You will have two nights in Arusha before the rest of the safari group arrive. You'll be staying at the Karama Lodge. It has a wonderful spa where you'll be able to work out some of the kinks you've acquired when camping! If you're planning on going to the spa, we do recommend that you book an appointment well in advance.