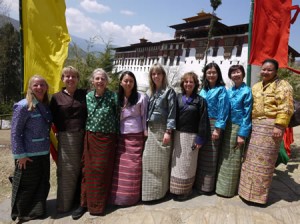 Known to its people as 'Druk Yul' (Land of the Thunder Dragon), Bhutan is a world unto itself. This mountain kingdom – located high in the Himalayas – is isolated from the rest of the world. Although the nation is anxious to join the modern world, every effort is being made to retain its unique culture, where myths and legends abound and festivals worshipping Buddhist deities are of the utmost importance. The magnificent scenery, the warm, welcoming people and the fascinating culture are what draw us back year after year.
Highlights of our 2014 Cultural tour of Bhutan include:
Attendance at the Paro Festival – watch the unfurling of the country's largest thongdrel (banner)
Hike to Tiger's Nest, the country's most photographed monastery
Visit Punakha Dzong, considered the most beautiful monastery in Bhutan
Stunning scenery as we drive over Himalayan mountain passes and take light hikes amongst the foothills
Learn about the Kingdom's approach to Gross National Happiness
Most people leave Bhutan feeling that their lives have been changed forever. If you feel like you could use a change in your life, why not consider joining us in the Spring of 2014?
We LOVE to talk about Bhutan! Give us a call (206-317-1860) or Contact Us via email and we'll be happy to answer any questions you might have!
Embrace life,
Pat
To stay up-to-date on all things WanderTours, follow us on Facebook and subscribe to our blog via email or RSS.