Here's a roundup of suggested books to help get you prepped for (and excited about) your trip to Peru and, specifically, Machu Picchu!
Lonely Planet Peru

If you're on one of our tours, you won't necessary need a guidebook as your details have been taken care of but, for an overview of Peru, what to do, where to do it and more, Lonely Planet Peru has got you covered.
This guide covers different budgets, gives you sound cultural advice and travel tips, and even has 70 color maps included. If you're going to Machu Picchu, you'll find a section on that too.
*****
City of Silver by Annamaria Alfieri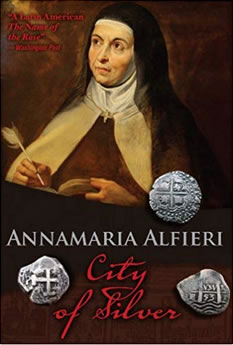 This is a mystery set in Potesi, Peru, in 1650, where silver coins are produced for the King of Spain. The plot kicks off when the abbess Mother Maria Santa Hilda offers refuge to the daughter of the wealthy mayor, Inez. When Inez dies in her cell, the question of whether the death was a murder or suicide drives a fast-moving plot that moves from questions of what happened to the Inquisition getting involved. Bonus – the story is filled with strong women characters that may or may not be realistic for the time and place, but don't let that stop you from delving into the mystery.
*****
The Lost City of the Incas by Hiram Bingham

This is at once slightly controversial and a must-read for anyone who wants to visit Machu Picchu. Bingham was essentially the real-life Indiana Jones, who ventured into the wilds of the Eastern Peruvian Andes and "discovered" Machu Picchu and other lost cities in 1911. So while there are some who doubt Bingham's discovery (because many Peruvians knew about the ruins so how could he really "discover" them in the first place) and his decision to take (steal?) artifacts out from the site, the book follows along as one man trekked his way to the ruins. Bingham is informative of both the archaeology and the sense of excitement that surrounded exploring Machu Picchu.
*****
Turn Right at Machu Picchu by Mark Adams

If The Lost City of the Incas proves a little dense, Turn Right at Machu Picchu by Mark Adams is much more fun. Adams – a writer who has never even slept in a tent once – decides to follow in Hiram Bingham's footsteps to Machu Picchu to answer one question: what exactly was Machu Picchu? The tale is at once funny, informative of both Inca history and Bingham's trek, and an account of Adams' own adventure through the Andes.
*****
The Last Days of the Incas by Kim MacQuarrie

This historical look is exactly what it sounds like – the downfall of the Incas at the hands of Spanish conquistador Francisco Pizarro. While you'll likely hear snippets of this history if you venture to Peru or Machu Picchu, there's nothing like a deep dive into what happened and why, and just how hard the Incas fought even though they ultimately were vanquished.
*****
The Gold Eaters by Ronald Wright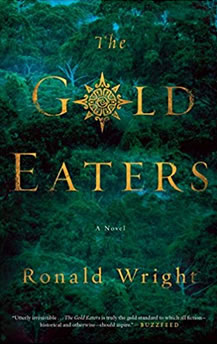 This tale is about a young Inca boy kidnapped at sea by conquistadors seeking Peru. The young boy, named Waman, is forced to become Francisco Pizarro's translator, and it is through him that this historical novel tells the tale of the tragic meeting between the Spanish and Incas. If you want to learn about this history, but straight-up history books are a bit too dry, then The Gold Eaters offers a story to make the history more palatable.
*****
Aunt Julia and the Scriptwriter by Mario Vargas Llosa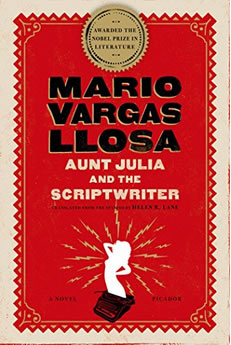 Aunt Julia and the Scriptwriter by Mario Vargas Llosa is set in Lima, Peru, where the author spent his youth. The story follows a student named Marito, who works at Panamerica writing news scripts for the radio station. Marito's life is thrown into a bit of chaos by two events. First is a visit by his Aunt Julia – 13 years his senior and divorced, but the two fall in love and begin a secret affair. Second is the fact that a radio soap opera scriptwriter named Pedro begins confiding in Marito, but Pedro's mind is unwinding as his soap operas grip the city. The story weaves together Marito's life and Pedro's zany scripts.
*****
Missing in Machu Picchu by Cecelia Velastegui

This suspense novel revolves around four women in their 30s, who decide to combat their online dating dependency with a trek to Machu Picchu. While they decide to leave relationships behind, they are end up getting sucked into the schemes of the handsome trek leader Rodrigo. Rodrigo persuades the women to join in an ancient ritual, but not before two elderly indigenous women, Taki and Koyam, who have been watching out for the group of travelers, can step in.
*****
Peru: The Cookbook by Gaston Acurio
This cookbook looks a little plain from its cover…but you
know what they say about judging a book by its cover! Where this cookbook shines is in its sheer number of recipes – more than 500 of them, all rooted in traditional cuisine, and all by renowned Peruvian chef Gaston Acurio. Acurio is known for his TV presence in Peru and his restaurants, which you'll find in many cities all around Peru as well as in Mexico, Colombia, Chile, Brazil and other countries.
In short, the chef knows what he's doing and these recipes will serve as a beautiful way to remember your journey to Peru or get to know the country before you go via your kitchen.
*****
The Fire of Peru by Ricardo Zarate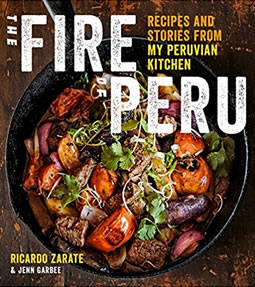 Peruvian cuisine is so delicious that it's worth taking a look at more than one cookbook. The Fire of Peru is filled with recipes by another well-known Peruvian chef, Lima-born LA chef Ricardo Zarate. Where Acurio goes more traditional, Zarate's recipes tend toward modern innovations bringing in not only Peruvian traditions, but outside influences. So you'll see burgers and sushi with a Peruvian twist, as well as traditional favs like ceviche and lomo saltado.
*****
Cusco and Machu Picchu Vacation Travel Guide by Expedia (video)

Sometimes it helps to have a visual of where you're going. This Cusco and Machu Picchu Vacation Travel Guide by Expedia is short and sweet, yet informative and showcases the absolutely stunning surrounds, ruins and places to see in the area. You'll see snippets of Cusco, the Salt Mines of Maras, Ollantaytambo and other sights in the Sacred Valley, as well as the Inca Trail (or train and bus ride, if the trail isn't for you) and Machu Picchu.