One of the focuses of our culinary tours is eating local…locally produced and locally owned. And one of our favorite places to do so is in Beth's hometown of Seattle with its abundance of local, sustainable produce and seafood as well as pasture-to-table fare.
Tom Douglas, a renowned Seattle chef, has built a restaurant empire based on this wealth of delicious ingredients, and we always include at least one of his restaurants on our Seattle culinary tour. Although we have in the past dined at his Dahlia Lounge—a leader in the Seattle local and sustainable food movement for over 20 years—we've chosen to try a another of his restaurants in 2016. We'll be dining at Lola, which is reputed to serve the "best breakfast in town."
Although I haven't done our Seattle tour, I have had breakfast at Lola and it was totally delish! It's definitely a popular spot—as I waited a few minutes for my table, I watched a constant stream of patrons arriving without reservations, only to be told that the wait could be up to an hour. Most opted to wait! This eatery is next door to the Hotel Andra, where we stay on tour, so it's lovely and convenient.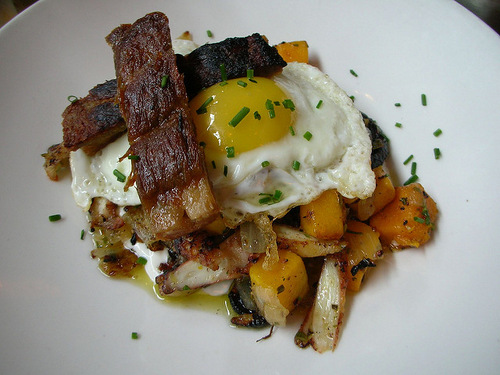 Douglas—who has lived in Seattle since 1977—is an executive chef, restaurateur, author and radio talk show host. He's won the James Beard Award for Best Northwest Chef and the James Beard Best Restaurateur award. He's authored a number of cookbooks, including his award-winning Tom Douglas' Seattle Kitchen, and competed in an episode of Iron Chef America.
Douglas and his wife and business partner, Jackie, believe so strongly in farm-to-table eating that they bought an acreage in Prosser, Washington, in 2006. Located 2.5 hours east of Seattle, their farm is located smack in the middle of Washington's wine country. It's here that they produce on average 2400 pounds of produce weekly, trucking it into the city to serve hungry diners at their restaurants.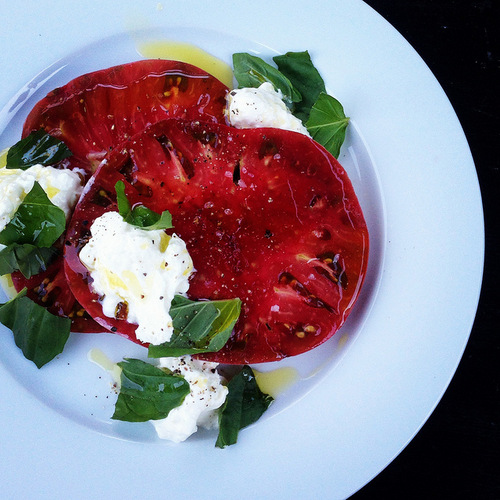 There are so many of his restaurants to choose from that you could spend a week in Seattle and never try them all. Check out this lemon meringue pie below from the Dahlia Bakery. The bakery is a great place to pick up a loaf of artisan bread, soup and a sandwich, or a pastry. I'd have a problem choosing between the triple coconut cream pie or the lemon meringue.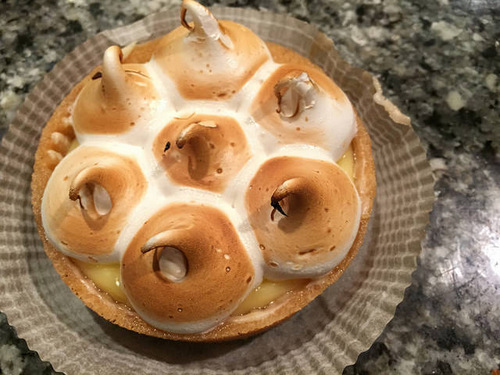 If pizza is your thing, there are three different locations of Serious Pie, home of delicious apple wood fired pizzas with their blistered crusts.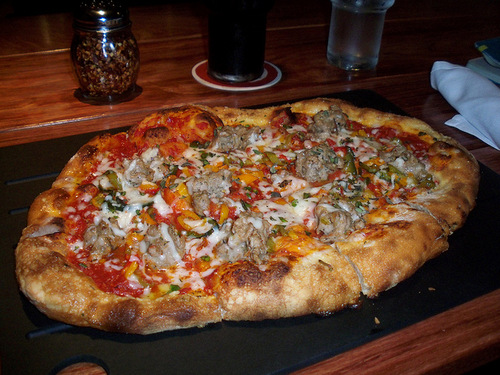 Whichever of Douglas' restaurants you have the opportunity to try, I can almost guarantee that you won't be disappointed. Remember, the peppers on the pizza at Serious Pie and the tomatoes in Lola's Greek salad likely come from their own farm—you can't eat more local than that!
If you're booked on our Seattle culinary tour you may want to stay a couple of extra days so you can max out your Tom Douglas dining experiences! There are still a few spots available on our tour—contact us or give us a call at 1-206-317-1860 if this tour is calling your name.
Embrace life,
Pat
To stay up-to-date on all things WanderTours, follow us on Facebook and subscribe to our blog via email or RSS.
Photo credits:
Scallops at Dahlia Lounge – John Hritz via Flickr
Breakfast at Lola – John Herschell via Flickr
Prosser Farm tomatoes – John Herschell via Flickr
Lemon Meringue Pie at Dahlia Bakery – Kimberly Vardeman via Flickr
Serious Pie pizza – Kevin Anderson via Flickr