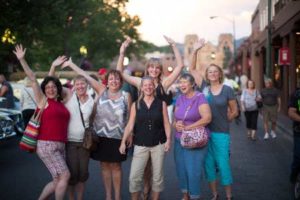 Wondering what makes WanderTours different from all the other tour companies out there?
Small Groups – this allows us to partake in unique activities such as cooking classes in the homes of locals.
WanderTours Giving Program – a small portion of every tour cost on our international tours has a giving component where we support a program that helps a community in our destination.
Women-only – while a few of our tours are co-ed, the majority are women-only. This offers you the opportunity to travel and share your experiences with like-minded women.
Personal Service – from Day One, we're here for your questions and concerns. Prior to departure, we'll send out a special newsletter to everyone on the tour "introducing" you to each other. That's why we ask for a bio and photo when you register!
Destination Knowledge – Beth has personally traveled to every destination we offer and is happy to share her wealth of knowledge. It's easier for you to make an informed decision when you can speak to someone with first-hand experience.
In other words, we offer small, personal tours and we're excited about our destinations. We hope you will be too!
To book a tour, simply choose which tour you're interested in from the list at left and click on Register Now on that tour's page. Have questions? Contact us!
Embrace life,
Pat
To stay up-to-date on all things WanderTours, follow us on Facebook and subscribe to our blog via email or RSS.