Travel with WanderTours and we can guarantee you're going to meet some fascinating people. One of these people is Poppy Tooker, native of New Orleans. She's a radio and TV host, speaker, author, cooking instructor and culinary activist, all rolled into one!
The evening we spend with Poppy on our New Orleans Culinary Tour is one of the highlights of our visit to the Big Easy. I met Poppy when I went on our tour, and I was thrilled to have the opportunity to chat with her recently.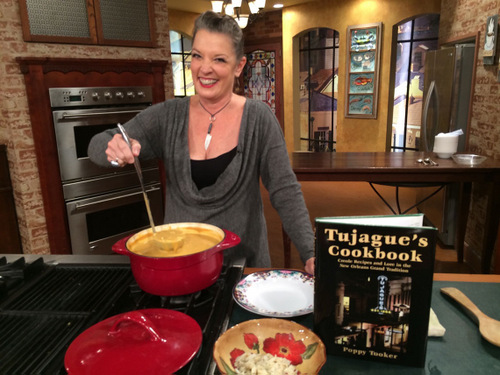 Q. I've seen you described as a "culinary activist." What does that term mean to you?
A. It has to do with a lot of the work I did after Hurricane Katrina…when there was just so much to be done…when we needed to fix our broken food system in New Orleans. I rescued a bunch of restaurants that literally were six feet under and needed to be brought back. I helped get the farmers market reopened again…things like that.
I was also involved in 2013 with getting Mark Latter's uncle to understand that Tujague's should not be closed and the building torn down after Mark's daddy died. (Owner Steven Latter died in 2013 and his brother Stanford, owner of the building, wanted to close the restaurant. Poppy was instrumental in persuading him to allow Steven's son, Mark, to continue running the historic eatery.)
Q. Can you tell us a bit about your culinary path?
A. New Orleanians are pretty universally food obsessed. I grew up with a great love for cooking and, by the time I was in my early 20s, I had started teaching. I began food writing in 2005 and have published four books since that time.
In 2009, my first book Crescent City Farmer's Market won the Eula Mae Doré Tabasco Cookbook Award for historic content. My second book Louisiana Eats won The Literary Award of the Year by the Louisiana Library Association
My most recent cookbook Tujague's Cookbook—out since October 2015—is about New Orleans' second-oldest continuously operating restaurant. Tujague's is the third oldest restaurant in the nation. Delmonico's in New York is the oldest and Antoine's, also in New Orleans, is second oldest in the country. Tujague's is celebrating their 160th anniversary this year. This was the only cookbook out last year that included a photograph of a cross-dressing ghost! It also includes a poem about the ghost, written by Dorothy Parker.
Q. Your weekly radio show Louisiana Eats was named the best radio show of 2014 by the New Orleans Press Club. Can you describe the concept of the show?
A. There are five years of Louisiana Eats archived online—we've been doing the show for that long. Although we do have recipes in the show, it's not a show about food recipes. It's more about the people who bring the food to the table, whether they're growing it or cooking it. We pride ourselves on having a thin food thread running through every segment of the radio show. We can also get wildly off-topic.
In a recent show I was fortunate enough to go to Havana with Preservation Hall's jazz band on a special trip that the foundation organized in December. We went to the 35th annual Havana Jazz Fest. The show literally takes our listeners to the Havana Jazz Fest with us.
Louisiana Eats airs twice weekly in the New Orleans market—on Saturdays at 11 a.m. and Wednesdays at 1 p.m.
Q. Do you have a favorite episode?
A. No. I did a show about addiction last year—that was a very serious topic which was also at the same time, somewhat surprisingly, mixed in with some humorous content. Like the guy who wrote a book recently about cooking in prison—when he was in federal prison for being a mugger because of his heroin addiction—and what the prisoners were cooking for themselves…not like the food that was being served in the cafeteria. And that same show also included a segment from the Ganja Gourmet—the first to open an all-marijuana restaurant in Denver.
Q. Instead of telling you to clean your plate, your grandmother used to say, "Eat it to save it." Can you explain what she meant?
A. She just simply meant the same as when Americans usually tell their children to clean their plate. When I became involved with the Slow Food Movement in 1999—having started one of the first 10 chapters in the country—one of the things I was most involved in with Slow Food was their Ark of Taste program.
I was very instrumental in identifying and getting foods from this region placed on the International Ark of Taste. We literally brought back Creole cream cheese from the brink of extinction.
(The Ark of Taste program was created to point out the existence of and draw attention to small-scale food productions that are at risk of extinction.)
Q. There are many similarities between Cajun and Creole cooking. What are the main differences?
A. Cajun food is the food of the country and Creole food is the food of the city. Cajun is more one-pot, spicy cooking. Creole is more well-seasoned and refined instead of hot and spicy pot food.
Q. If you had to pick your absolute favorite New Orleans dish, what would it be? Why?
A. Oh, gumbo! That's what I'm the most famous for, is my gumbo. The places that gumbo can get a girl are really amazing. I would never have volunteered to be in a throw-down with Bobby Flay. In fact, I'd never even seen one before I was on one.
Also my gumbo went on to get me on a segment with Wynton Marsalis on CBS Sunday Morning. Of that, a very special friendship has blossomed between me and Wynton because he's got such a thing for my gumbo. You just never know where gumbo is going to get you.
Q. How would you describe New Orleans food to someone who has never before experienced it?
A. It is America's only totally unique cuisine born from a place that combines history, European technique and amazing native ingredients. It's one of the great indigenous cuisines of the United States.
Q, Many of our tour participants have never been to New Orleans before. What's the most common misconception people have about New Orleans cooking?
A. That everything's blackened and that it's too hot and spicy…and that's not the case at all!
Although our 2016 New Orleans Culinary Tour is behind us we're looking forward to 2017! Contact us or call us at 1-206-317-1860 if you'd like to be notified when the tour is open for registration!
Embrace life,
Pat
To stay up-to-date on all things WanderTours, follow us on Facebook and subscribe to our blog via email or RSS.
Photo credits:
Gumbo – Pat Awmack
Poppy and Beth – Beth Whitman
All other photos – Poppy Tooker