By Rebekah Bresee
Visitors arrive in Luang Prabang looking for a relaxing and cultural vacation—and that's exactly what they'll find in this unique destination that offers a blend of traditional Lao history with a touch of European influence. Count on seeing Lao architecture fused with more modern French-style villas, and Buddhist monks performing ceremonies at the river's edge while tourists shuffle through the streets. Harmonious contrast is what Luang Prabang is all about. The mix of architecture styles and religious practices reflect the city's complicated history in a way that sets it apart from many destinations.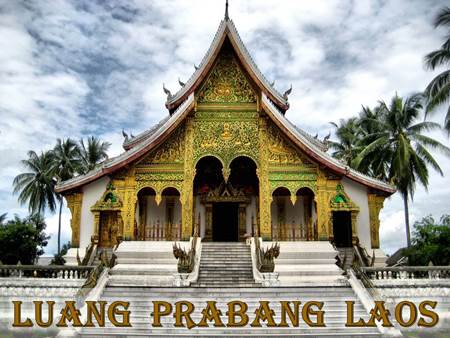 Located in the northern hills of Laos, Luang Prabang is known for reflecting a moment in time when European settlement blended with the local culture—and this history is remarkably well preserved in the city's architecture. You will have the opportunity to stay in Luang Prabang briefly during the Northern Thailand and Laos Hill Tribe Cultural Tour, but this unique city may just draw you back in for future visits too!
The beginnings of Luang Prabang may differ depending who you ask. According to some legends, Buddha rested in the area of Luang Prabang during his travels and prophesied it would be a great city. According to history books, the city by the Mekong River was founded by the Tai prince Khun Lo in 698 after a conquest of that Laos region. Khun Lo named the city Muang Sua and established a monarchy that would last for centuries.
In 1353, the Khmer conqueror Fa Ngum established the first Lao Kingdom, using this city as its capital. The city flourished due its location on silk trade routes. This also caused it to become a greater center for influence as many travelers from around the world passed through its streets. Its wealth was so vast that Fa Ngum's son renamed the city Xiang Dong Xiang Thong or The City of Gold.
The current name of this cultural city was given by King Visoun in 1512 when he accepted a Buddha statue from the Khmer monarchy in Cambodia. The Buddha was known as the Pha Bang (Prabang) and Luang means great or royal. Although the capital eventually moved to Vientiane, the name Luang Prabang remains to this day.
Luang Prabang continued to be a place of influence throughout history. Wars and globalism brought the city into the spotlight as a place for occupation and commerce. During World War II alone, Luang Prabang was occupied by Vichy France, then Thailand, then Imperial Japan, then Free France and finally Nationalist China. Although Laos declared its independence from France in 1945, France still considered Laos a French colony. This remained the case until the Vietnamese defeated the French in 1954.
Today, the influence of all of these cultures shapes the architecture, economy and religion of the city, and knowing even just a little bit about how many different cultures have made their mark on this town helps visitors see deeper into what formed Luang Prabang.
But the city became closed-off to the world for a time when the communist Pathet Lao government took over in 1975 and dispelled the monarchy. It wasn't until 1989 that Laos reopened its borders to tourism. The city's disconnect from the rest of the world caused Luang Prabang to seem frozen in time. The once flourishing city of commerce and influence was somewhat of a ghost town for a long time.
Over the decades, however, Luang Prabang has worked to restore itself to its former glory. Old villas now serve as hotels and guesthouses. Privately owned restaurants and handcraft shops cater to the tourism industry as well as bolstering the local economy. The city was also placed on UNESCO's World Heritage list in 1995, which helped in preserving the city's historic architecture while enhancing its international profile.
To stay up-to-date on all things WanderTours, follow us on Facebook and subscribe to our blog via email or RSS.
*****
Photo credits:
Luang Prabang Temple: Francisco Anzola via Flickr
Wat Xieng Thong Wall: McKay Savage via Flickr
Wat Sensoukaram: Chi King via Flickr
Luang Prabang Street: Harry Bloom via Flickr