Although it's still a few months until I leave on safari, I've already begun thinking about what clothes to pack—in fact, I've actually begun buying a few items I need. I figure I have time to shop around and pick up a few things at a time, so I won't end up blowing the budget all in one go.
I'm struggling with the idea of only bringing a carry-on…I'm not known for packing lightly! But, I'm determined to do so. Here are the reasons why.
• Airline luggage allowance. Although most airlines allow free checked luggage on intercontinental flights, that isn't always the case. And, if you're flying on any small planes within Africa, your weight allowance will be much less than on your international flights.
• There is limited space available for luggage on the safari vehicles. NOTE: It's best to have soft-sided bags as they are easier to pack into the vehicle.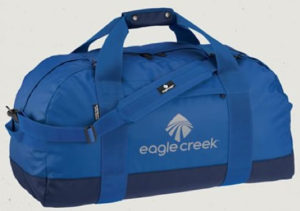 Read also: Shoes: The Packing Conundrum | Suitcase Packing Tips for Women
Basic Packing Notes
• Clothing and shoes should be in neutral colors, such as tan, gray or brown. Don't wear bright colors—that's generally all I wear, so that could be a problem. Keep in mind that blue attracts tsetse flies…which bite!
• Clothing should be lightweight and fast-drying. That way you can wash them in the evening and have them dry by morning.
So, what am I planning on taking?
Footwear
I'm bringing two pairs of shoes, max! I'll have one pair of light hiking shoes and one pair of sandals—probably a pair of Keens. Remember that it's going to be dusty…really dusty. You might want to bring an old pair of shoes and consider leaving them behind at the end of the safari.
I'll have two or three pairs of socks. Likely one pair of heavy socks and a couple of pairs of lighter socks. These should come higher than your ankles for maximum protection against insect bites.
Clothing
Two t-shirts. We don't recommend sleeveless shirts.
Two long-sleeve shirts. You're going to want protection from the sun. You may want to bring shirts that specifically offer sun protection.
Long shorts or capris. Avoid short skirts. Tanzania is a conservative country, and legs are considered an erotic zone.
A pair of convertible pants. It'll be cool in the evenings and you'll definitely want long pants. Blue jeans are not recommended as they don't dry quickly, and they're blue.
Warm pajamas.
Three or four pairs of underwear—fast-drying so you can wash and dry.
A swimsuit. Some of the lodges will have a pool and you might want to take a dip after a day of game viewing.
A warm hoodie or jacket for the chilly mornings and evenings.
A light poncho or rain jacket that folds up small…just in case we get rain. Our safari is happening during the hot season, but rain is still a possibility.
Some kind of a sun hat. Preferably one that covers the back of your neck.
A buff or scarf to put over your face when driving…remember the dust I mentioned earlier?
And that's it for clothes! Watch for another post on other bits and pieces to include in your packing.
BTW, due to a couple of cancellations, we have two spots available on our January safari departure. Contact us or call 1-206-317-1860 if you're interested in joining us.
Embrace life,
Pat
To stay up-to-date on all things WanderTours, follow us on Facebook and subscribe to our blog via email or RSS.