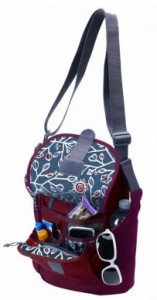 Looking for the perfect shoulder bag for traveling? Well, we've found it and we're happy to share. Travel with WanderTours in 2014 and we'll give you a sturdy little Donner bag, from Overland Equipment. This useful bag is the perfect accompaniment on any trip and should help you keep your belongings organized on your daily outings.
In February, 2013 we announced our partnership with Overland Equipment and all of our 2013 tour participants were sent their choice of Donner bag. We received comments such as, "beautiful" and "can't wait to use it." In the photo to the right, you can see two of our tour participants enjoying some artwork in Bhutan with their bags.
What's to love about the Donner bag?
It has lots of pockets! There's a deep middle pocket for your eReader and journal, an inside pocket (against your body) for your passport and money and the outside Velcro pouch with six pockets of various sizes for things such as your cell phone, lip balm and pen
The side pocket will hold your water bottle
There's an adjustable strap so you can wear it across your chest (which decreases the odds of a purse-snatcher making off with it)
It's made of rip-stop nylon, enhancing its durability
Its value is $65 and you get it for free when you book one of our tours
And best of all? There's a wide choice of colors to choose from!
There's still space available on some of our 2014 tours! Give us a call (206-317-1860) or Contact Us via email and we'll be happy to answer any questions you might have!
Embrace life,
Pat
To stay up-to-date on all things WanderTours, follow us on Facebook and subscribe to our blog via email or RSS.