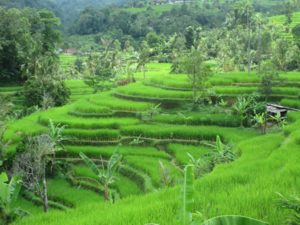 September 2015 sees our first-ever women-only tour to Bali and Java and we can't wait to share the Island of the Gods with a fantastic group of women. We'll explore lush rice terraces, barren volcanic calderas and pristine sandy beaches; we'll visit temples and museums, watch traditional performances and participate in a hands-on cooking lesson…and we'll wrap up the tour with a stay at the magnificent all-inclusive resort, the Samabe Bali Suites and Villas.
Highlights of the tour include:
Learning how to master the traditional art of batik-making by producing your own piece of batik.
Watching a demonstration of Wayang Kulit – a Javanese shadow puppet performance.
Touring Borobudur, with 504 statues of Buddha, it is the largest Buddhist temple in the world.
Enjoying a scenic 3.5 hour train ride.
Taking a jeep up Mt. Bromo to watch the sunrise.
Enjoying a day of leisure with the option of booking a side-excursion to experience top-notch snorkeling.
Visiting a spice plantation and taste-test spices such as cinnamon, vanilla and cloves.
Experiencing the rice fields of Jatiluwih, a UNESCO World Heritage site.
Learning the techniques of Balinese cooking as well as the ceremonial and cultural significance of food in Balinese society.
This tour offers a real behind-the-scenes look at Indonesian life and will leave participants with a deeper understanding of Balinese culture.
Embrace life,
Pat
To stay up-to-date on all things WanderTours, follow us on Facebook and subscribe to our blog via email or RSS.