A guest post by WanderTours participant, Sarah Shaw.
My first trip to India came after I had just survived one of the toughest years of my life. My appendix burst and I now had a new appreciation for the need to live life to the fullest and in the present. I had always intended to get out and see the world but there were always a number of conditions I had put on when I could go. Like when my business could survive without me being there or when I was married or when I had a friend who would come along, too. Suddenly I came to the realization that the day would never come unless I made it happen. I grabbed my laptop and searched on Google under "single woman travel India" and the WanderTours trip to Northern India popped up at the top of the list. I quickly scanned the itinerary and in less than 24 hours, I had signed up for the tour that fall.
Little did I know that the impulsive act of tourism would be an important milestone in my life. I learned from that trip that I could go out on my own to the other side of the world and safely return. I learned that meeting people from other cultures would become like oxygen to me. A deep need for exchange and understanding in places where I knew no one was beginning to be fed. That trip to India with WanderTours would be my first for four years in a row. I used the confidence I gained to try even more new things like hiking through the Himalayas, whitewater rafting and solo travel (without a tour) through new countries.
I love India. I find that most people have polarized opinions about visiting this ancient civilization and they either love it or find they don't need to return. I knew during the first days of the trip that I would be back many times. I found India to be many things but chief among them was a country full of wonderful, hospitable people who go out of their way to help you and make sure you are happy.
Of course there are people, who out of desperation, are looking for ways to take advantage of tourists, that's true of every country I have visited. I do find that there do seem to be more people with a deeper desperation in India and you need some savvy traveler skills to allow you to safely navigate them. I guess that's why I always recommend to people that the first time they visit India, that they do so with a tour group. Your WanderTours leader will help guide you as you develop your radar and strategies. Since going on both the North and South India tours, I have gone to India on my own and felt perfectly safe. And I will travel there on my own again in the future.
As someone who is considering traveling to India, I thought it might be helpful for you to hear about some of my impressions of exploring in the country on the WanderTours North India tour. I will share with you some of the things that surprised me about India and that I feel will put you a step ahead of me in preparedness, if you know about them in advance. I will also share with you some of the things that absolutely delighted me about India. Let's start with the surprises.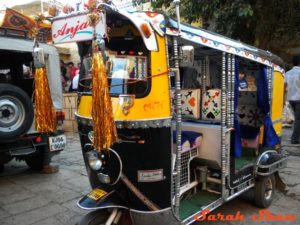 Surprise Number One: India is a full on assault of the senses. From the moment you exit customs you will be hit with the cloud of sensations that is India. That force will certainly include extreme temperature, near suffocating humidity, a mélange of scents including the worst imaginable funk mixed in with the sweetest flowers and incense, salty, dirty sweat, a visual tapestry of bright color combinations, a cacophony of horns used constantly in traffic, the desperation of extreme poverty and suffering as well as the constant press of people everywhere with nowhere to escape for privacy and no concept of personal space. Yes, I think that sums up India and why it is not for some people. To succeed in India, you will need to harness the energy from that force and rather than view it as something trying to knock you down, instead learn to see it as an embrace that instantly envelops you into India's arms.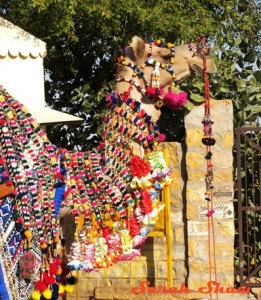 Surprise Number Two: There are animals everywhere. I'm originally from a farming community and I'm telling you that in India, there are animals everywhere! This will include cows leisurely strolling through busy streets and even laying down anywhere to have a nap. You should not be surprised to discover monkeys hanging out at the pool whether up in the trees or chilling next to a lounger. Monkeys in Delhi are much like our squirrels. Goats are found at every turn and may be munching in a yard or a herd headed off to the market and you'll learn to love their optimistic, happy-go-lucky attitude about their life there. You'll find camels everywhere you turn strutting around with their showy finery. Lastly you will find dogs. Sweet faced, terribly malnourished and sometimes severely injured from an accident in the streets. But stray dogs are running everywhere surviving for another day. Navigating India successfully will require you to set aside your understanding of how animals live and are treated and suspend your feeling of wanting to change everything to improve their lot in this life.
Surprise Number Three: The Taj Mahal was not the highlight of my trip. There, I said it. The Taj Mahal is a beautiful, magnificent building and it should be visited. I enjoyed other architecture just as much though and probably even more. Agra, the city where you'll find the Taj, is a magnet for people looking to take advantage of tourists. Although most never get on the grounds of the Taj, you will find them everywhere else and the requirement of my constant attention to my belongings and questioning the true reason for people's interest in me was more than I cared for. This isn't to say that there aren't many fine, sincere people to meet in Agra, there are. But the press of tourists in the mausoleum and the constant threat of scam was felt most for me here.
Surprise Number Four: You will be a celebrity from the moment you step off your bus or out of your hotel. Especially if you are fair and blond like me, you will be drawing a lot of attention. I found on that first trip that as soon as our bus pulled up to an attraction, a sudden line of Indian tourists would also form looking for interactions with us. They wanted to pose with us for a picture to show their family back home that they have an American friend. Others will push their children toward you for a photo and shyly ask you your good name (which is your first name, by the way). Some very charming people just want to practice their English and have a little exchange. It's fun. Relax and enjoy it. Sure it will take a little more time to get to your destination, but remember you are an ambassador for your home country and their interest in you is sincere.
Surprise Number Five: You need to accept India as she is. Don't expect to change her or assume that she wants to be like the West. I've watched as people struggle with this. And I recognize that everyone travels for different reasons and has different expectations. But please do sincerely consider this; if you choose to go to India it should be because you want to learn about its people, history and culture. It's not going to be like home. The food will be entirely different. Nothing will feel familiar or the same for you. I can think of nowhere to go in the U.S. to use as practice for India. So let go of your internal demands to want India to be like a trip at home. It won't be. And it shouldn't be. Open yourself up to an entirely new experience and you will be amazed and smitten with this incredibly country.
After looking at some surprises to a first time traveler to India, let's take a look at things that will surely delight you.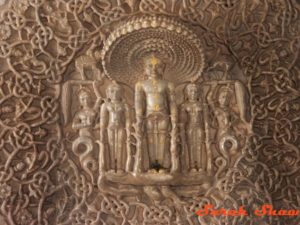 Delight Number One: I know of no place on earth where you can experience as many religions being practiced peacefully side by side as you can easily do in India. During my first trip to India I visited sites and met people who were Hindu, Muslim, Buddhist, Sikh, Baha'I, Jain, Bishnoi and Christian. The tolerance and respect commonly practiced by neighbors of different faiths throughout their community is inspiring. We could learn a lot from India. Be open to at least witnessing and observing different traditions and respect them for what they are regardless of your own faith. You are unlikely to get such an exquisite chance to do this so completely again.
Delight Number Two: You will be amazed by the depth of history you discover everywhere. The United States is still a relatively young country compared to ancient cultures like India. Exploring the grounds of ancient temples and monuments is likely to give you goose bumps as you picture the feet that have traveled here before you. Being able to run your fingers over a worn wall or gaze through a haveli window as women have for centuries makes me feel like I now have become a part of this ancient history too. Many times it felt more like a returning to me, as if I had been there before. Again it's the welcome embrace that India offers throughout your travels.
Delight Number Three: Your camera is your perfect tool to communicate in any language. You will meet many Indian people who speak English wonderfully and some even better than you! Others will remember some basic phrases from school and still others will be at a loss. A smile and your camera will be all that you need. You will discover that most people love to pose for a picture. Once its snapped, show them the image and watch the delight on their face as they see themselves as you see them. Use your camera as a way to bridge any language chasms and you will meet friends everywhere you go.
Delight Number Four: Shopping at FabIndia. I expected to do some amazing shopping while in India. After all, I am the WanderShopper. I began earning that title on this first tour. There will be many opportunities to shop in stores and markets during your tour but I guarantee that you will want to make time to visit at least one of FabIndia's 172 stores. Loaded with clothes and household goods created by artisans in rural communities around India, FabIndia curates an amazing collection of items that appeal to both Indian and Western shoppers. You are sure to admire the colorful clothes Indian women wear to do even the most menial tasks. You are more likely to find clothes cut to fit a Western figure in a wide range of sizes at FabIndia. Kurtas, salwars, dupattas in cotton and silk await you. They also have clothing for men and children. While there, you can pick up the block printed table clothes, bedspreads and other household goods you want to haul home. And they are very reasonably priced. I am proud to say I have shopped more than 10 FabIndias around the country and have stacks and stacks of their creations.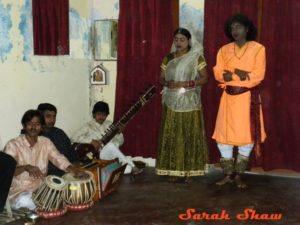 Delight Number Five: Your WanderTour will contain a series of surprise experiences that will make you feel like the luckiest girl in the world. As you pour over the itinerary for the tour, I know you are thinking this sounds absolutely amazing. And it is! But get ready, because it will be even better! Your tour leader has a number of surprises for your group that aren't listed and they will delight you. WanderTours arranges exchanges and invitations to meet with artists, musicians and other interesting people. You may be invited into people's homes for meals or concerts. You will be given access to things you could never do there on your own. You may be asked to take part in traditional ceremonies. You may be lucky enough to be there during a festival and get to experience a special part of the holiday. I don't know, and I wouldn't tell you if I did, what is in store for your group. But I do know that on every single WanderTour I have been on, and that's eight completed as of this writing, there have been wonderful surprises for the group throughout them all.
I love my time spent in India and I think you will love yours too. I always have concerns before I travel to any destination, whether it's at home or abroad, so that's natural for you to have some as well. I read Beth Whitman's book, Wanderlust and Lipstick for Women Traveling to India several times before I headed out and I think she really prepared me well for what to expect. There are many destinations I love around the world but without a doubt, India is a very special place for me. I encourage you to explore India, let it delight you and make some memories of your own.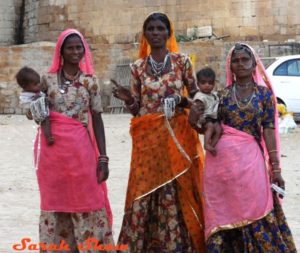 I love to share my experiences in India and inspire other women to get out there and experience this beautiful country. You might enjoy reading some of my posts over at my blog, WanderShopper, on the Wanderlust and Lipstick website. I like to help people discover items to shop for when they travel, how to buy them from home to get the look of a world adventuress as well as how to develop WanderShopper skills. I have a new post on Indian Decorating Ideas from Udaipur, one of the most romantic cities in India, which I visited during my first trip. I also have additional pictures to share from this tour on WanderShopper's Facebook page in the India Beginnings Album. Please check them out. I'd love to hear from you, too, and am happy to be a resource as you plan your first tour to India. Feel free to leave me a message.
Until we meet again,
Sarah
Sarah Shaw has traveled on eight WanderTours in the last five years. She's explored both North and South India, trekked in Bhutan (twice), visited Myanmar, Vietnam and Cambodia and eaten her way around Santa Fe. She plans on joining us in 2014 on our New Orleans Culinary tour and our Northern Thailand & Laos Hilltribe tour.