By Megan Pooler
Vietnam boasts more than 1,800 miles of coastline with beaches for every taste, ranging from shores near cities to out-of-the-way coves. Whether you're in Vietnam on your own or with WanderTours, fitting in a beach (or two or three!) is a great way to see the natural beauty Vietnam has to offer.
Keep in mind that the tropical climate creates dry and rainy seasons. In the north, the warmest months are May to October, with heavy rainfall between July and September. Central Vietnam is warm and dry from January through October. Dry season in the south lasts from November through the winter and into May.
Locals close their shops and avoid the beach during the heat of the afternoon, which means many beaches will be most crowded in the evenings. Also remember, this is a conservative culture, so nude sunbathing is frowned upon and bathing suits are not meant to be worn in town, only on the beach.
Whether you're looking for a beach full of activities or a place to lounge under a palm tree, Vietnam will satisfy your longing to dig your toes into the sand.
More about Vietnam: Weird Foods in Vietnam | Pho | Interesting Facts about Buddhism in Vietnam
Ha Long Bay
On our Vietnam and Cambodia tour, we'll explore Halong Bay on an overnight boat tour. If you're visiting on your own, be sure to add this gorgeous site to your itinerary. Halong Bay was named a UNESCO World Heritage site in 1994. Dotted by soaring limestone pillars and small islands, legend has it that a dragon carved out the bay with his swishing tail has he dove into the ocean. Some islands have large caves; others are surrounded by floating fishing villages. The stunning rock formations can be explored by kayak, or head to one of the larger islands for beaches tucked into tranquil coves and the chance to scuba dive in turquoise waters.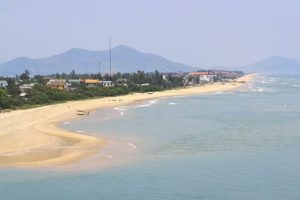 Da Nang
Facing the South China Sea, Da Nang's beaches were the recreation base for the US military during the Vietnam War. Da Nang is now known for its sparkling water, perfect for surfing and scuba diving. My Khe beach offers more cityscapes while Lang Co beach sits on a peninsula of white sand and coconut palms beckoning you to linger all day. Tourism here isn't as developed as it is in nearby Hoi An, but a growing nightlife scene, including local culinary tours, and plush resorts make Da Nang the perfect mix of city activity and beach relaxation. With nearby attractions including Buddhist sanctuaries tucked into the mountains and spectacular new architecture, Da Nang and its beaches are a must for every traveler.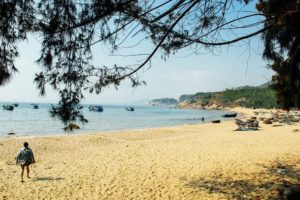 An Bang
Just a couple miles from Hoi An, An Bang beach is perfect for a relaxing break from your full schedule. Rent a sun lounger from a local vendor or nearby café, kick back and listen to the ocean breezes. Or try one of the area's popular seafood restaurants. With its white sand, palm trees and view of the Cham Islands, this beach is surprisingly uncrowded during the day, but crowds do come at sunset. The wet season (October through early January) brings waves big enough for surfing, but the rest of the year, the ocean is calm and clear.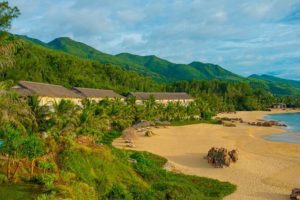 Quy Nhon
About mid-way down the coast is the city of Quy Nhon. Quy Nhon can be explored by bike or on foot and offers many excellent seafood restaurants. The beach, with its golden sand and minimal tourists, is ideal for a peaceful getaway. There isn't much nightlife on or near the beach, so plan to enjoy a leisurely evening watching the sunset. Friendly locals and impromptu beach volleyball games are highlights of this just-off-the-beaten-path beach. Be sure to visit the Thap Doi Cham Towers nearby, too. Built by the Cham people who ruled this area of Vietnam between the 8th and 11th centuries, these towers were used for religious purposes of Hindu origin. The intricately carved towers are surrounded by a lush public park.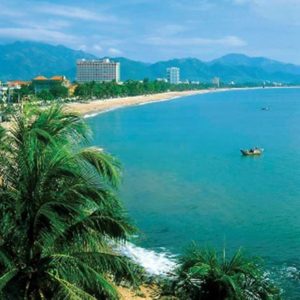 Nha Trang
If city amenities, white sand and plenty of activities are your dream beach vacation, look no further than Nha Trang. From scuba diving and kite boarding to afternoon cruises and numerous beach-side restaurants, Nha Trang beaches are full of energy. The bay includes the Hon Mun Protected Area, which offers prime snorkeling from April to October. Nightlife at Nha Trang runs late, with visitors from around the world mingling in simple neighborhood bars and ritzy hotel lounges. For a break from the crowds, make the short trip north to Doc Let, a secluded bay lined with evergreen trees.
Con Son Island
Located off the southeast coast, Con Son Island is a relatively undiscovered retreat from the crowds found on other Vietnamese beaches. In the 1860s, the French colonial government used this island to house political prisoners. This continued throughout Vietnam's conflicted history until the prison was officially closed with the country's unification in 1975. Today, the remnants of the prison and quiet cemeteries are pilgrimage sites for many who consider the prisoners national heroes. After you pay homage to the island's past, take part in its vibrant future by spending a morning exploring the marketplace. During the afternoon, relax on one many white sand beaches backed by rugged, forested mountains. With minimal development, plan on staying in local guest house or one of only a few luxe resorts. You'll find a laid-back rhythm permeates all, perfect for enjoying sunset from the beach-side promenade.
To stay up-to-date on all things WanderTours, follow us on Facebook and subscribe to our blog via email or RSS.
*****
Photo credits:
Ha Long Bay: ctot_not_def via Flickr
Lang Co: Loi Nguyen Duc via Flickr
An Bang: Hưng Hồ Bá via Flickr
Quy Nhon: Roderick Eime via Flickr
Nha Trang: Travelbusy.com via Flickr
Con Son Beach: Paul Arps via Flickr