If you haven't visited Vietnam, you may not equate the country with coffee drinking. But the beverage was introduced—along with baguettes and a few other French delicacies—in the mid 19th century, during the French occupation. Within a short time, large expanses of Vietnam's highlands were cultivated in coffee and the country soon became an important exporter of the valuable crop. As the second largest producer in the world, it is now known for its strong coffee culture.
More about Vietnam: Weird Things to Eat in Vietnam | Interesting Facts About Buddhism in Vietnam | The Art of Crossing the Street in Vietnam
When exploring Hanoi or Saigon, you'll run across a cafe around every corner. While there are still many typical Vietnamese coffee houses—where it's standard protocol to sit on a plastic stool, savoring your drink and watching the world go by—the coffee culture is changing. You'll find more and more hip, modern coffee houses, rivaling those found in any major city in the world.
Coffee drinking is a serious matter here, and you'll find not only local beans, but beans from other areas of the world. At Trung Nguyen Coffee—Vietnam's version of Starbucks—the coffee menu encompasses five pages. There are literally dozens of ways to serve this popular beverage. Here are just a few of the possibilities.
Cà Phê Sũa Dá
This literally means "coffee, milk, ice." And that's exactly what you'll receive. The coffee is made by pouring boiling water over a small metal filter containing coarsely ground robusta beans. After the dark, strong brew drips slowly into a glass holding approximately half an inch of condensed milk, it is stirred and poured over a glass of ice. The use of condensed milk came about because of a lack of abundance of fresh milk. The combination of the sweet condensed milk and the caffeine is a sure eye-opener!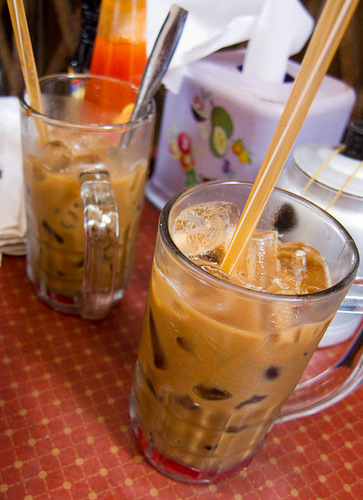 Cà Phê Trúng
Egg coffee is something our tour participants often become addicted to during our Vietnam tour. This drink is made by whipping an egg yolk with the condensed milk until the mixture is a light, airy froth. The froth is then added to the dark coffee. This coffee drink originally appeared in the 1940s, when fresh milk was scarce and eggs were often used as a substitute. I've seen it described both as a Cadbury Creme Egg with a mocha twist or as a version of tiramisu. Make up your own mind when you take your first sip.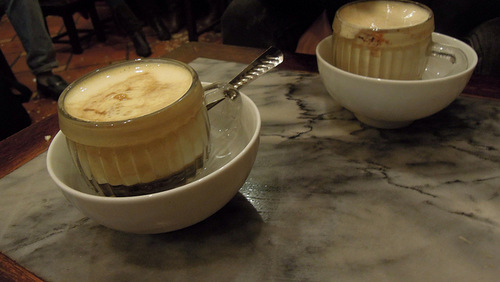 Cà Phê Dên Nóng
If you prefer your coffee without sweetened milk or eggs, an alternative is dark, drip coffee—which is made the same way as in iced coffee—but served hot.
These are simply a few of the ways you can indulge your caffeine addiction while in Vietnam. Why not visit yourself, and choose your favorite method of preparation? Please contact us or call us at 1-206-317-1860 if you'd like to join us on our next women-only tour to Vietnam.
Embrace life,
Pat
To stay up-to-date on all things WanderTours, follow us on Facebook and subscribe to our blog via email or RSS.
Photo credits:
Cà Phê Sũa Dá – Charles Haynes via Flickr
Cà Phê Trúng – David McKelvey via Flickr
Cà Phê Dên Nóng – Traveling Planner via Flickr