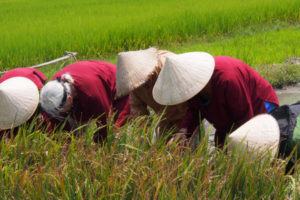 FOR IMMEDIATE RELEASE:
Seattle, WA – April 28, 2014 – Tourism to Vietnam is on the rise. The country's Ministry of Culture, Sports and Tourism reported that the tourism industry's earnings in the first quarter of 2014 are up 31.2% from last year, and the number of visitors to the country are up 29.3%. Numbers don't lie. Vietnam's appeal has captured the attention of the world with stunning scenery, fascinating cities, delicious and diverse cuisine, and historic sites that have stood the test of time.
To ride the wave of this popular destination, WanderTours will take 15 women to Vietnam from March 22-April 4, 2015, for a tour that includes an optional add-on to nearby Cambodia.
"The Vietnam and Cambodia trip has become one of our most popular tours," says Beth Whitman, founder of WanderTours. "As a visitor to the region for more than 20 years, I've watched the growth of the region and am delighted to share it with other women."
This 14-day women-only tour will integrate tour participants into Vietnam's unique culture, from visiting the capital city of Hanoi, to the staggeringly beautiful Halong Bay, to some of the country's most fascinating places. WanderTours is unique in that we seek not only to see the most popular sites a country has to offer, but also to connect with the local culture—and the people. We'll experience the food culture by taking a cooking class, the antiquity of Vietnam by visiting temples and hill tribe villages alike, and one of the country's chief vocations by working in a rice field. Participants will even join in Saigon's nightlife the way the locals do—from the back of a Vespa scooter.
The tour features an optional, five-day add-on that takes participants on to Cambodia, where the tour group will visit famous Angkor Wat, a silk farm, traditional markets and more.
WanderTours Giving Program – A portion of your tour cost will go to supporting the Lifestart Foundation in Hoi An. This non-profit helps Vietnamese people, especially women, and helps them learn how to make a living.
This tour is for women only and limited to 15. Land cost is $3,650, not including flights or single-person supplements. A deposit of $800 is required to secure a spot. Full payment is due no later than January 22, 2015.
For detailed information on the tour itinerary and costs, please visit:
https://wandertours.com/2012/05/vietnam-and-cambodia-women-only-tour/
Contact Information
WanderTours
Beth Whitman
206-317-1860