By Rebekah Bresee
What comes to mind when you think of Tanzania? Elephants? Lions? Open savanna?
Tanzania is known for its national parks and safaris that allow visitors to see exotic animals in their natural habitat. Tanzania's efforts to conserve land for its wildest inhabitants has drawn visitors from around the world to see much more than a city zoo can offer. In fact, a quarter of Tanzania's land mass is used for land and animal conservation. Many of the parks are on migratory routes, allowing visitors to see herds of animals throughout the year, including the Great Wildebeest Migration.
Tanzania's national parks have so much to offer, but here's a little taste of what's in store at these amazing game parks—some of which we'll get to visit during the Tanzania Safari Tour.
Serengeti National Park
This is Tanzania's most popular game park and is listed as a UNESCO World Heritage Site. Visitors from all around come to see the 2.5 million wildebeest and zebras that migrate through Serengeti's grasslands. This migration takes place from January to August, but the park is full of animals of all stripes (and spots and patterns) alike throughout the rest of the year. You can also see over 500 bird species in the Serengeti, including black eagles and the rare Beesley's Lark. Another feature that sets Serengeti from the other parks is its hot air balloon safaris that allow you to see the wonders of the grasslands from the skies.
Ruaha National Park
Ruaha is Tanzania's largest national park, covering about 7,800 square miles (20,226 square kilometers) of plains and wetlands. This park is largely known for being a prime spot to view prides of lions and packs of wild dogs. You can also see herds of unique antelope species such as the kudu, roan and sable. The Great Ruaha River is to the east of the park, helping to bolster the brachystegia woodland and baobab trees. Because it is not as popular as Serengeti, you don't have to worry about it getting crowded. The best time to go is during the dry season (June to October).
Katavi National Park
Looking for something off the beaten path? Katavi National Park is one of Tanzania's more exclusive parks and doesn't get too crowded. Katavi doesn't compare in terms of quantity to other parks, but sightings are more unique and intimate. Most notably are the hippo pods that can be seen near the Katuma River. As the river's size shrinks throughout the dry season, these pods come closer and closer together causing gatherings of thousands of hippos, which is pretty nifty to see.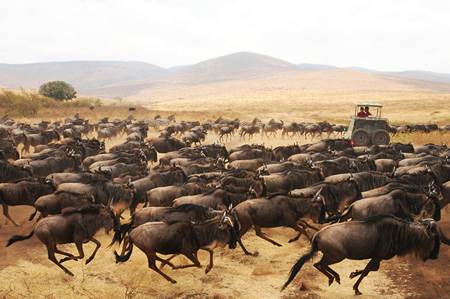 Ngorongoro Conservation Area
The big draw of this conservation area is the Ngorongoro Crater, a volcanic depression that is 2,000 feet deep and covers a total of 100 square miles. The crater acts almost like a watering hole, drawing in all types of wildlife. Sightings of the Big Five (elephant, buffalo, lion, rhino and leopard) are frequent as all these animals live in or travel to the crater. In fact, the crater is known to house the densest population of lions as well as large numbers of the black rhino. But there are sights to see outside of the crater, such as flamingos at Lake Magadi and a Masai village.
Tarangire National Park
What makes Tarangire National Park stand out is its sheer diversity—the 1,000-square-mile park contains dry river beds, lagoons, swamps and valleys. With diverse geography comes equally diverse animals! Herds of up to 300 elephants can be seen during the dry season. Buffalo, impala and wildebeest graze through the lands year-round, though they are sparser during rainy season. Other animals to look out for are the fringe-eared oryx and long-necked gerenuk antelope as well as mongoose colonies. If bird-watching interests you, then Tarangire's 550 bird species should keep you interested and amazed…and even if you're not a bird watcher, that's a whole lot of birds!
Gombe Stream National Park
Ever heard of Jane Goodall? Well, this is the park in which she did her chimpanzee research in the 1960s. It would make sense, then, that the Gombe Stream is one of the best places to see these members of the ape family. But chimps aren't the only primates hanging around Gombe. Baboons can be found lounging on the shore of Lake Tanganyika and red colobus monkeys are usually hanging in the trees. While vehicle safaris are available, you may want to take a guided walking tour through the forest or go for a swim in the lake for a unique experience.
Arusha National Park
If you want a park that is less touristy, then Arusha is the place for you! It's not far from the Serengeti and Lake Manyara parks, and has just as much wildlife. While the Big Five may not be spotted here, the park gives you chance to see black and white colobus monkeys, over 400 bird species including flamingos, and grazers such as warthogs and antelopes. You may want to take a canoeing safari on Lake Momella to see elephants and giraffes drinking on the lakeshore. The scenery of Arusha is worth the visit as well as the park is at the base of Mount Meru and you can get a nice view of Mount Kilimanjaro on a clear day.
Selous Game Reserve
Although this reserve takes up 5% of the country's area, its southern location means it's less crowded and allows you to have close up encounters with the wildlife (but not too close…they're wild animals, after all). While most of the land is set aside for hunting, there are plenty of opportunities to see animals in their natural habitat. You can take a guided walking tour where you may encounter hyenas and other wild dogs. Boat safaris give you a chance to see hippos and crocodiles swimming in the Rufiji River and lions lounging on the river's shore.
Saadani National Park
Located near the shores of the Indian Ocean, Saadani offers amazing scenery as well as diverse wildlife. Large amounts of buffalo, Lichtenstein's hartebeest, eland and kudu can be seen grazing the grasslands. Take a boat safari on the Swami River to see hippos, crocodiles and flamingos or take a classic vehicle safari for a chance to see predators such as the spotted hyena, jackal, leopards and lions. If you head to the sandy white beaches of the ocean, you may see green turtles breeding or elephants cooling off. The park is near civilization, which can cause it to lose some of its "wilderness" appeal but also provides an opportunity to see local fisherman casting their nets.
To stay up-to-date on all things WanderTours, follow us on Facebook and subscribe to our blog via email or RSS.
*****
Photo credits:
Serengeti National Park Elephants: Güldem Üstün via Flickr
Tanzania Wildebeests: Gopal Vijayaraghavan via Flickr
Tarangire National Park Zebra: A_Peach via Flickr