The magical vision that is Chihuly Garden and Glass was created when the Wright family, owners of the Seattle Space Needle, wanted to breathe new life into Seattle Center. The Wrights invited Pacific Northwest artist, Dale Chihuly, to participate in the rejuvenation project. Thrilled to be asked to contribute to this venture in his homebase, Chihuly created a permanent art installation, which is now one of the most popular attractions in Seattle.
If you're in Seattle, whether on our Seattle Culinary Tour or on your own, we recommend you take the time to explore this delightful exhibition. You'll find it near the top of every "Top Ten List of Things to Do in Seattle."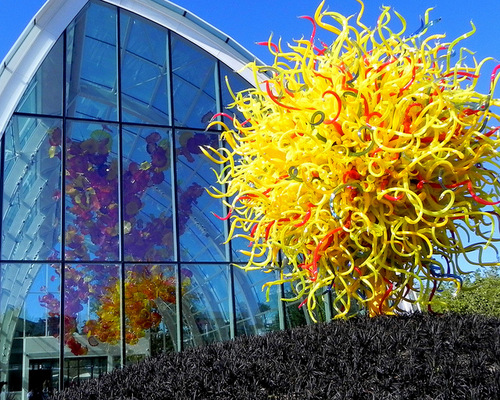 Chihuly, who attended the University of Wisconsin's glass program—the first such program in the U.S.—as well as the Rhode Island School of Design later honed his craft in the glass studios of Venice. Over the years he has developed glass programs, taught at universities and has been a leader in the development of glass as a fine art.
His work can be found in over 200 museums and galleries and he has held curated shows in such famous institutions as the Victoria and Albert Museum in London, England, and the Tower of David Museum in Jerusalem.
Chihuly Garden and Glass consists of an Exhibition Hall with eight galleries, the centerpiece glasshouse and a lush garden abounding in magical glass plants. Collections Cafe, with a decor that reflects the artist's lifelong passion for collecting, is a pleasant place to have a meal. The cafe, with its Pacific Northwest-influenced menu, is also popular for its Sunday brunch.
The Glasshouse
The Glasshouse is a 40-foot-high glass conservatory, the perfect backdrop for a 100-foot-long suspended sculpture. The hues of the reds, yellows, oranges and amber of the sculpture vary as the light changes throughout the day.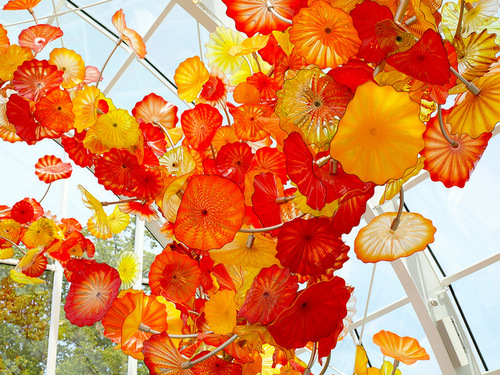 The Garden
Wander the meandering paths of the garden to view the stunning art throughout. If you visit at dusk, the installation is beautifully illuminated. Live glass-blowing demonstrations are held throughout the day.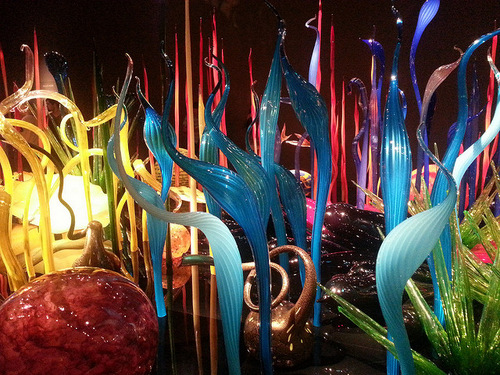 You should be able to tour the entire exhibit in an hour—throw in a visit to the iconic Space Needle next door to spend an enjoyable couple of hours in the center of downtown Seattle. We do still have a limited number of spots available on our 2016 Seattle Culinary Tour and a visit to Seattle Center is part of the experience! Contact us or call 1-206-317-1860 if you'd like to join the fun!
Embrace life,
Pat
To stay up-to-date on all things WanderTours, follow us on Facebook and subscribe to our blog via email or RSS.
Photo credits:
Glass House – Mickey JT via Flickr
Reds and Oranges – Richard Ha via Flickr
Chihuly Glass Garden – Faraz Soroush via Flickr
Chihuly Garden illuminated – Marc-Anthony Macon via Flickr