By Phoebe Nygren
The saffron robes of the monks hang on temple walls as the Mekong River flows steadily surrounding the streets of Luang Prabang. Guesthouses are intermittently scattered along the quiet streets, the night market buzzes with life and noodle-filled buffets, and the serenity radiated by the monks is unparalleled.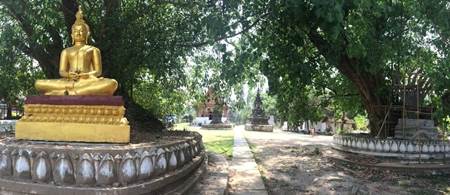 Luang Prabang is a perfect place to recharge your traveling juices, wash an elephant in the Mekong, play in waterfalls with monks, and explore intricate and deserted temples. The UNESCO World Heritage town stands as a rural sanctuary far removed from the troubles of the rest of the world.
If you want to continue on from your Vietnam and Cambodia WanderTour and see more of Southeast Asia, neighboring Laos is a great option.  Everyone finds their own wonder in Luang Prabang, but don't miss out on these seven things.
Play with Monks in the Kuang Si Waterfall
Kuang Si is one of the most impressive waterfalls in all of Southeast Asia with its crystal clear turquoise waters overflowing into hundreds of pools. As you walk farther and farther through the herds of picnicking locals, the majestic falls will come into roaring view.
The 15-minute climb to the top is a challenging vertical ascent, but finding monks playing in the falls at the top washes all fatigue away.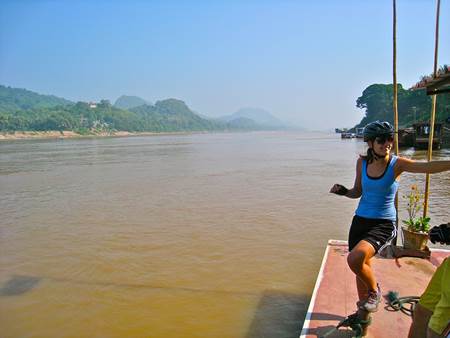 Bike along the Mekong River Road and Town
Renting a bike is the best way to explore all Luang Prabang has to offer. There is a beautiful road that runs alongside the Mekong River granting panoramic views of the boats, cafes and guesthouses.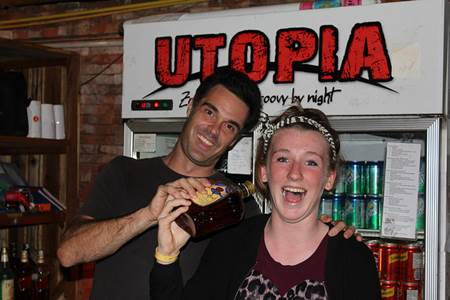 Try some Lao Lao Whiskey or Just Lounge at Utopia
By day, Utopia is an ideal nap, reading or writing spot tucked in along the Mekong River. The décor is Boho-Island chic, and the decorative floor mats make for great lounging beds.
By night, Utopia is Luang Prabang's most popular bar. Every night it fills with backpackers and travelers from all over the world sharing stories from the road and indulging in the local Lao Lao whiskey!
Say what, midnight bowling in Laos?
You may have heard of the infamous bowling alley in the outskirts of Luang Prabang, as it is the only spot open past 11:30 p.m.
It is exactly what you are imagining—a standard, fully equipped, fluorescent-lit bowling alley. The place itself is nothing special, but the tuk-tuk ride, wide array of faces and level of intoxication make for one unforgettable bowling experience.
Help Locals Practice English at Big Brother Mouse
This nonprofit is doing great things for the literary skills of Laotian children by facilitating English classes, fundraisers and supplying books. You can come speak with locals from 9-11 a.m. or from 6-8 p.m. in order to help improve their English!
It is a great opportunity to interact with locals, meet new people and learn a little more about local culture.
Enjoy a $1 Buffet-Style Dinner at the Night Markets
The food strip is full of vendors with overflowing tables of deliciousness, including ten different types of noodles, coconut chips, seasoned vegetables, plump pumpkin, different meats on sticks and plenty of other exotic plates!
Head to Pasaneyom Coffee Shop for a Riverside Coffee with the Locals
This local joint serves the hottest (or coldest) coffee in town. You will be the only westerner seated on the plastic chairs along the river, and you cannot beat sitting among the laughing locals enjoying their morning tea or coffee.
Try dipping paw thawng ko, a local deep fried bread, into your coffee for a sinful morning treat.
Luang Prabang holds many wonders. It takes some digging, a bit of losing your way, and more than enough sweat, but hidden behind every street and temple lays a new adventure.
Maybe it's the Lao Lao whiskey, maybe it's the spiritual light exuding from the temples, or maybe it's the untouched landscape that draws everyone into this place.
Whatever it is, it draws you in and never really let's go.
About Phoebe Nygren
Phoebe is a Wisconsin wild child with a passion for travel coursing through her veins. She is a yoga teacher, dark chocolate lover, and loves going absolutely anywhere with a go-pro strapped to her head. She has been upside down in 36 countries and blogs about her adventures on Transient20s, a twenty-something travel blog dedicated to the crazy eats, streets, and experiences of life on the road.
*****
Photo credits:
Woman Biker at Mekong Riverbank: Kyle Taylor via Flickr
Utopia Bar: Peter McGahan via Flickr
Bowling Luang Prabang: William via Flickr
Big Brother Mouse Kids: Nick Hubbard via FlickrPhoto credits:
All other photos by the author.