Indonesian batik fabrics have been around for centuries, and their diverse patterns are a result of merging cultural influences. UNESCO has determined that "cultural heritage" applies to more than monuments and collections of artifacts; it also applies to traditions passed down from ancestors to their descendants. This can mean anything from oral traditions, performing arts, festive traditions, social practices, rituals and the knowledge and skills to produce traditional crafts. It's understood that an intangible cultural heritage is an important factor in maintaining cultural diversity in the face of growing globalization. It was therefore no surprise, when in 2009, Indonesian batik was added to the UNESCO list of Intangible Cultural Heritage of Humanity.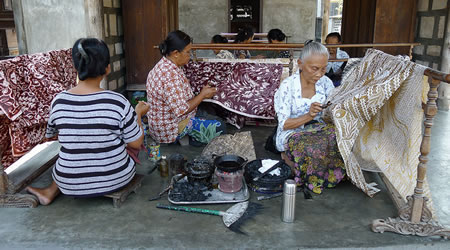 Visit Indonesia and you'll see batik fabric used in every aspect of local life. Babies are carried in batik slings decorated with special symbols designed to bring the child luck. Even funeral shrouds are batik. Every day clothing contains everyday designs while specific designs are used to celebrate occasions such as a wedding or pregnancy.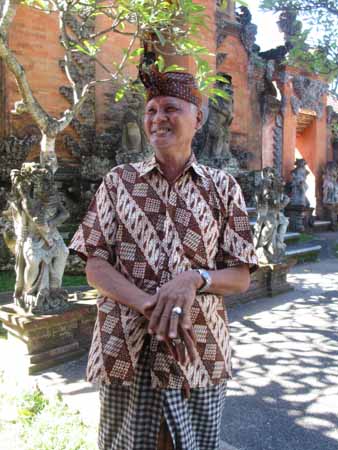 Batik is created by pouring hot wax on to cotton or silk fabric in intricate designs. The fabric is then soaked in dye; once the dyed cloth is dry, hot water is poured on the wax to dissolve it and the process is repeated if multiple colors are required. The patterns reflect cultural influences ranging from Arabic calligraphy to Japanese cherry blossoms to Indian peacocks, and are often passed down through generations of a family.
If you're joining us on our first-ever Bali & Java tour this September you'll have a chance to not only watch batik-making artisans at work but to learn the craft yourself. Although this tour is sold-out, we do occasionally have cancellations, so please contact us if you'd like to be put on the waiting list.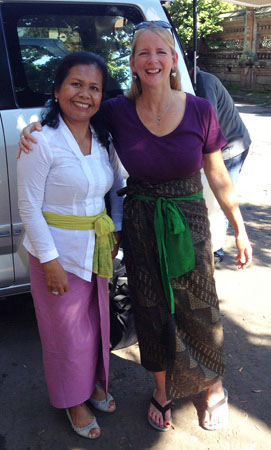 Embrace life,
Pat
To stay up-to-date on all things WanderTours, follow us on Facebook and subscribe to our blog via email or RSS.

Photo credits:
Batik Making Indonesia – Stephen Kennedy via Flickr
Royalty wearing batik at Ubud – Beth Whitman
Beth wearing batik – Jon Ingalls