Do you ever wonder about the meaning of life? I know I do, especially in today's crazy, mixed up world. Apparently I'm not the only one and this isn't a recent phenomenon. In fact, it's the reason that Buddhism was born.
History of Buddhism
Approximately 2,500 years ago, Siddhartha Gautama was born to a royal family in a small kingdom on the India/Nepal border. Although he lived a very privileged life, he eventually realized that suffering – such as old age, sickness and death – came to everyone, which started him pondering on the meaning of life. Leaving his palace behind, he followed a traditional Indian path of becoming a wandering holy man or a seeker of truth.
After years of study with religious experts, he became an expert in meditation. Sitting down under a sacred fig tree, he vowed not to rise before achieving 'enlightenment.' After 40 days he finally attained the ultimate freedom and broke the cycle of suffering and rebirth. As a fully enlightened being, he became known as the Buddha, or 'one who is awake' and spent the rest of his life traveling throughout northern India sharing his wisdom.
The Teachings of Buddhism
Buddhists believe that life is a process of constant change and that it is possible to change your life for the better. There are many things which happen in life that are beyond our control. It is possible however, for us to take responsibility for how we react to things and to change our state of mind.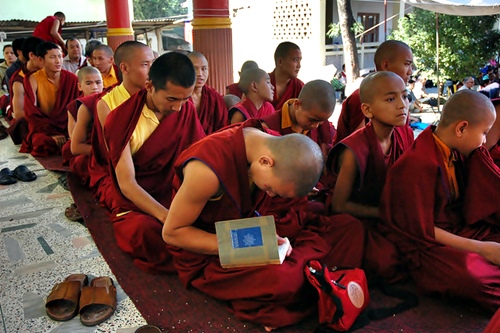 The determining factor in effecting change in yourself is your mind, which is why Buddhists practice meditation to develop a more positive state of mind. A positive state of mind is characterized by calm, concentration, awareness and a sense of friendliness. One aims to, through meditation, have a deeper understanding of oneself and others, as well as life itself. A Buddhist strives to be free from greed, hatred and ignorance and is characterized by wisdom, compassion and freedom.
Buddha advised his followers that in order to thrive, they should meet regularly and in large numbers. Thus, festivals are an important facet of the Buddhist community. Principal festivals celebrate the 'Three Jewels' of Buddhism: the Buddha, the Dharma (the Buddhist teaching) and the Sangha (the spiritual community).
Buddhism, is a complex, interwoven belief system, with far too many teachings to effectively cover in this short blog post. Needless to say, it's something I will be delving into more myself, as I continue my search for enlightenment.
Buddhism is practiced in many of the countries we visit on our tours, from Vietnam to Bhutan. A tour with us could be the perfect way for you to immerse yourself in the culture and learn more about the practices of Buddhism. Why not join us?
Embrace life,
Pat
To stay up-to-date on all things WanderTours, follow us on Facebook and subscribe to our blog via email or RSS.

Photo Credits:
Buddha: epSos.de via Flickr
Monks in Meditation: Peter Halling Hilborg via Flickr
Buddhist Monk: Adam Jones via Flickr
Spot of White: Mark Fischer