By Rachel Diebel
Nothing beats hunger quite like a big bowl of noodles, especially when you've spent the day exploring the city. Some of our tours involve a stop in Bangkok. If you find yourself with an extra day or two to explore, try a noodle dish and you won't regret it! Fortunately for all, Thailand has a vast array of delicious noodle dishes for visitors of every spice tolerance level, and these are just a few so that you know where to start! Noodles are easy, quick and perfect for a traveler on the go.
Tours that meet in Bangkok: Bhutan Cultural Tour | Bhutan Yoga Tour
Pad Thai
Perhaps the most famous dish outside of Thailand, pad thai can be found in every restaurant and on many street corners in Thailand. The noodles are stir fried with bean sprouts, tofu or meat, peanuts, limes, scrambled eggs and any number of other veggies and spices. Pad thai is infinitely customizable, but some of the more common condiments include chili flakes, vinegar and even a few spoonfuls of sugar.
Pad Thai Gai
It seems impossible that you could grow tired of pad thai (it's yummy!), but if it does happen, rest assured: there is an alternative. This variation on pad thai involves the same stir-fried rice noodles, served this time with chicken, chopped nuts, basil and a tangy sauce. Pad thai gai has a unique taste, a flavorful balance of sweet and sour that make this dish a must try during your time in Thailand.
Kanom Jeen
Kanom jeen is a Thai delicacy that the adventurous traveler can taste at many street vendors throughout the country. The noodles are made from fermented rice, which gives them a unique sour flavor. These are served over an array of curries, from red curry fish balls to green curry chicken, and then topped with vegetables like cucumber and cabbage.
Mee Kati
Mee kati, or coconut noodles, is exactly what the name implies: coconut milk poured over thin vermicelli rice noodles and seafood. The seafood can be anything from shrimp to scallops to squid. For the seafood-adverse, mee kati can also be made with chicken. Like most Thai dishes, mee kati is served with veggies and spices, typically banana flower and pennywort. And then the dish is topped off with egg.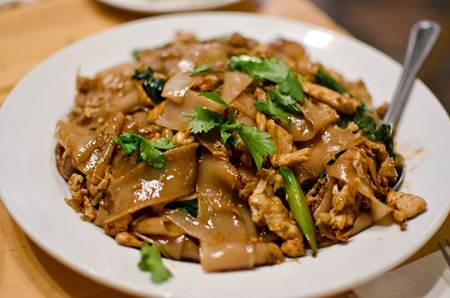 Pad See Ew
Stir fried in a wok with black soy sauce, pad see ew is a delectable Thai dish that is ideal for lunch on a busy day. It is known for boosting your energy. Made with chicken, beef or pork, and the usual lineup of Thai vegetables, pad see ew is packed with protein. The broad, flat rice noodles are also called river noodles, and are spiced with garlic and even more black soy sauce.
Guay Teow Nua
Sen lek are rice noodles popular in Thailand. Guay teow nua is a dish made with sen lek and bean sprouts, as well as morning glory, a tasty green vegetable that grows throughout Asia. The noodles and veggies are served with broth that has been boiling for hours and then poured over pork or beef to achieve a thick, hearty taste. Guay teow nua will send you to soup heaven!
To stay up-to-date on all things WanderTours, follow us on Facebook and subscribe to our blog via email or RSS.
*****
Photo credits:
Pad Thai: stu_spivack via Flickr
Kanom Jeen: merri via Flickr
Pad See Ew: Ed Kwon via Flickr