By Rebekah Bresee
Seattle is known for its extensive coffee scene and delicious foodie scene. What goes perfectly with a cup of coffee? A pastry of course! From Pike Place Market to Upper Queen Anne, Seattle has a plethora of cafes and bakeries that will have you drooling over tasty baked goods. During your Seattle tour, be sure to make time to indulge in some must-try pastries.
Pastries at Pike Place Market
There are several bakeries and cafes with baked goods at Pike Place Market. Get fresh rhubarb piroshky at Piroshky Piroshky or purchase pumpkin cookie mix at Cinnamon Works. Try different cheesecakes at The Confectional or grab a chocolate chip cookie from Three Girls Bakery. Or stop at the Pike Place Bakery and choose from a selection of breads, rolls, cakes, cookies, pies, donuts and other pastries. You won't leave the market with an empty stomach!
Hello Robin Cookies
A small bakery started by two neighbors has grown into a reputable business. Robin and her bakers produce dozens of handmade cookies each day, and Molly scoops up the ice cream for those who are feeling especially devilish. And these aren't your basic chocolate chip or oatmeal cookies. At Hello Robin, you'll find flavors such as Mackles'more, Orange Habanero Chocolate Chip and Birthday Cake.
Bakery Nouveau
This Parisian-style bakery serves desserts straight out of your dreams! Customers wait in line for hours to taste owner William Leaman's creations. While standing in line you have time to decide if you want a savory baguette, a delectable macaroon or buttery twice-baked almond croissant (or you can order all of them…that's okay too).
Byen Bakeri
Byen Bakeri is known for their spectacular Norwegian and Scandinavian baked goods. Cakes, sweet rolls, cream-filled cannoli, savory breads—the list goes on and on. And though anything on their menu would taste delicious, it is their kringle that you must try. Kringles are a light and flaky pastry filled with fruit, nuts or other delicious things.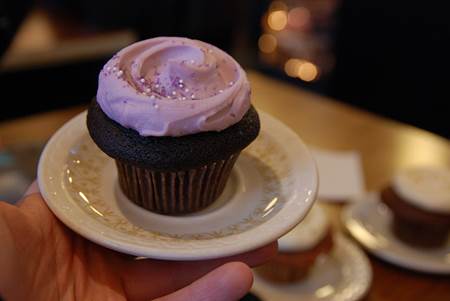 Cupcake Royal
Need something cute and sweet? Cupcake Royal is an easy pick for you! The hard part will be deciding what flavor you want as this bakery offers both traditional and more creative flavors. Blackberry brown butter, salted caramel, raspberry pavlova, tiramisu or coconut bunny? The options are many, but some flavors are seasonal and only available for a limited time. If you can't make up your mind, Cupcake Royale also serves handcrafted ice cream and espresso.
Crumble & Flake Patisserie
Locals and tourists alike will stand in line for hours in order to get a taste of the delectable treats that emerge from this bakery. Crumble & Flake have a variety of pastries on their menu, but the item that draws in the crowds is their croissants. You can choose to try an original, or other flavors such as smoked paprika and cheddar, chocolate, pistachio and cherry almond chocolate.
Top Pot Doughnuts
What goes better with a cup of coffee than a doughnut? A Top Pot hand-forged doughnut. Located in red brick building with a large neon sign, Top Pot is all about combining the old with the new. The bakers use old-fashioned methods to make mouth-watering donuts that don't try to stand out with crazy flavors—these are just amazingly good doughnuts. Their take on the classic maple bar is so good, the NFL player Golden Tate broke in to steal some.
La Toscanella
At La Toscanella, you will find delicious pastries as well as good espresso and some brunch and lunch items. The Italian-style bakery serves traditional baked goods such as profiteroles tarts, cannoncini and biscotti al lampone. If you can only choose one, however, the classic cannoli filled with fresh Ricotta, orange and lemon zest.
For more local goodness, also check out Seattle's microbreweries and distilleries!
To stay up-to-date on all things WanderTours, follow us on Facebook and subscribe to our blog via email or RSS.
*****
Photo credits:
Piroshky Piroshky: jen via Flickr
Bakery Nouveau: Dennis Hamilton via Flickr
Cupcake Royal: Jonathan Mcintosh via Flickr
Top Pot Doughnuts: Sheri Wetherell via Flickr