By Rebekah Bresee
Seattle has got a solid beer and microbrewery scene. Most are locally owned and—along with serving up some of the finest brews in the nation (we're not biased)—provide a warm and welcoming community for Seattle locals as well as visitors. If you join us on our Seattle Culinary Tour, you'll have some spare time to go exploring on your own. If you enjoy a good beer, consider a stop at a few, or all, of these breweries.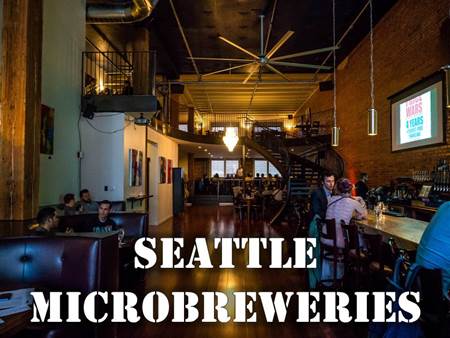 Elysian Brewing
There are four Elysian locations in Seattle, but the original is located in Capitol Hill. Its tasty brews have made the company a favorite of tourists and locals alike. If you're in Seattle at the right time of year, you can try their seasonal offerings such as Superfuzz Blood Orange in the summer and Night Owl Pumpkin Ale in the fall. If those aren't in season, Elysian is known for its classic Immortal IPA and Men's Room Red.
Pyramid Alehouse
Founded in Seattle, Pyramid now also has alehouses in other cities—but the original location is in Seattle near Safeco Field (a bit south of downtown). If you prefer your local brews served up in an expansive location with a full food menu, Pyramid is a fine option. All year round, they have their standard brew menu with popular choices like Thunderhead IPA and Outburst. There are also plenty of seasonal and special brews on tap.
Georgetown Brewing
Georgetown Brewing is well-known and well-loved for its production of Manny's Pale Ale, which is served in many bars throughout Seattle. The company is purely a draft beer-only producer, so there's no brewpub. But visitors can take a tour of the brewery and try samples until you know which one you want to take home. Georgetown is located between 15 and 30 minutes south of downtown so this is a better option if you're in Seattle for an extra day or two.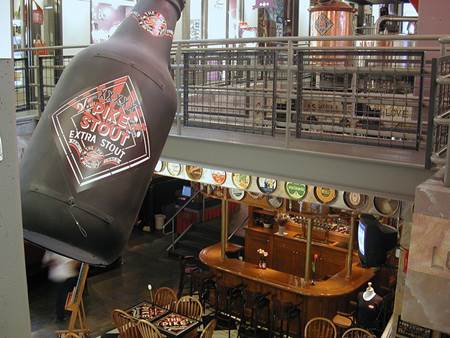 Pike Brewing
Pike Place Market has restaurants, cafes, bakeries, fish markets—why not add a brewery to the list? Pike Brewing first opened in 1989 with a four barrel copper kettle. Pike's signature beer is the Pike Naughty Nellie—a blonde ale with malt flavor and hints of lemon and grapefruit. They also host events throughout the year, including a "Women in Beer" day during Seattle Beer Week. If beer is just not enough for you, Pike Brewing also serves up local by Copperworks, one of Seattle's distilleries.
Hilliard's Beer
A younger brewery, Hilliard's is located in a renovated old garage with spacious seating and standing room. This setup turned it into a perfect sports bar, and the owners have worked to cater to that crowd with flat-screen TVs and plenty of beer. They even created a beer called the 12th Can as a tribute to the Seattle Seahawk's dedicated fans (fondly called the 12th Man).
Peddler Brewing
In addition to drafting craft beers, owners Dave Keller and Hayley Woods wanted to create a place that encouraged cycling as a form as transportation. The Ballard brewery has space for cyclists to park their bikes out front or hang them from hooks inside the lofty building. After cycling, the Tangerine Wheat is a refreshingly sweet choice, but the Coffee Saison is a good choice for those looking for something different and more complex.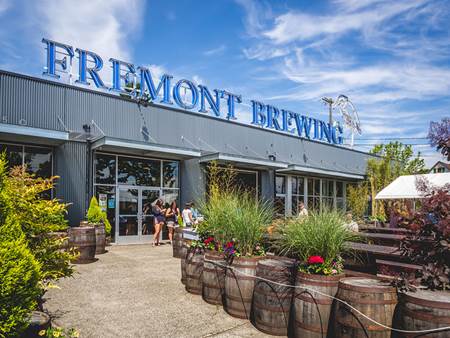 Fremont Brewing
This family-owned brewery opened in 2009 and has been drafting artisan beers ever since. Other than the beers, one of the brewery's main draws is its Urban Beer Garden, which is open daily. Their signature beer is the Universale, a classic pale ale balances with old world malt.
Reuben's Brews
An English-style pub with community tables that invite strangers to strike up conversation is what you'll find at Reuben's Brews. Their Belgian Imperial Rye IPA took gold at the World Beer Championship. But there are other highlights, such the Imperial Oatmeal Stout, which as a hint of coffee flavor. If you need a little more than bottomless pretzels to accompany your brew, Rueben's is open to outside food being brought in.
Stoup Brewing
The brewery is named after the Scottish term for drinking vessel—a proper term for the glasses used at Stoup. Husband and wife Brad and Lara own and brew at Stoup, using local ingredients and their own creative flares. Try the Robust Porter, which has of dark chocolate, coffee and light malt. It won a silver medal at the World Beer Cup.
To stay up-to-date on all things WanderTours, follow us on Facebook and subscribe to our blog via email or RSS.
*****
Photo credits:
Elysian Brewing: ctj71081 via Flickr
Pike Brewing: Cliff via Flickr
Fremont Brewing: ctj71081 via Flickr