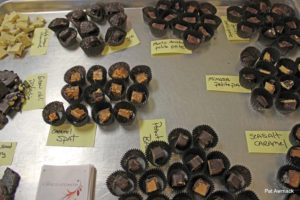 Apparently some of the world's finest chocolatiers are found in Santa Fe. Who knew? I didn't, before I joined the WanderTours Santa Fe Culinary tour a couple of years ago. I read the itinerary, saw a mention of the Santa Fe Chocolate Trail and thought that it sounded interesting but was perhaps a made-up name. Not so! It's a real thing and we visited a different stop on the trail every day we were there.
We still include the Chocolate Trail on our tour and here's where we stop:
Todos Santos
This tiny shop – whose name means "All Saints" – is located in the courtyard of the historic Sena Plaza. Enter the shop and you'll immediately notice the evocative skulls of the Mexican Dia de los Muertos, along with silver and gold leaf embossed Milagros (small, charm-like offerings made to saints when praying for a miracle).
Chocolate Smith
Open since 2003, this chocolate store now has three locations (one of which is at the Market and is only open on market days). We'll visit their flagship shop where we can watch the candy makers at work. The owners pride themselves on using local organic ingredients whenever possible. One of their specialties is the wax-wrapped chocolate pate. This shop was one of my favorites.
C.G. Higgins
This candy shop, boutique chocolatier, candy maker and home of Chuck's Nuts originals – now has two locations in town. Its specialties are truffles which are made not with a ganache center, but with fudge which lasts longer. Owner Chuck Higgins brags that he also makes the best brittles in North America. Try the Chile Pecan Brittle; it's amazing!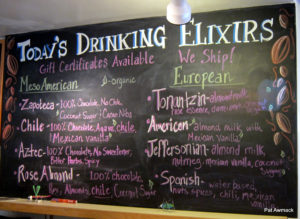 Kakawa Chocolate House
The passion of this specialty chocolate company is authentic, historic drinking chocolate. Think thick, creamy chocolate drinks, subtly flavored with herbs, spices and chiles. Their chocolate elixirs include drinking chocolates from Pre-Columbian Mesoamerican Mayan Aztec, 1600's Europe, Colonial America and Colonial Mexico. More contemporary flavors include Pomegranate, Hibiscus flower, Chile or Mescal. Oh, and there are sugar-free and dairy-free options available too!
If you visit Santa Fe make sure you sample at least a few of these chocolatey delights…and be sure to leave room in your bag…it's a sure bet you'll be taking some chocolate home with you!
We still have a few spots left on our 2015 Santa Fe Culinary tour, if you're interested in joining us.
Embrace life,
Pat
To stay up-to-date on all things WanderTours, follow us on Facebook and subscribe to our blog via email or RSS.