I wrote an earlier post about the type of food you can expect to find in Santa Fe but thought you might also like to hear about a few of my favorite restaurants in the city. Our Santa Fe Culinary tour includes stops at many of these and if you arrive a day or two early you'll be able to sample the others on your own.
The focus of our tour is obviously food…and we like to squeeze in as many culinary delights as possible. Here are a couple of highlights: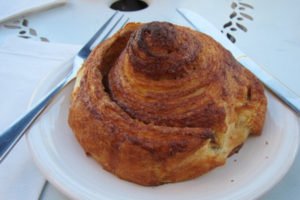 Sage Bakehouse – is a great place for either breakfast or lunch…or both in the same day! All the bread and pastries are made in-house and ingredients for their soups and sandwiches are locally sourced. Breads are made in the traditional method, naturally leavened and hand formed. Enjoy a flaky croissant or Danish with your café au lait in the morning and return for a hearty sandwich and a bowl of soup for lunch. I recently read a Trip Advisor review which stated that any leftover bread at the end of the day is donated to a food kitchen. It's nice to see a restaurant giving back to the community.
Vinaigrette – after breakfast at the bakery you may feel the need for a lighter meal. This is the place for that. Vinaigrette is a bistro with a focus on salads. Although you'll also find hearty soups and sandwiches, the salads are the star of the menu. 70% of the produce served here during growing season comes from owner Erin Wade's 10-acre farm 20 minutes north of the city (which we'll also visit on the tour). It's obviously a great place for vegetarians and those who aren't have the option of adding a meat to their salad. I can personally recommend the "Eat Your Peas" salad with its baby lettuce, sweet green peas, bacon, mushrooms and Asiago cheese in a vinaigrette.
The Shed – step back in time when you enter this restaurant, housed in a hacienda dating back to 1692. A Santa Fe institution, The Shed has been serving traditional New Mexican cuisine since 1953. Dine on such fare as blue corn tortillas, red and green chiles, enchiladas and tacos. This is your opportunity to sample a premium tequila. Just a hint – the servings are large. I had trouble finishing my Pollo Adobo.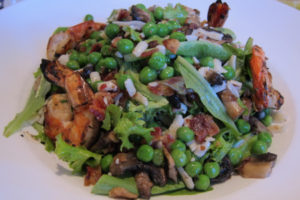 Other restaurants I can recommend that aren't on our tour are:
Café Pasqual's – this very popular restaurant–located a block and a half from the plaza–has outstanding food and a friendly atmosphere. I highly recommend you make a reservation (accepted at dinner only) as it's always busy and waits can be in excess of an hour during peak times. This tiny café seats a maximum of 50 diners and a large communal table dominates the main room. It's kind of fun to make new friends while you dine but if you want a private table be sure to mention that when you make your reservation. I loved the Lamb Chops brushed with Pomegranate Molasses.
La Boca – enter this small restaurant and you feel as if you've entered a lively European wine bar. It's renowned for its Spanish tapas (small plates),  a fun way to taste a wide assortment of dishes while sharing with your friends. Their knowledgeable staff can make wine recommendations from their extensive wine list or, if sherry is your passion, sample from their varied selection.
There are hundreds of outstanding eateries in Santa Fe. You won't go hungry! Our 2016 tour is almost full. Don't wait too long to book if you're interested in joining us.
Embrace life,
Pat
To stay up-to-date on all things WanderTours, follow us on Facebook and subscribe to our blog via email or RSS.